Reporting Child Abuse is Always the Heroic Call
Children depend on trusted adults to be their "superhero" protectors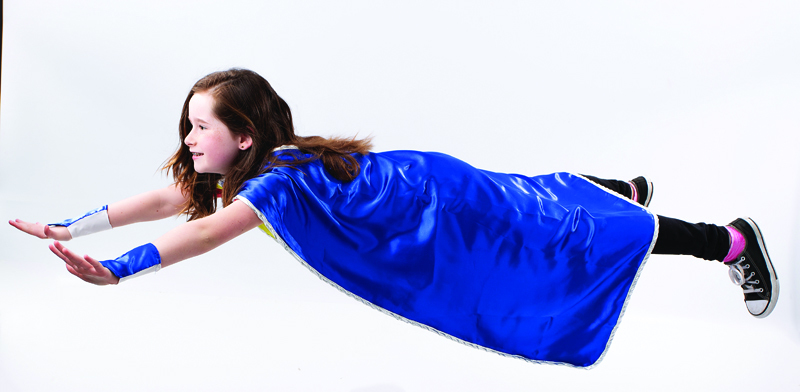 It was 3 o'clock, the end of the school day, when one of Kathy's students walked into her classroom.
"I don't want to go to PE tomorrow," he said.
This was a boy who loved PE, an athletic 9-year-old who liked playing sports and games. Now he was in tears.
He wouldn't tell his teacher why, but practically begged her not to make him go the next day.
"I told him, 'I don't know what's going on, but I'll fix it,'" Kathy said.
She ran through a few scenarios in her mind – maybe he was being bullied or picked on by other kids. But she didn't brush it off. They talked more, and after she promised him he wouldn't have to go to PE, he told her the secret that had been weighing him down.
He had been sexually abused by the school's PE teacher.
Kathy reported the abuse that day.
Report Suspicion of Abuse
Reporting abuse can be scary. Some people wonder about the ramifications for the victim or the alleged perpetrator. They may second-guess their suspicion. And when reporting on a situation involving one's own family, there are concerns over breaking up or destroying the family.
Jessica Stombaugh, child specialist with the Child Abuse Network (CAN), said that while reporting can be intimidating or cause conflicting feelings within a person, any time there is suspicion of abuse, it should be reported to DHS.
"I think the most important thing people need to remember is that you are not accusing the parents or caregivers of abusing the children when you make a report. You are asking a professional to check in with the family to make sure they are OK," she said.
In Kathy's case, she had the word of the boy and that was enough for her to report. But whether a child speaks up or not, adults should report even the suspicion of abuse.
"It is not the reporter's job or responsibility to determine if the child is being abused. You only have to have suspicion. Report any bruising that is not normal, overly sexualized behavior or knowledge of sexual acts that are not normal for their age, children that are not getting medical care for injuries, or children that are underweight or always hungry," Stombaugh said.
Ali Kern is a forensic interviewer and child specialist with CAN. She says it's valid for someone to worry, "What if I'm wrong?" or "What if the child is taken away?" before reporting. But, she said, DHS' role isn't to separate kids from their parents, but rather to provide a safe environment for children, which many times can mean keeping the family together and offering them services.
"If you feel like a child is in danger, it's always appropriate to call the DHS hotline and report abuse, even if you think it's not substantial enough to elicit an investigation. They keep records of calls, and there could be a pattern or history of abuse in the family that will elicit an investigation," she said.
Child Abuse Network
The Child Abuse Network in Tulsa serves as a hub for the agencies handling severe cases of abuse and neglect. It's a place where DHS child welfare workers, police, physicians, prosecutors and mental health professionals can work together to assess victims all in one location.
It's also a place where those who have reported abuse or are considering abuse can talk to child abuse specialists. People like Kathy who report abuse may experience trauma themselves over the situation. Kathy calls the Child Abuse Network her saving grace and said the people there helped her through the case.
After reporting the abuse, Kathy testified against the teacher at her school. He was convicted and sentenced to 25 years in prison.
The Right Thing to Do
Kathy says she never had a doubt as to whether she was doing the right thing.
"I had a lot of favor with my students. I always had good relationships with them. When he came to me crying, I knew something was wrong. But when he said, 'He touches me and I don't want him to,' at that moment, I never imagined him saying anything like that," she said.
Kathy said the student was afraid adults wouldn't believe him. And he was right. She says others at the school questioned the boy's story. She says she feels grateful her student felt he could trust her and talk to her. She said it's important that kids have a safe place or a trusted adult to talk to – someone who has the power to put a stop to the abuse.
"Kids might be afraid they're going to get in trouble. They can't tell their friends, sometimes they feel like they can't tell their parents," she said. "He was embarrassed. He was ashamed. He wanted to hear that it was going to stop, and that it was going to be OK."
The name of the teacher has been changed in order to protect the privacy of the teacher and the child.
How do I report child abuse?
Call the Oklahoma DHS hotline: 800-522-3511.
Failure to report suspected child abuse is a crime.
If you have any questions, a specialist from CAN will help you through the reporting process and explain what happens next. Call a child specialist at 918-624-0200.
What happens after abuse is reported?
A DHS supervisor screens the report of child abuse to determine whether the allegation meets the statutory definition of abuse and neglect and whether the report falls within DHS' responsibility. DHS is mandated to investigate allegations of abuse perpetrated by a caregiver. If the alleged abuse is someone other than a caregiver, DHS is required to forward the report to law enforcement.
Next, DHS assigns a child welfare worker who will begin the investigation as soon as possible. If the case involves possible criminal acts, the DHS investigator will contact the appropriate law enforcement agency.
The investigators who are assigned to the case may choose to use the Child Abuse Network's services at the Children's Advocacy Center. CAN brings together medical, mental health, investigative and legal professionals from multiple agencies to determine whether child abuse has occurred. CAN's centralized approach is designed to provide more efficient, accurate, and less traumatic investigation of child abuse.
After the child leaves the Children's Advocacy Center, the investigators will continue their investigations.
When the investigation is completed, the investigators submit their findings and recommendations to the District Attorney's Office.
Help Support CAN: Sign Up for the Superhero Challenge
Sunday, April 16, 2032, 1-4 p.m. (Registration Deadline is April 6)
POSTOAK Lodge, 5323 West 31st Street North
Fun Run, Obstacle Course, Face Painting, Kids Zone
Wear your favorite superhero costume!
For ticket information, go to www.cansuperherochallenge.org
---