Seasons Change: Pregnancy After Loss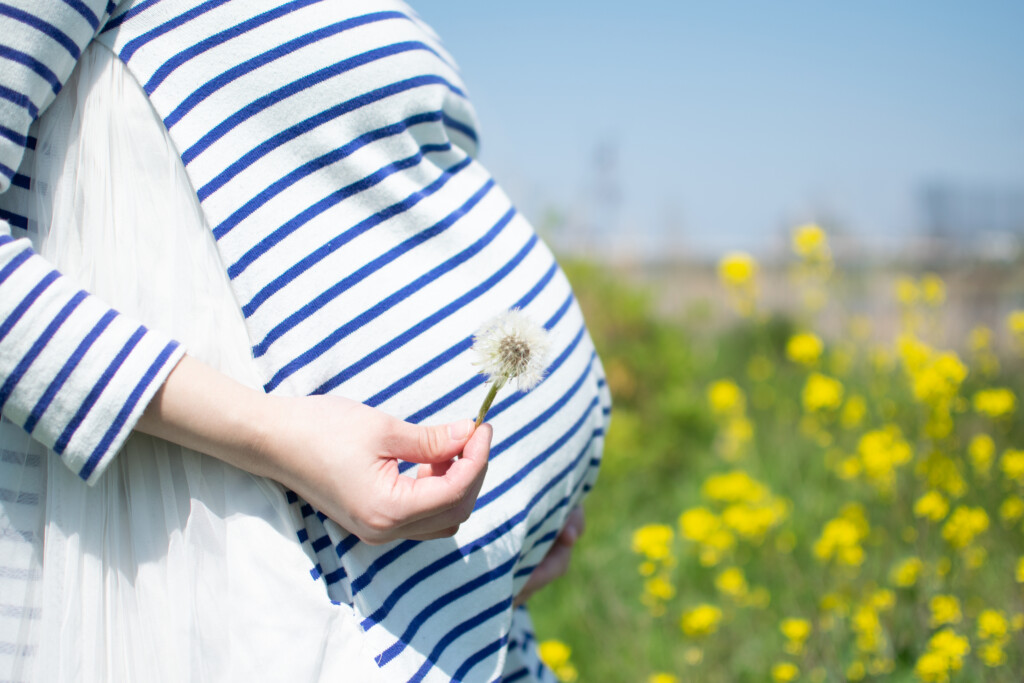 Seasons are a funny thing. As they change, much is predictable. The sort of outerwear you have to persuade a tiny body to wear changes, as does the odd assortment of items needed to keep at hand. Little bobblehead beanies and back-up mittens (always have back-up mittens) become sunhats and high SPF sunscreen. We don't think much of it, save noticing the passage of time with lengthening little limbs and shortening naps. But just as much as seasons are predictable, they are simultaneously as unscripted as 3-year-olds telling their teacher what they did over the weekend.
Last spring, my husband and I conceived and lost a baby. In summer, we decided that while we still wanted to have one more child, it might be best to wait until life settles down. In the autumn, as I wrote an article about our experience grieving a miscarriage, I learned that summer was quietly eventful: I was pregnant again.
As fall wore on, I had many people approach me about my article and share with me their own stories of loss, miscarriage and infertility. I was grateful to be a part of normalizing these conversations and glad to support those around me, but I always walked away privately clutching my stomach, wishing for reassurance that this very welcome baby would stick around for the full term.
The First Trimester
Of course, as many women learn, wishing for pregnancy symptoms becomes a wish sometimes regretted. Though we did not announce this pregnancy until weeks later than we did previously, I know it was immediately obvious that something was going on.
I have never been more consistently sick and physically miserable than I was the first trimester with this child, an experience for which one cannot prepare oneself. "Every pregnancy is different" I would say, hoarding a small fortune's worth of saltines in my bag and trying to avoid breathing through my nose, lest I smell anything and need to make a rapid exit. I traveled clutching a bucket in the car and slept from 6 p.m. to 6 a.m. I searched Google often for when I might expect relief, hoping science had updated what I had learned from previous pregnancies. "Surely, it's been long enough. They'll have uncovered that morning sickness and fatigue end by X weeks," I told myself before falling into a little pity party as internet search after internet search yielded increasingly distant goalposts.
Second Trimester Discomforts and Joys
Ever-so-gradually, first trimester symptoms faded away (though long after that cutesy 12-14-week mark) and as my luck would have it, I began experiencing equally strong second trimester discomforts. The blessing, of course, is that with each passing week (regardless of misery), you get closer to the more welcome signs and symptoms of pregnancy. Our baby kicked noticeably from an early age and never really stopped. Because I have had other children, I was able to discern better between gas bubbles, muscle twitches and the erratic and surprisingly strong kicks, punches and amniotic fluid aerobics of a healthy and growing child.
Continuing our theme of doing things differently this time around, my husband and I opted to find out the baby's sex and choose a name early. Previously we'd not found out or withheld all such information, much to the consternation of literally everyone we chatted with, be they grandparent or stranger at Costco. This time, we were comforted by watching our newest daughter wiggle away from ultrasound measurements, kick dopplers and maintain a wonderful, promising little heartbeat. We learned we were going to have another cheeky, darling and likely stubborn girl and could not have been more thrilled.
Approaching the Third Trimester
These days, as my second trimester winds down and I approach a very eventful spring, I am trying my best to live one day, or even one moment at a time. Discomforts come and go, as do moments of anxiety, joy and mixed emotions. I am not new to some of these things, and yet I am as novice to others as anyone else.
Like anyone, regardless of how many pregnancies one has experienced, I have to balance being gentle with myself while being attentive to my body and my baby. I have to communicate with my husband, co-workers and support team while endeavoring to keep my ups and downs self-manageable. And finally, the hardest bit: I have to continue to love, guide and generally keep alive my other children, who have their own feelings, frustrations and all the questions in the world.
Holding Space
This winter, I am seeing that while life will always march on, it's imperative I hold space for a little quiet and reflection. Like a seed in the ground, waiting for spring sunshine or a fattened bear in a den, biding its time with patient breath until the signs come to emerge, I too need to rely on what has been stored up (love, goodwill and support) as I dream about what is to come. The next season's challenges will be sufficient and hopefully, since I am now an older, wiser, more experienced fattened bear, I can lean into the voice that says, "Rest. Sleep. Take care of the little things," when the temptation comes to fixate, panic and try to control the course of life that has never, arguably, been in my control.
Whatever circumstance you may find yourself in as you read these words, I hope you will take it from someone navigating the novelty of an intense and very different pregnancy later in life than she imagined and with only a measure of the grace she'd aspired to possess: Your seasons, even when intense and wildly unpredictable, are not a reflection of your value or your capability. And, more importantly, they will pass. Consider leaning into the voice of the hibernating bear inside and let this winter be a time of rest and reflection before the eruptions of busyness and color of spring. The hopes of tomorrow lie dormant in the snow, waiting to delight us all.
Alicia is an Early Childhood Educator who works with young toddlers. She finds joy and inspiration to write in their cheeky shenanigans, as well as those of her two daughters.
---