Poetry Teatime Adds Some Hygge to Your Homeschool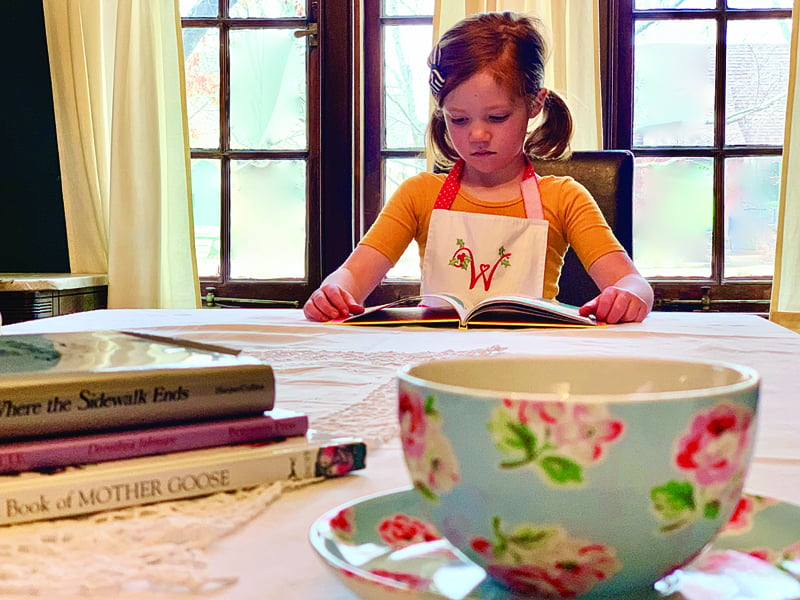 A few months ago, as my baby-induced fog began to clear, I found myself hungry for some fresh homeschool inspiration. A quick search of hashtag "homeschool" led me to oodles of images of little learners making eye-catching nature displays, knotting macramé wall hangings and other such admirable tasks. I scrolled right on past those pictures. I wasn't quite up to those projects yet. There was, however, a series of posts that sparked my interest. It was photograph after photograph of beautifully set tables that were covered with baked goods and fresh flowers. At the tables, children were drinking out of teacups and reading together. Further clicking led me to discover that these were images of families taking part in something known as Poetry Teatime.
The idea of Poetry Teatime was started by Julie Bogart, homeschooling author of a new book called The Brave Learner and creator of the writing curriculum, Brave Writer. Poetry Teatime is basically a conscious effort to pair quality literature with a pleasant moment. Think adding a little Hygge to your homeschool. The instructions are to take time to set an inviting table, and then sit together and read poetry aloud to one another.
Past the basic format, there is plenty of room for families to make the experience their own. I saw pictures ranging from tables that resembled high tea at the Ritz, to kids with crackers and juice boxes in the park. Sure, the piles of pastries spread across perfectly set tables were inspiring, but it was not realistic for me to commit to that level of preparation every week. However, throwing together a peaceful moment to absorb great writing is something I saw as attainable.
When teaching kids ages 6-16, there aren't many things that can be taught all together, so I appreciate how Poetry Teatime works for everyone. We've been doing this weekly for a couple months now, and I've been pleasantly surprised by everyone's enthusiasm for a little formality in our set up. It's also great to see my 6-year-old beam as she basically has her whole family playing tea party. Even my 16-year-old son is happy to have my permission to participate in something a little less rigorous than his school subjects.
Each meeting has some consistent elements such as candles and warm beverages, but many parts have changed week to week. Some weeks have been more catered to my younger kids with literary works by Shel Silverstein and Dr. Seuss. Other times we've explored Shakespeare. Some meetings are brief, and other times I find myself refilling cups over and over as we sink into our reading. I also welcome Poetry Teatime's ability to accommodate readers of all levels. Those who are able and enjoy reading aloud do so, and those who would rather not, opt out. The important thing is we are together having a pleasant experience with wonderful language. For my children who tend to associate reading with pain, the extra effort to connect the reading with pleasure seems to be especially beneficial to them.
The longer I have homeschooled, the more I think it is important to try to make the days with your children as enjoyable as possible for you and for them. The concept of Poetry Teatime certainly helps. It is a great way to put aside the grind of your daily lessons and force yourself to just be present with your children.
In a world where everyone is stressed and hurried, I'd like to think this association between reading and conscious calm is something that will benefit them in their busy futures.
Resources for Poetry Teatime:
#poetryteatime (Instagram)
www.mensaforkids.org/read/a-year-of-living-poetically/
---