Planning Your Haunted Castle Adventure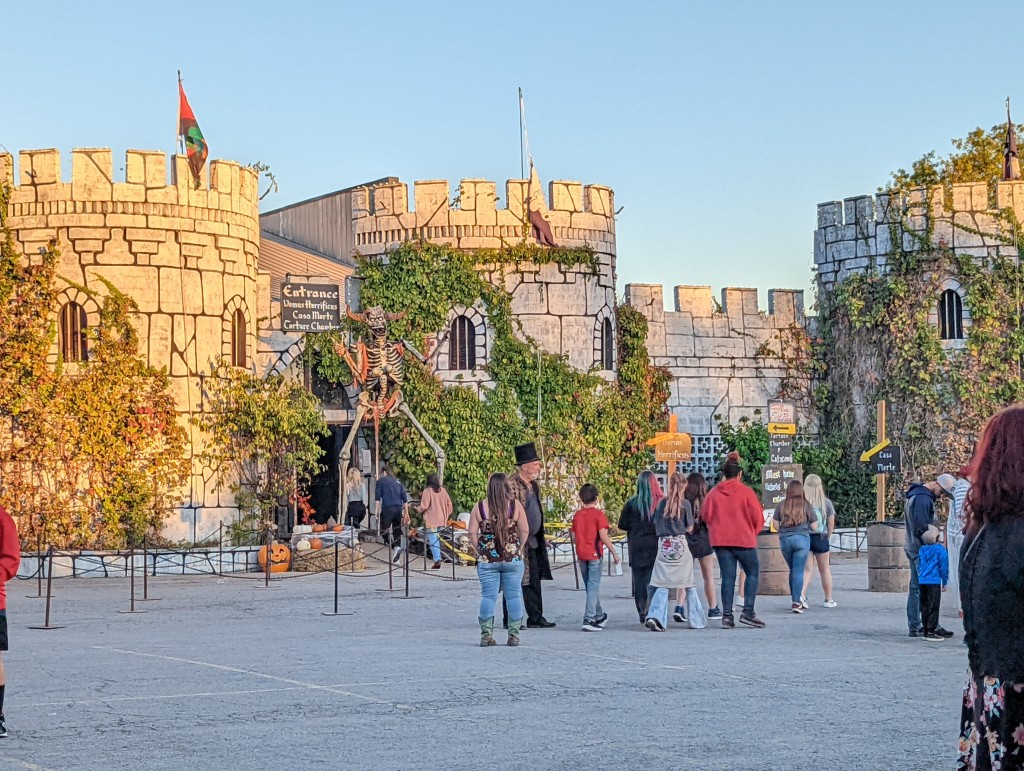 Over here in the Coffee Nebula, we love Halloween. We start counting down to Halloween adventure time somewhere in mid-August, and by the second week in September, I'm surreptitiously sneaking Halloween decorations into our home decor. From the perfect fall weather to the autumn leaves and spooky vibes, everything about Spooky Season is amazing. And without a doubt, our family's favorite Halloween activity is our annual visit to the Haunted Castle in Muskogee.
If you've never been, the Castle – home of the annual Oklahoma Renaissance Festival – is a Halloween village filled with nine Halloween events to be purchased à la carte including a new one this year. It's completely free to get in, so if you're not into getting scared or you just want to catch some spooky ambience, you can enjoy the atmosphere without shelling out a dime. Inside the Castle, you'll find a Renaissance village that's been decked out for the spooky celebration and lots of shopping and festival food.
If you're looking for someplace safe, fun, and memorable to take your family this Halloween season, this should be on your to-do list. Here's how to make the most of your visit:
1. Wear costumes (if you want) and layer.
Costumes aren't going to make or break the experience, but a lot of festival goers wear them, so if you love any old excuse to bust out the cloak and face paint, you'll fit right in. Wear something you can layer – remember that Muskogee can be a few degrees cooler than Tulsa, and it can get especially cool on the hayride. On the other hand, it can get a little hot if you're standing in line for a while inside of the Castle, so layering is your best bet.
You'll also want to wear something that works for climbing onto the hayride wagon and walking through areas where trees and branches can jump out at you, so leave the inflatable dinosaur costume at home. And don't forget those comfy shoes!
2. Bring some spending money.
If you're inclined to drop cash on festival goods, you'll find plenty of great merch here from local artisans and vendors. Many of the items are the same things you drooled over at the Renaissance festival and then regretted not shelling out for – think handcrafted leather goods, potion bottles for LARPing, Ren faire costumes, fragrance vial necklaces, crystals. The are a couple of Halloween decoration stores as well if you're feeling inspired to bring the spooky vibes home. There's even a tarot card reader you can check out on one of the main festival roads. You'll also want to bring some snack cash and an allowance for adult beverages if you enjoy those.
3. Show up in time for the Monster Dance.
The gate opens at 5:30 p.m., and if you want to check out everything, you'll need to be there as soon as the events open. If you show up at 5:30, you can grab a snack and a drink at the Crown Inn. From there, you can sit down to check out the map and create a game plan for your Castle adventures while waiting for the Monster Dance to kick off at 6 p.m. The Monster Dance and zombie delivery mark the beginning of the evening festivities, with the indoor events opening up first and the outdoor events opening just after sundown.
4. Check out the skull rating system.
The Castle uses a skull rating system to identify how scary an event is, which saves you the trouble of having to drag a crying and traumatized child through a haunted house. Some of the events can be pretty gory and fairly replete with jump scares. I've seen eight-year-olds walk out of Casa Morte looking bored and full-grown adults downright terrified, so this really comes down to knowing what your family can handle and planning accordingly. And there are plenty of fun things to do if you're not into the five-skull scares.
5. Listen to a campfire story.
Whether you're tired, you've got younger kids, you're sitting out the super scares, or you're trying to stretch your Castle funds, you can kill some time listening to ghost stories around a "campfire." There's plenty of seating and ambient fall graveyard vibes, and the stories are told by skilled storytellers. Think Goosebumps-level chills.
6. Buy tickets online.
Purchasing your tickets ahead of time online gets you into the fun faster. You'll also save some cash if you buy your tickets in a package. The Castle also offers Fast Passes that let you skip the line – if you want to see everything in one night, you might want to invest in a few of these.
7. Ride the train when you get tired.
File this under "definitely not scary." A "train ride" through the Halloween inflatable-filled Enchanted Forest, the Castle Train is a completely family-friendly event that seems to be aimed at younger kids. But my teenagers beg to go every time because it's so fun and relaxing.
Planning Your Evening
We love every event we check out at the Castle. One thing you should know is that each year, the events are rebuilt and improved, which means you'll never go through the same haunt from one year to the next. And if your crew prefers more of an Amblin-level fear quotient, there's still plenty of fun to be had. Here's our breakdown of what's what to give you a better sense of what to expect:
Super Scary Events
Domus Horrificus

– super scary, five-skull event with familiar faces and stories from the horror genre. Here's a

preview from last year

,

courtesy of CW Northwest Arkansas – note that the clowns and spinning tunnel have been moved to Jester's Revenge.

$15
Casa Morte

– a high-quality production and a super scary haunted house. The event was beefed up from four skulls to five skulls in 2021 when the Castle invested in a whole bunch of new animatronics and other spooky details. Here's a

Casa Morte preview

from last year, thanks to the CW.

$15
Jester's Revenge

– This is without a doubt the best haunted walk-through event I've ever experienced. It's technically rated four skulls, but if anyone in your party has coulrophobia (fear of clowns), this is off-the-charts scary. It's a brand-new event this year at The Castle, and it's the one event that I could probably have gone through several times in a row and loved every second. As you're entering the event, you are given a pair of 3D ChromaDepth glasses that refract the light, creating a super trippy effect, and create a 3D effect with some of the painted backgrounds inside the haunt. The event is conceived as a colorful haunted funhouse and makes good use of the spinning tunnel, which is so surreal to walk through with those glasses and the ChromaDepth paint that I had to drag one of my teenagers down the catwalk because he couldn't tell up from down. Here's a preview from this year

courtesy of the CW

.

$15
Trail of Blood

– This is an extremely scary but super fun walk-through event. Visitors wait in line to be bussed to the trail and then walk through the event. Lots of "Deliverance" meets "The Purge" meets "AHS: Roanoke" energy.

$20
Dark Tower Zombie Hunt

– You get to "clear" the infected just like Darryl and Carol in this one.

$20
PG-Level Scares
The Haunted Hayride

– Climb aboard the hayride and make the most of a beautiful October evening under the Green Country night sky. Delightfully cheesy, low-level spooks like glowing toxic waste and a dragon family make this a family-friendly event. The hayride is narrated by a "Ghost Host" that adds to the fun and makes it more engaging for the younger set.

$15
Ultimate Maze

– A semi-scary walk-through maze that has tripped up our family every time we've been through it.

$10
Torture Chamber

– A walk-through museum of historical torture devices and ancient burial tombs.

$10
G-Rated Fun
The Castle Train

– Ride around the Enchanted Forest and pirate ship harbor on a relaxing train ride.

$10
Ghost Stories

– Hang out around a campfire and listen to ghost stories.

Free
Carnival Games

– Around the Celtic Curve area near Jester's Revent and Trail of Blood, you can find a handful of carnival games.

Prices vary
The Castle of Muskogee runs Fridays and Saturdays through October 29th. The gates are open from 5:30 through 10 p.m. each Friday and Saturday night, and the events run until around 11. Share your favorite Halloween spots in the comments, and have a spooky week in your little nebula!
---