Picking Berries and Flowers at Joe's Farm in Bixby!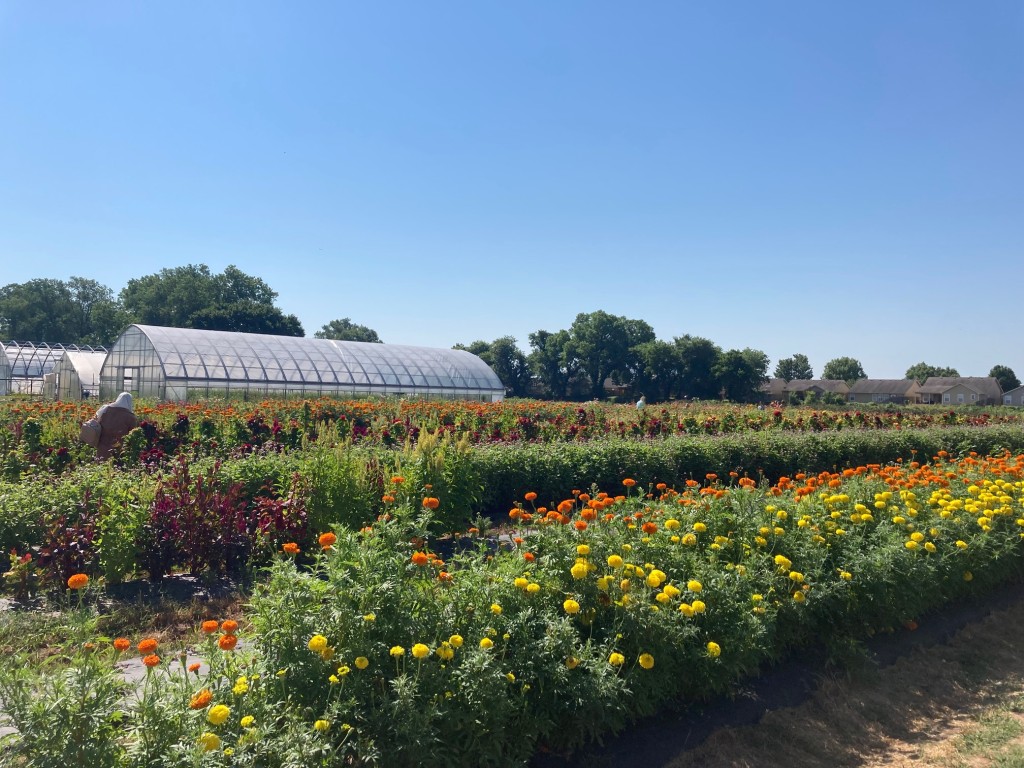 Don't tell Joss, but I went berry picking without him last Friday. He was at Discovery Lab camp, and it was going to be a slow day at work (holiday weekend!). So I went with a friend and her girls to Joe's Farm in Bixby. I've seen them all over social media for the past couple of years, but hadn't visited until just now.
Earlier in the year, they have pick-your-own strawberries, but that season has been over for several weeks. But we were there for some peak blackberry picking. And they have gorgeous beds of flowers, too, so you can pick your own bouquets!
When you arrive, enter the main barn, where there's a nice farmer's market set-up. You can buy local produce, dairy and meat products. And I spotted some Antoinette Baking Co. baked goods, Big Dipper Creamery ice cream and other fun treats as well.
Walk up to the check-out desk, where they'll give you either a berry picking basket or produce tray. We wanted to do both berry picking and flower picking. They suggested berry picking first, so we could leave our berries at the counter before going out to gather flowers. Made sense!
There were so many berries, it didn't take long to get our baskets pretty well filled. Blackberries are $6.50 per pound, and they said each basket holds about five pounds, which was good to know.
After weighing the berries, they rang us up for those and the flower bouquets ($15 per bouquet). They handed us a glass jar and flower snippers, and we walked out to the fields!
The rows are nicely labeled, and there was a beautiful variety of blossoms. Definitely lots of bees and other bug life flying around, which the girls weren't too excited about. And I honestly don't know how Joss would have done. He has a love-fear relationship with bugs. But that's just part of it, and the excitement of picking flowers mostly overcame any hesitation.
When we returned the flower snippers, Joe himself came to help us fill the jars with water. There was a spray hose next to the barn. Very convenient. We should maybe have added some water to the jars before picking, but I didn't know about the hose at that point! They also have mud boots available next to the entrance, which is a nice touch.
All in all, it was a beautiful way to spend a morning! Definitely try to get out early, as blackberry season is nice and hot! You can follow Joe's Farm on Facebook and Instagram to keep up-to-date on their picking season dates and current picking hours. You do typically need a reservation on weekends, so look for that information.
Joe's Farm is located at 12811 S. Sheridan Rd., Bixby. We just headed South on Sheridan till we reached the farm. It was a long, but easy drive.
Finally, don't miss TulsaKids' list of local berry farms, if you want to try Joe's Farm or another berry picking place: tulsakids.com/berry-picking-with-your-family-in-the-tulsa-area.
---