Parents and Teens Need to Know Oklahoma's Rules of the Road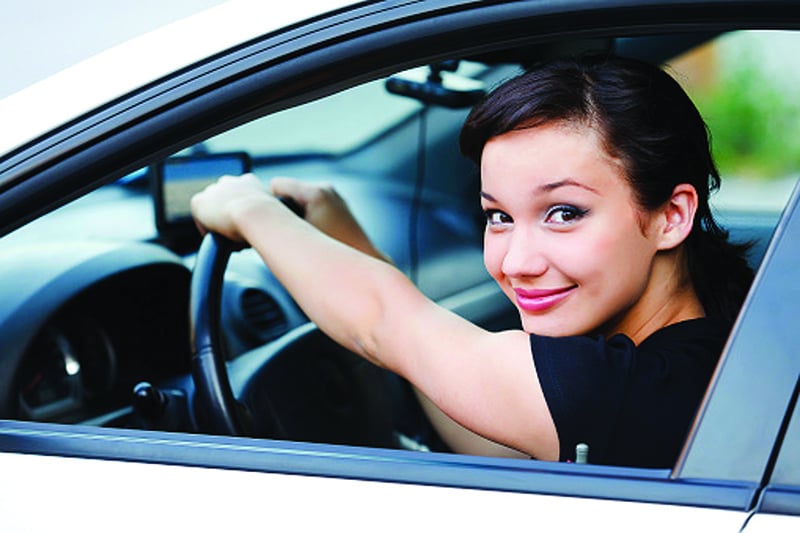 Whether it's your first child or your fourth, most parents have some mixed emotions about their teen getting behind the wheel. As with any milestone in your offspring's life, there is a sense of pride in your child's accomplishment and the realization that your kid is growing up and becoming more independent. There is often a good dose of anxiety, too, when contemplating the reality of your child operating 2000 plus pounds of machinery. While we can't encase our kids in a protective layer of bubble wrap, we can take some basic steps to help our children stay safe as new drivers.
Obtaining an OK Driver's License
Oklahoma has a Graduated Driver Licensing system. The system limits the hours in which teen drivers may be on the road and encourages them to take a driver's education course by allowing those who do so to drive at an earlier age than teens who don't. State-recognized driver's ed programs are offered through some high schools and a number of private commercial driving schools. AAA offers a parent-taught course that also qualifies.
Learner Permit
Teenagers who have taken or are taking a driver's ed course can get their Learner Permit at the age of 15½ after passing a written driving test and vision exam. Without the course, the age requirement is 16. Teens with a Learner Permit must drive accompanied by a licensed driver in the front passenger seat who is at least 21 and has been licensed for two years. They should also complete at least 50 hours (including 10 hours at night) of supervised driving.
Intermediate License
A 16-year-old driver who's had a Learner Permit for at least six months and has completed the 50 hours of supervised driving, can apply for an Intermediate License which has restrictions on when they can drive, as well as the passengers they're allowed to transport. The Intermediate License allows them to drive unsupervised between 5 a.m. and 10 p.m.; to and from activities outside of those hours if the activities are related to school, church or work; and any time of day if accompanied by a licensed driver who is at least 21. They are allowed to transport one passenger; or passengers who live in the driver's home; or any number of passengers when accompanied by a licensed driver who is at least 21.
They must pass a driving skills test to get the license. Without driver's ed, the person must be 16½ to apply.
Unrestricted License
A 16½-year-old driver who's had an Intermediate License for at least six months can get an unrestricted class D Driver's License. Without driver's ed, they have to be at least 17 to be eligible. The Graduated Driver's License system doesn't apply to teens 18 and older. Unrestricted Licenses require passing all driving and vision exams.
Beyond the Basics
Just because your teen has received a license doesn't mean your job is done. It's important to continue teaching and building skills beyond the basics. Driving with your child under a variety of conditions (weather, time of day, varying traffic volume) will help them improve. Teaching them to anticipate problems by scanning ahead and identifying potential hazards is useful. Helping them learn to anticipate the behavior of other drivers is also a valuable lesson.
Be aware of circumstances that cause the most problems for inexperienced drivers, and talk to your child about the risks. These include things such as driving with other teenagers, failing to use seatbelts and, of course, driving under the influence of drugs or alcohol. Night driving is challenging for all drivers, too, but it's worse for teens who lack the experience to anticipate and react appropriately when visibility is reduced. Many teens are short on sleep, and fatigue can contribute to poor driving. Distractions caused by the use of electronic devices, primarily phones, can be deadly.
William Robinson of Oklahoma Driving School has been an instructor for 18 years, and he's been a designated examiner for the state for the last seven. Robinson offers parents and young drivers a few technical tips that can make a big difference for safety.
"Driving is 90 percent visual, so how a child sits in a car is incredibly important," he notes. "The wheel has to be no higher than the shoulders. Whether you're a tall person or a short person, you have to be able to see."
Robinson also emphasizes the importance of knowing where your blind spot is.
"Often kids look too far back, which makes where they're holding their hands inappropriate. You want them to look in the proper place," he says. "You look at your side mirror to do a lane change, and then you signal, then look over your shoulder. 'Over your shoulder' is literally your chin to your shoulder only."
Driving Contracts
Many experts encourage the use of a parent-teen driving contract for new drivers so that the expectations of both parties are clear. Delineating non-negotiable rules, like no cell phone use, no drugs or alcohol, and mandatory seat belt use, as well as other parameters such as curfews can help keep teens safe. Spelling out the consequences for violating the terms of the contract is important, too. The agreement can be modified as the new driver gains more experience. There are many contract options available online. Find one that fits your family or create your own.
Robinson agrees that driver contracts are a good tool.
"Give them the ability to go out and do their own thing when they have their license, but also keep control to a point where they will always come home because, actually, that's all that matters. The parent needs to know that this child will come home."
For more information about Oklahoma Drivers' Licenses, visit www.ok.gov.
Julie Wenger Watson is a freelance writer who's worked in all aspects of music promotion. She's also Co-Director of "Live From Cain's," a public radio show pilot.
---