Horse Therapy: Helping Families Heal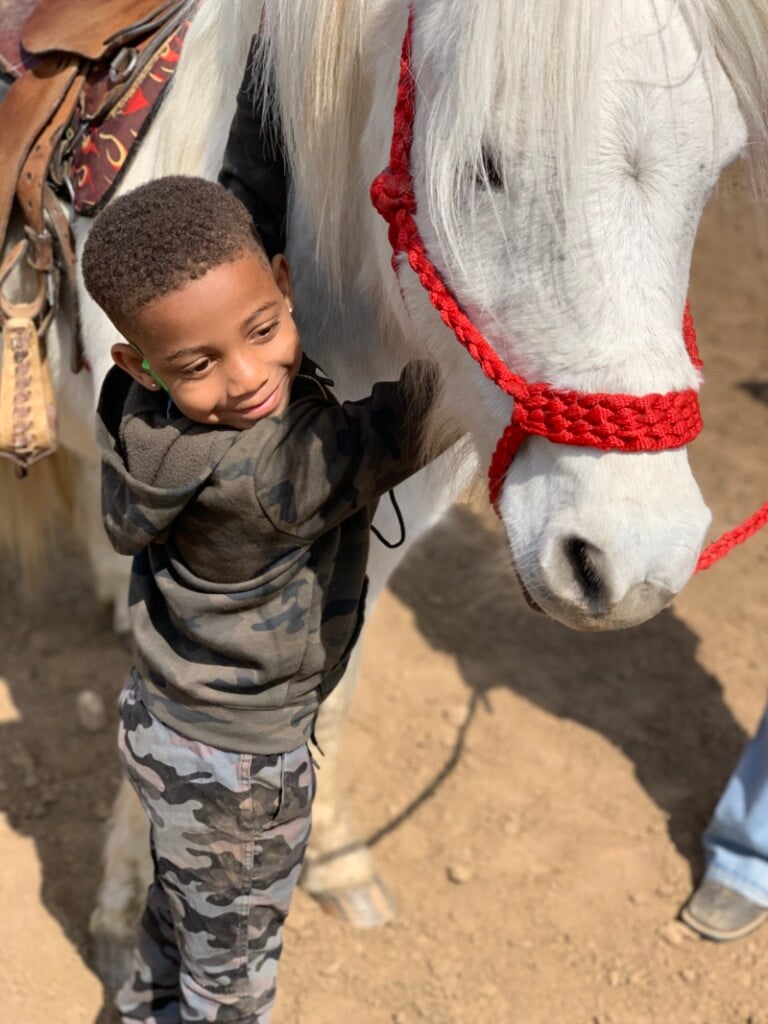 Born into a rodeo family, Licensed Professional Counselor and Tulsa native Kimberly Whayne created Overcross Counseling and Equine Services (OCES) to combine her passion for horses with her desire to support her community. On her family's ranch, Whayne and her staff offer individual, family and small group counseling, often with a little help from one of the 15 horses and assorted farm animals who share the space.
"We provide mental health services with a little bit of a creative and alternative approach, using the horse as a partner in our sessions," Whayne says. "As a therapist, I wanted to offer the community an environment that was more calming and conducive for them to be able to talk about their crisis or their trauma, or their new diagnosis, or their new life transition, whatever that may be. I wanted to make sure I was able to give them a space where they could do that."
Whayne, who has been around horses her whole life, says working with horses allows clients to talk about things they might not be able to address in a traditional setting.
"They let down those barriers that kept them from talking about the crisis, or the trauma, or the current behavior problem," she notes. "When we're working with the horses, something shifts, and they don't even realize they're talking about it. They're able to have a safe place."
According to Whayne, horses connect well with people by sensing their nonverbal communication. Clients choose the horse with which they feel compatible. They can opt to ride, or simply participate in "grounded" activities, like grooming.
Access is important to Whayne, who wanted to provide mental health services to people in her community who might otherwise have to travel significant distances to find it.
"That was a huge piece in the planning of this. We wanted to make sure that we offer our black and brown community members a safe place to talk about and improve their mental health," she says. "We want to let our community know we're here for every single community member who wants to improve their mental health."
In addition to serving clients from the facilities at the ranch, Whayne and her staff travel to clients' homes, as well as schools and workplaces. They even have a small mobile office they take out into the community. OCES also hosts a camp during spring break for about 125 kids. In addition to developing their riding skills, participants focus on science, reading and exercise.
Although all of her work has a mental health focus, not every client has an official diagnosis.
"It can be a life transition. We all just went through COVID, so there are so many things that changed for so many people. They lost their job; they lost their home; they had to move in with family members. They had to learn how to restructure their lives," she says.
Although Whayne works with kids and adults, her favorite thing to do is family counseling.
"I love working with the whole family because I understand that when you can get the adults in the space to be healed and to improve their mental health, it directly impacts the children, and vice versa. When you can get the children, it directly impacts the adults," she says. "I love working with families – children's dads and children's grandparents and children, whoever's in the home. I love to work with them as a collective."
Overcross Counseling and Equine Services is also about family for Whayne and her own relatives, many of whom work for the company.
"My family has owned the ranch for over 40 years. My grandparents had it, and it was built from there. Now there are three generations that actually live there. We have a barn, an arena, a shop area and a concession stand. We have all the things on site that we use. We already had the facility; we already had the tools. It was just a matter of taking the things we had – the horses, the ranch and my experience as a counselor – and combining those for our friends and the community," she says. "It's definitely a family affair. Together, we are just trying to give our community a place to heal and improve their mental health, and it's been a joy to be able to do that."
---