Our Spring Break 2023 Adventures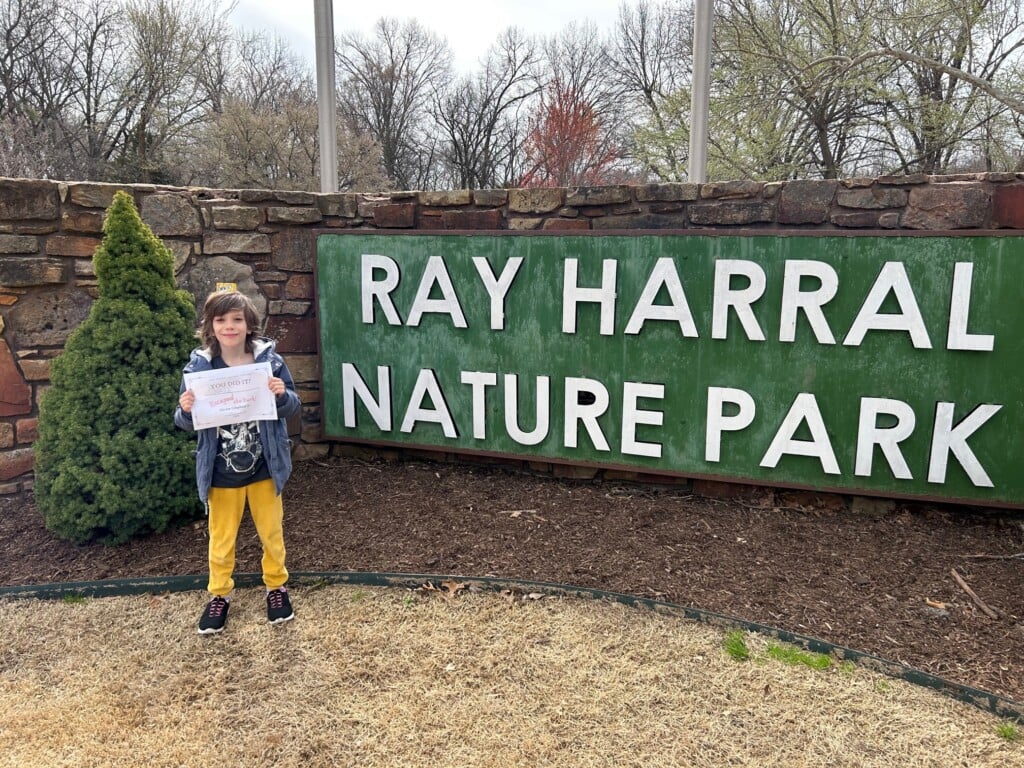 We're staying in town this Spring Break, and I didn't sign Joss up for camp. So I've been doing my best to balance working with mini daily adventures, to keep things interesting. There's also been plenty of LEGO building, video games and some birthday celebrations thrown in. So here's what we've done, in case you'd like to take a page from our book and try something new!
Monday – Gathering Place
Despite a chilly start to Spring Break week, we headed to Gathering Place Monday morning. They've got a week of Spring Break activities planned, with help from local organizations. Tulsa Rock and Mineral Society is helping lead a gem and fossil dig on the beach. The OSU Insect Adventure is in residence in the Lodge. Gilcrease is leading an art-making activity inspired by their current Gilcrease in Your Neighborhood piece. Etc.
There are also STEM stations. Joss's favorite was extracting DNA from a strawberry. We had to replicate this experiment at home as soon as we returned. He wanted to try it with ALL the fruit! He also enjoyed the nature journaling. And of course, the VR headsets inside the ONEOK Boathouse!
Gathering Place is hosting live music throughout the day, story times, sports activities on the pump track and sports courts. The list goes on! Check out the daily schedule (through March 17) at gatheringplace.org/spring-break
Tuesday – Tulsan Athletic Club
On Tuesday afternoon, we headed to the Tulsan Athletic Club near 11th and Lewis. Tiny Things by Bowen was leading a drop-in clay workshop, and we always love her events. Despite living very close, I'd never been to Tulsan Athletic Club. However, it may have to make its way into my rotation of fun, low-key things to do around town.
It's definitely a drinking establishment, but it's kid- (and dog) friendly. Joss enjoyed playing outside, and there were family board games and even a LEGO station set up inside. There are multiple pickleball courts, a ping pong table, corn hole, and a combo mini-golf/soccer set-up. Tulsan Athletic Club also hosts periodic open mic events and live music. So give them a follow, because this would definitely be a nice place to go if you're wanting to meet up with some adult friends but have to take the kids along.
Wednesday
Ray Harral Nature Center
On Wednesday, I did something I very rarely do and drove to Broken Arrow. All the way out to the Ray Harral Nature Center off of 121st St. It wasn't too bad of a drive. I just took Riverside Drive down to 121st, and then shot over through some up-and-coming neighborhoods towards BA.
Ray Harral Nature Center always has fun activities, so I was excited to finally check it out. They host monthly storytimes, weekly craft sessions, early morning coffee and nature events for littles. For Spring Break, they are hosting a drop-in Escape the Park scavenger hunt. Joss had been reluctant to go to a park, but when I told him it had an escape element, he was all in. Escape the Park occurs daily through March 18, 10 a.m.-6 p.m. The clues weren't too difficult, and we finished in about 45 minutes.
The trails throughout the park are paved and great for kids, but there are some opportunities for going off the pavement as well. Nothing too challenging, though.
Inside the Nature Center, there are plenty of things to touch and explore, like animal pelts, snake skin, birds nests, etc. You'll see multiple aquariums housing native animals, books to read, etc. And there are also clean restrooms, always a bonus!
Rivendell Books and Baubles
On the way home, we swung by Rivendell Books and Baubles, also in BA. This new bookstore is fantasy-inspired, and I was eager to visit because they have a shop dragon! A bearded dragon hanging out by the window. They also were bunny sitting, and have hatched chicken eggs in the past. So I'm guessing you never know what new friend you might make when you show up!
There's a nice selection of children's and YA literature, cozy places to curl up and read, gift items and used books in addition to new. And soon, they'll be serving coffee!
Lucky Tea Boba House
Finally, because we were celebrating someone's special day, we stopped by Lucky Tea Boba House. Joss LOVES boba. And I was excited because I'd just read "It's Boba Time for Pearl Li!" by Nicole Chen, about a Taiwanese American girl determined to save her favorite boba shop. And the book describes all the interesting things you can add to your boba besides just boba, like grass jelly and egg pudding – both of which Lucky Tea Boba House offers. So I got to try them! Delicious.
The menu is big, but they were very helpful and happy to explain different items.
Thursday and Friday??
That brings us up to date. Tomorrow we will probably stay home most of the day. But I do want to swing by Mother Road Market at 4 p.m. for Crafts and Cookies. There will also be free pizza (for the first 50 customers) starting at 5:30 because The Today Show will be there filming a world champion pizza thrower, Tara Hattan. Tara works for Zaza's Pizza and Wings and is heading to the World Pizza Games in Las Vegas.
Click here for more details about MRM's Spring Break activities.
And Friday? It's St. Patrick's Day! So we may check out Kilkenny's or Arnie's block party. Details about those at tulsakids.com/kid-friendly-st-patricks-day-events-in-tulsa/
How are you spending Spring Break? Hope this helped you come up with some fun ideas if you needed any!
---