Our First Cub Scouts Camping Trip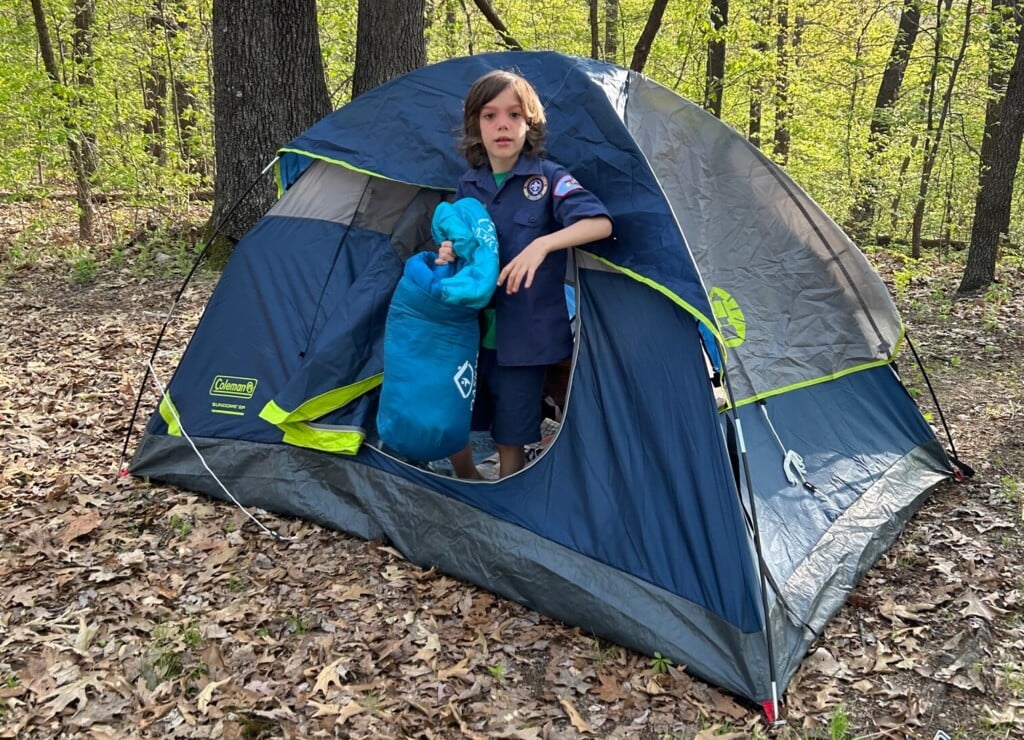 I'm racking my brain trying to remember if I've ever actually camped out in a tent before. Growing up, we had several backyard campouts, but leaving to camp was not a part of our childhood. At some point, we visited Alaska, staying with friends who had a fifth-wheeler, and camped out in Denali Park. Very cool! But I don't remember if I stayed in a tent or not? Last year, we went to Robbers Cave, staying in a very nice cabin, which was fantastic. All that to say, I wasn't prepared for Joss's first Cub Scouts camping trip this past weekend! But we still had fun.
Saturday Activities
We were supposed to go camping at Zink Scout Ranch in Skiatook. However, wildfires and winds forced a change of location. We ended up at Mabee Scout Reservation – Camp Garland in Locust Grove. It was a beautiful area, with two main buildings and several campsites. Lots of trees – and ticks, apparently, although thankfully I think Joss and I avoided them.
On Saturday, we participated in several planned activities. I was so proud of Joss because he's scared of heights, but still participated in the climbing wall activity. Even though he didn't make it to the top, he still tried three times, and would have gone back for a fourth. He was also not so thrilled about the idea of shooting a BB gun. However, once the leader helped him get started, he did great! He was so proud to have gotten one shot in the center part of the target.
I'm not super familiar with the Cub Scouts/Boy Scouts program. But now I've heard so many great things about it from former scouts. Joss wanted to give it a try this year, and I'm glad we did.
A Cold Night
Thankfully, someone had told me ahead of time that temperatures were expected to get down to 43 degrees overnight. What I didn't realize was that the cold front would blow in Saturday late afternoon. I severely under-packed cold-weather clothes! I'd thrown in a sweatshirt and jacket for Joss and I last-minute, but … definitely needed some long pants and long-sleeved shirts as well.
In my effort to minimize our amount of "gear," I really regretted not being more prepared for the weather. I think that's one of the camping packing fundamentals: prepare for various types of weather. Along with packing extra socks and underwear (which I did do, thank you very much.)
Future Packing Tips
Since all the camping gear I have is basically a tent and sleeping bag, here are some things I'd like to get before a future camping trip. As well as some things to remember.
Sleeping mat. We slept on a quilt, but that did very little in terms of comfort. Apparently, there are sleeping mats that fold up very compactly, and do a double duty of keeping you warmer and cushioning the ground. Yes, please.
Headlamps. I was planning on using my phone flashlight for any late-night bathroom excursions. Thankfully these were unnecessary, but I was kind of worried the whole time about the battery dying. Several of the kids had headlamps that looked like a much better solution.
Tums. A diet of camping snacks is not great for the digestive system.
Extra shoes! Despite my pride in remembering extra socks, I failed to bring more than one pair of shoes. And both of our shoes got wet Saturday afternoon, which meant cold, damp shoes for the remainder of the trip. Not comfortable! If you'll be by water, definitely try to bring some water shoes.
Please share your own packing tips in the comments! What's helpful? What's unnecessary? We were lucky that the camp provided lunch/dinner, and our pack packed plenty of extra snacks, as well as s'mores makings. So that helped quite a bit.
---