Cabin Camping at Robbers Cave State Park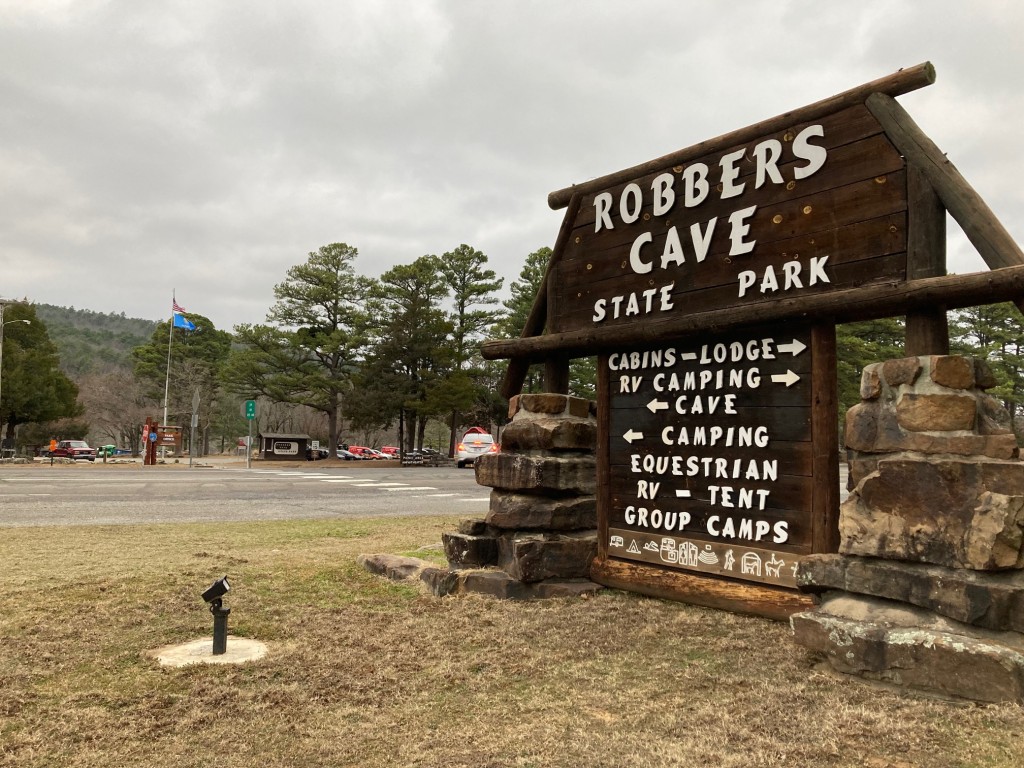 Joss and I had a new kind of adventure last weekend: camping! A friend invited us to share their cabin at Robbers Cave State Park, which included a carpool down there. So there was no reason not to go! Other than backyard camping in childhood, I'm not much of a camper and didn't know what to expect. I expected very "rustic" cabins and was worried about being too cold, not having enough food, etc. In reality, the cabin was comparable to a decent hotel room, clean and complete with towels, a warm-water shower and full kitchen. It was great!
Booking Your Stay and Getting to Robbers Cave
I wasn't in charge of booking our cabin, but you can visit travelok.com/state-parks/robbers-cave-state-park to learn about cabin, lodge, tent and RV camping options. You can make reservations here as well. We lucked out, getting cabin 126, which happened to be right next to the playground! It had two queen beds, two bedrooms, a nice living area with comfy seating, etc. I believe the sofa folded out as well, but we didn't need that.
Robbers Cave is about two-hours from Tulsa. You start by heading to Muskogee, and from there, it's a nice, easy drive through small towns. Google Maps can lead you straight to the camp office, and also directly to Robbers Cave (the cave) when you're ready to explore. For those with small kids, we noticed two McDonald's on the way – one about forty minutes outside of Tulsa, and one maybe 40-50 minutes from Robbers Cave.
Checking In
Upon arrival, we drove to the main office to get our key. They also handed us maps of the area (which were very confusing at first!), as well as a list of activities available during our stay. Most of the activities, which included guided tours, a hayride, marshmallow-roasting, etc., cost $5 per person. We initially thought about joining some of these, but since we were meeting additional other friends there, ended up doing our own thing. Still, it was nice to have the option! The activity sheet also included the forecast for each day, which was a nice touch.
From there, we drove across the street and up the hill to our cabin! The kids were soooo excited 🙂
Exploring Robbers Cave
We arrived pretty close to bedtime Friday evening, so most of our exploring took place on Saturday. After breakfast, we walked around a little bit, discovering a trail that took us through some beautiful woods down towards the park office. The office is next to a lake and nature center. In warmer months, I believe you can rent canoes and paddle boats. There's also a Foggy Bottom Kitchen. In the event that you didn't pack quite enough food, you could grab some grub here. Someone also told us there was a grocery store in nearby Wilburton, so that's an option as well.
We eventually met up with some friends who were doing RV camping. It looked like a great set-up! If you have an RV, of course you can bring your own bicycles, hammocks, etc. I guess we could have brought our own hammocks, too, had we had them and thought about it. Next time! Because these were a HUGE hit with the kids, as you can imagine. Both the RV and cabins had their own fire pit, and the RV site had a picnic table/bench as well.
We ate lunch, and finally it was time to go to Robbers Cave, the cave. If you're unfamiliar, Robbers Cave is so named because Jesse James and Belle Starr used it as a hideout. What a beautiful place for a hideout! We all enjoyed going into the actual cave – which is more like a large room and doesn't go far back, much to Joss's disappointment. And it was also a treat to see the natural corral where the outlaws tied up their horses. The best part is all the natural beauty. Wear good hiking shoes because this is a very rocky hike! It was slightly misting while we were there, and I hadn't brought great shoes. So this added a bit of stress as I chased kids over slippery boulders next to steep drop-offs.
There are lots of other hiking and equestrian trails in the area. But other than the short one near our cabin and the Robbers Cave trail, we didn't cover those. Other activities include horse riding, canoeing/kayaking/paddle boating, rappelling, swimming, fishing, visiting the Nature Center and ATV-ing. Of these, you can rent horses, canoes and paddle boats. Find more info at travelok.com/state-parks/robbers-cave-state-park.
Packing
Food
As a non-camper, the packing was a bit stressful! Even for just a two-night stay. For breakfast, I ended up pre-making biscuits and baked oatmeal. We ate the biscuits with pre-cooked sausage and fruit. So that took care of breakfast. For lunch on Saturday, I packed some tuna salad kits, and Joss had a random assortment of snacks – pudding, leftover sausage, etc. Dinner on Friday night was frozen pizza. I decided it would be easiest to cook the pizza ahead of time and just microwave it once we got there. And then on Saturday, we borrowed a campfire to roast hot dogs and s'mores. Other than that, bottled water and plenty of snacks were appreciated!
Notes on Over-Packing
I overpacked towels and bedding. We'd bought the kids new sleeping bags, which I don't think they used at all. Joss preferred just to sleep on the bed with me, which had its own bedding, and the cabin came with its own towels and towel service. They provided a tote that you could leave outside the door each day by 11 a.m. with your used towels. But the cabin did get pretty chilly one night, so I ended up being grateful for the extra quilt I had!
Notes on Under-Packing
I wish we'd packed more pants, first off. I wore the same pair of jeans the whole time because it ended up being too chilly for shorts, and of course they were pretty dirty after the first day. Joss also wore the same pair of pants Saturday and Sunday, and they were filthy by the time we got home! Joss's teacher had warned us to pack extra socks, and after the kids stepped into a creek Saturday morning, I wish I'd packed even more extras. And that would be a good reason to pack some extra tennis shoes as well.
Other items we wished we'd brought included Ziploc bags, chip clips and wipes.
Key Items to Pack
We didn't end up using our bug spray but had been warned ticks can get pretty bad up there. Thankfully, it didn't seem to be tick season just yet. So I'd recommend bringing that, along with sunscreen. Other people had recommended flashlights, which definitely came in handy. Not to mention, the kids loved having their own flashlights.
This is more of an under-packing note, but I probably should have brought more things for Joss to do in our downtime. The other kids had iPads, but I left ours at home. And it needs a wi-fi signal anyway. We could connect to the internet, but there wasn't wi-fi. So he had to wait to get a turn, which wasn't his favorite thing. I did pack a card game, but didn't think through how much time we'd be spending inside the cabin just hanging out. Could have brought us a book to read together, extra games, etc.
Have you been to Robbers Cave? What camping tips can you share? Or, where should we camp next? 😉 If you're looking for advice from more seasoned campers, check out this article by Jessica Brent, owner of Homma Camp Co.: tulsakids.com/sleeping-under-the-stars.
---