Oatmeal 4 Ways – Good and Good for You
Instant Pot Oatmeal, Loaded Overnight Oats, Oatmeal-Crusted Chicken Tenders and Healthy Oatmeal Cookies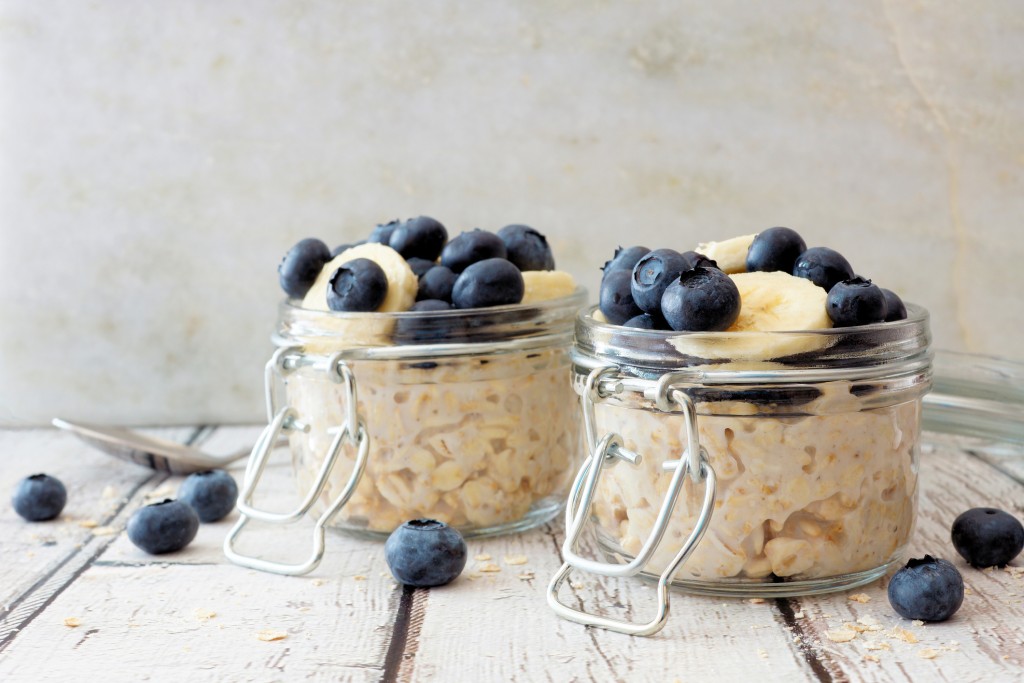 Oatmeal is a perfect cold weather food for kids and their grownups.
A warm bowl before school is quick to make but more filling and nutritious than a frozen waffle or toaster pastry. Kids often like the quick, flavored oatmeal packets, which are great for on-the-go days but check the sugar content first. Reduced-sugar varieties are available, and some brands are better than others.
Unflavored quick oats are just as quick as the packets – and less expensive. Add a touch of brown sugar, raisins, dried cranberries or chopped nuts for added flavor.
Oats, whether instant, old-fashioned or steel-cut, are a pantry must-have. Oats are a staple that make sense both because they're economical and healthy. Oatmeal is a favorite, but oats can be used so many ways, including in meatloaf, muffins, granola or as a coating for the kids' favorite chicken tenders.
The slight sweetness of oats makes them perfect to sneak into the food of picky eaters. And that's a lot of nutrition you're sneaking in. Oats are associated with reduction of cholesterol levels as well as preventing sharp rises in blood sugar levels after meals. High-fiber foods, including beta-glucan oat fiber have been reported to improve some digestive issues in children, including diarrhea and constipation.
If you have children who complain of starving before lunchtime, a bowl of oatmeal or an oat muffin is going to digest slower, keeping them full for longer before the lunch bell rings. The same goes for kids who are hungry before bedtime. That time between dinner and bedtime can be hard for parents trying to keep their kids away from snack foods. A small bowl of oatmeal or even a low-sugar oatmeal cookie with a banana and a glass of milk can settle their tummies before you tuck them into bed.
Here are some fun recipes to make for your kids using oats. Experiment with different types of oats, remembering that the cooking time generally increases for the less-processed varieties.
---
If you have an Instant Pot, here's a good recipe for using nutritious steel-cut oats. Let the kids add their favorite toppings, like chopped apples, walnuts, sliced banana or a little brown sugar.
Instant Pot Oatmeal
Serves 4
1 cup steel-cut oats
3 cups water
¼ teaspoon salt
Combine oats, water and salt in an Instant Pot. Put on the lid, making sure the steam valve is in the sealing position, and set to cook on high pressure for 5 minutes. When the time is up, let the pressure release naturally, about 20 minutes. Remove the lid and stir well.
---
Overnight oats can be made hundreds of different ways. We like them with a little peanut butter and a sprinkle of chocolate chips. Let your kids come up with combinations they like. They may want to try blueberries, bananas and almonds, or kiwi and coconut. This is a real morning treat for kids.
Loaded Overnight Oats
Makes 1-2 servings
½ cup old-fashioned oats
2/3 cup milk
1/3 cup plain yogurt
1 tablespoon flaxseed
1 tablespoon chocolate chips
1 tablespoon peanut butter
2 teaspoons brown sugar
Pinch of cinnamon
Mix all ingredients in a glass jar, stirring well to combine. Cover, and refrigerate overnight. Stir, and serve.
---
If you don't think your kids will like the flavor of thyme, skip it. These can also be made in an air fryer if your kids like them extra crispy.
Oatmeal-Crusted Chicken Tenders
Serves 4
1 cup old-fashioned oats
¾ cup grated parmesan cheese
1 teaspoon chopped fresh thyme
½ teaspoon salt
¼ teaspoon ground black pepper
1 pound chicken breast tenders
1 egg white
Preheat oven to 450 degrees.
Place oats in a food processor, and process for 20 seconds or until coarsely ground. Add cheese, thyme, salt and pepper. Pulse to combine, and place in a shallow bowl.
Pound each chicken tender, placing between two sheets of plastic wrap, and pounding with a meat mallet.
Dredge each tender in egg white then oat mixture. Place tenders on a baking sheet and bake for 15 minutes or until browned and cooked through.
---
We like this healthy oatmeal cookie recipe from the Well Plated recipe site.
Healthy Oatmeal Cookies
1 1/4 cups quick oats
1 cup white whole-wheat flour
1 1/2 teaspoons baking powder
1 1/2 teaspoons cinnamon
1/2 teaspoon kosher salt
1/4 cup unsweetened applesauce
4 tablespoons unsalted butter, melted and cooled
1 large egg
1 teaspoon pure vanilla extract
1/2 cup honey
1/3 cup dark chocolate chips
1/4 cup raisins
1/4 cup well-chopped raw walnuts or pecans
In a large bowl, whisk together the oats, flour, baking powder, cinnamon and salt.
In a medium bowl, combine the applesauce, butter, egg, vanilla and honey. Whisk until blended. Pour the liquid mixture into the flour mixture and stir just until combined. The dough will be wet and sticky. Fold in the chocolate chips, raisins and walnuts. Place in the refrigerator and let chill for at least 30 minutes or up to 3 days.
When ready to bake, place a rack in the center of your oven and preheat the oven to 350 degrees. Line a large, rimmed baking sheet with parchment paper. Remove the dough from the refrigerator (if it is very stiff, you may need to let it sit out for 5 to 10 minutes). With a cookie scoop or spoon, drop the dough into 1 1/2-inch balls and arrange on the baking sheet, leaving 1 inch of space around each. With your fingers, gently flatten each cookie to be about 3/4-inch thick.
Bake until the cookies are golden and firm around the edges and set on top, about 9 to 10 minutes. Place the baking sheet on a wire rack and let the cookies cool on the baking sheet for 2 minutes, then transfer the cookies to the rack to cool completely.
Natalie Mikles is a mom of three. She writes about food, sharing recipes for busy families and picky eaters. She has been recognized for her food columns as well as features on families and issues affecting local children. She loves pizza and movie nights with her family.
---