Nancy Bolzle: An A-Plus Tulsan
Bolzle founded The Pencil Box, which provides free school supplies to teachers of disadvantaged students.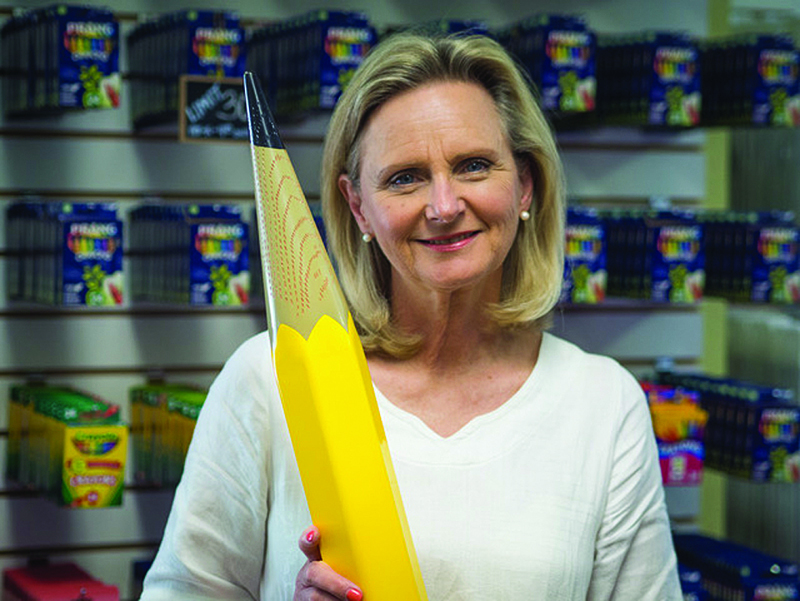 Many Tulsa children are beginning the new school year empty-handed because their parents can't afford to buy the paper, pencils, notebooks, pens, erasers and myriad supplies on classroom lists. While school-supply drives help fill some of the need, The Pencil Box, a nonprofit founded by Nancy Bolzle, provides free school supplies to teachers year round.
TK: Tell us about yourself.
Nancy: We moved to Tulsa my senior year in high school. Moving in my senior year was my choice. I immediately fell in love with Tulsa, especially The Restless Ribbon. I attended The University of Tulsa, and in 1972 married Bruce and moved back to Houston where he lived and worked as an architect. After our second son was born, we decided to move to Tulsa to raise our family and be close to grandparents. We believed Tulsa would be a good place to raise our family, and it was. Tulsa has an unusual spirit of community, all the amenities of the big city, and it doesn't beat you up. We love Tulsa.
I feel fortunate to be born to parents who believed in the importance of service to others. My mother was the first volunteer in the emergency room at the county hospital in Houston and my father was instrumental in the founding of Youth Services of Tulsa.
TK: How did the concept of The Pencil Box come about?
Nancy: In 2004 I visited the original teacher free store, Crayons to Computers, in Cincinnati and thought, wow, Tulsa needs this. I came back and tried to find an organization or individual to develop the concept here, but, after numerous attempts, finally decided the time was right for me to do it.
TK: What is The Pencil Box and who does it benefit?
Nancy: The Pencil Box is a free store for teachers to provide school supplies for disadvantaged students. Our model is unique in Tulsa in that it is a retail setting where teachers can shop for free supplies specific to the needs of their students and classrooms throughout the school year. Schools eligible to shop are public schools where 70 percent or more of the students live at or below the Federal Poverty Level.
Our mission is to provide supplies for high needs students and equalize the learning experience. Initially, we are serving Tulsa Public Schools where 80.02 percent of the students live at or below the poverty level. As funding and supplies allow, we will expand to serve all of the eligible schools in Tulsa County.
TK: What inspired you to start The Pencil Box?
Nancy: The need. According to the 2017 Oklahoma State Department of Education Low Income Report, 63,196 of the 103,521 students in Tulsa County are enrolled in the National School Lunch Program. In Tulsa Public Schools, 60 of the 78 schools have 70 percent or more of their students living at the poverty level. For the third consecutive year, Oklahoma leads the country in cutting funds for education. The Annie E. Casey Foundation KIDS COUNT 2016 ranked Oklahoma 37 among 50 states in overall child well-being.
Youth Services of Tulsa reports 1,500 to 1,800 homeless school-aged youth living in Tulsa. Families struggling to make ends meet and critically underfunded schools cannot afford the supplies necessary for successful learning. Ranked 50th in the country for teacher pay, Tulsa teachers spend an average of $500 to $1,000 annually to bridge the need.
TK: How was The Pencil Box able to help TPS during the last school year?
Nancy: Teachers tell us the #1 school supply need is pencils. During the 2016-2017 school year, The Pencil Box gave away 54,856 pencils. Last school year, we also distributed 9,924 pens, 6,630 spiral notebooks, 5,151 boxes of crayons, 5,116 boxes of colored pencils, 4,486 boxes of markers, 3,275 rulers 3,192 scissors 2,494 watercolor paint sets, 1,586 packs of filler paper, 747 backpacks and 545 calculators, just to name a few. Teachers tell us our supplies are making a difference. In November 2016, we conducted a school supply impact study with 100 percent of our teachers reporting access to free supplies was critically important.
TK: How many kids (or schools) have you been able to help so far?
Nancy: In our first school year of distribution, 2015-2016, we served 36 schools. During the 2016-2017 school year, we served 39 TPS schools, including all the eligible junior and senior high schools and half the elementary schools. In August, 41 schools will be shopping, and we have identified three additional schools to begin shopping in September and another two schools by November.
TK: Can you share a success story of how The Pencil Box has helped a school (or child) in our community?
Nancy: A teacher shared the following story in our school supply impact study:
I had a 9th grade student in class and she had a very worn out backpack. I knew she didn't have much because she was always getting clean clothes from the social worker. One day, I held her after class and gave her a backpack that was full of supplies for each of her classes. They were labeled and organized just for her schedule. Her little face just started to glow. After talking with another teacher, I found out that she periodically lived in the shelter downtown. Every day she came by and showed me her bag, that she still had it. About three months later, I was walking in the halls and she ran up to me just crying her eyes out. Someone had stolen her bag. She was devastated and beside herself. I told her that it was okay and that she could come to my room and I could give her another one. By the end of the year she still had her backpack and the supplies were well used. I found out that she slept with her bag so no one could take it. She showed me her report card, and she had all A's and B's.
TK: How can others in the community get involved?
Nancy: 1. Donate money. We can maximize financial contributions because of relationships we have with national retailers and manufacturers that allow us to purchase supplies at significantly discounted prices. 2. Donate new and almost-new school supplies. New quality school supplies are in high demand, but we also accept almost-new supplies. 3. Donate time. Our program is volunteer driven. 4. Support our annual fundraiser, Cocktails for Crayons. This year's event will be on Friday, October 6 at the Tulsa Historical Society. For more information, visit www.pencilboxtulsa.org.
TK: In your free time, what do you and your family enjoy doing?
Nancy: We just like being together. We also enjoy traveling together. I'm hoping the next family destination vacation will be on an ocean beach. Bruce and I enjoy our friends and entertaining at home, Bruce is active with the Commemorative Air Force, and I design, make and sell jewelry.
TK: What else would you like to share?
Nancy: I recently heard a young woman speak who grew up in dire poverty and with the help of teachers became a leader in the health-care industry. She said the problem is not growing up poor, the problem is growing up without hope. At The Pencil Box, our goal is to give hope for the future and prepare students for success by giving them the tools they need to succeed today. Today's students are tomorrow's leaders, workers, neighbors and our hope for the future. It's amazing what a #2 yellow pencil can do in the hand of a child.
Nancy A. Moore is a Public Relations Coordinator at Montreau, Adjunct Professor at Tulsa Community College, and has been writing for TulsaKids for almost 20 years.