Moderna Dose #2
And supporting the Oklahoma Blood Institute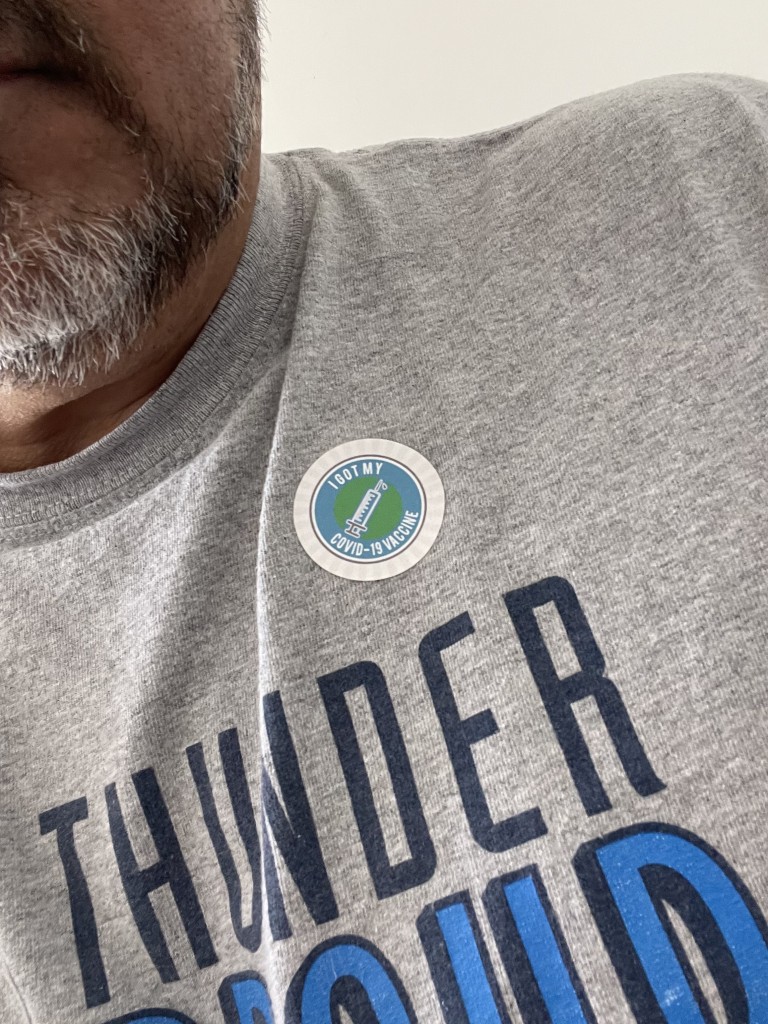 Bob Dylan wrote a song called: "Rainy Day Woman #12 & #35." The Beatles wrote a song called: "Revolution 9." And Ariana Grande has a song called: "34=35". Yes, there are lots of songs with numbers in them. I think someone should write a song called "Moderna Dose #2."
I received my second Coronavirus vaccine dose today. Feels great to know I'm on my way to 95% protection against the virus that has sadly killed thousands of fellow Oklahomans. After getting your second Moderna vaccine, it's my understanding it takes 14 days to reach 95% effectiveness. Obviously, it's not 100% but I'll take it! I know there is controversy about the vaccine so read up on it, make an informed decision then, you be you. I was being me today and drove down to VFW Post 577 at noon to get my shot. There was no waiting. I was in and out in 25 minutes. And that includes a 15-minute holding period after your shot to make sure you do not have an allergic reaction. I posted a video on my Facebook, but it was a live video and it kept dropping out and cutting me off. However, last week I posted a full interview video with a nurse from Tulsa Health Department discussing the vaccine so check that out for some basic COVID-19 vaccine information.
I wanted to clear up something from last week. The organization that is distributing shots at the VFW is Indian Health Care Resource Center of Tulsa. They are located at 550 S. Peoria, which is right next to VFW. If you have questions about getting a vaccine through them, call them, not the VFW. The VFW is simply being so kind as to allow IHCRC to use their building. The phone number to schedule an appointment for the COVID-19 vaccine with IHCRC is: 918-382-2264. They will have another Vaccine Clinic on April 21st, 10:00 am to 2:00 pm. If you're 18+ you can call for an appointment, but they fill up fast!
Can You Lend A Hard? Or Arm?
It's all hands on deck to get these vaccines distributed. I wanted to help, so I have applied to become a volunteer with Oklahoma Medical Reserve Corps. You can help also at this website: www.okmrc.org. Over two million vaccines have been administered here in Oklahoma, but that only puts us at just over half our population.
This is from USAToday.com April 6, 2021:
"Vaccine supply in Oklahoma has outpaced demand for the shots, which means it's now far easier to get vaccinated than it was weeks ago.
With COVID-19 vaccination appointments going unfilled in recent weeks, state health officials are trying to impart a sense of urgency and emphasize that the vaccines are a chance to get ahead of the virus as it swells in other parts of the country.
"It's so important that we get as many people vaccinated as possible as quickly as possible, so that we just don't give it the opportunity to resurge in our communities," said Keith Reed, Oklahoma's deputy commissioner of health.
It seems to still be easy to get a vaccine if you want one. Last week I was in Walmart in Owasso. As I was checking out (I always use Self-Checkout), a Walmart employee approached me and said if I'd like to get a Coronavirus vaccine. They have some available ready and there was no waiting. I told her "no thanks" because I already had my Moderna shot #1 and was only days away from #2.
If you've gotten yours, please drop me a message and let me know if you've had any side effects. I've heard you can feel a bit off-center for a day or so. I made a plan to have no plans this evening and tomorrow morning. Follow me on Twitter and you'll see my updates on how I feel. Mentally I can tell you I feel RELIEVED!
My non-profit that I have partnered with this week is Oklahoma Blood Institute. I partnered with them back in December and I am now anxious to donate blood again. You must wait at least eight weeks before you can donate again and now is an awesome time because you could win $1,500 worth of furniture at Mathis Brothers. The blood drive is this Friday and Saturday, 11:00 am to 6:00 pm. at Mathis Brothers, 71st & 169.
Here is their website for more information: Tulsa Donor Center |Tulsa Donor Center | Donor Centers | Oklahoma Blood Institute (obi.org)
I'll be there Friday at noon doing another Facebook Live video encouraging you to also donate blood. Believe me, they are very COVID-cautious! As they say, they "were sanitizing everything before it was cool." Lol