Melanie Gillman Hopes Graphic Novels Promote Understanding
Award-winning graphic novelist Melanie Gillman wants LGBT readers to find stories that reflect them and that help others understand them.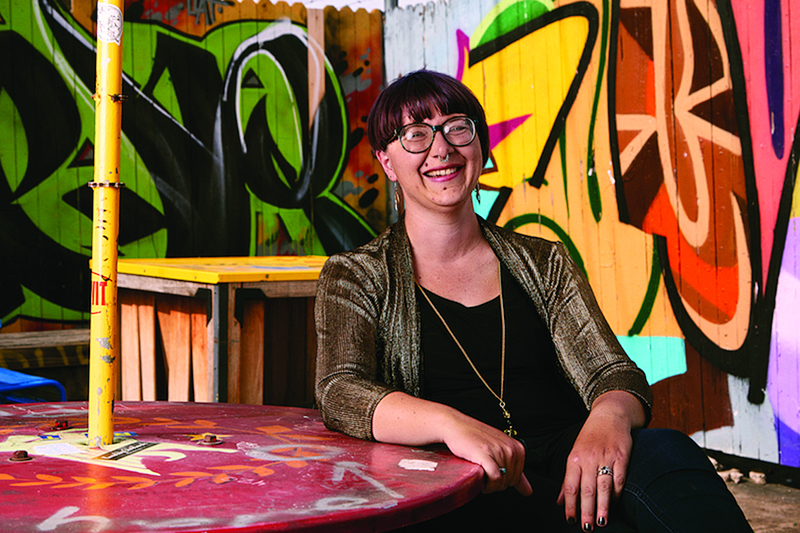 Growing up, cartoonist Melanie Gillman didn't often see themselves* reflected in literature. According to Gillman, LGBT writers just weren't getting book deals back then.
"I can't think of a single example of a book that I had as a child that represented a queer or trans person," Gillman recalls.
When Gillman discovered the Internet world of webcomics, not only had they found an enjoyable pastime, they'd found a career.
"Webcomics got me really excited about reading comics," Gillman explains. "Online, no one can stop you from putting out the work you want to put out and telling the stories you want to tell. It was really when I saw those other queer people, in particular, putting out webcomics that something clicked like, 'If other people are doing this, I could do this, too.'"
For Gillman, comics' combination of art and text is the perfect medium for conveying a story.
"One of the things that really gave me a lot of love for comics initially, and to this day, is that on a visual level with a comic, you're seeing the world drawn through a particular person's perspective, and you're seeing the way they're drawing their own community around them," Gillman says. "Approaching comics for me as a queer person, drawing primarily stories about other queer people and other trans people was a chance to communicate the love that I have for my own community, and the way I see the people around me, and the people that I love. You can't quite do that in the same way in a novel."
Gillman, who holds a Master of Fine Arts from the Center for Cartoon Studies in Hartford, Vermont describes themselves as a "queertoonist." They were awarded a Tulsa Artist Fellowship (TAF) in 2017. TAF provides housing, a workspace and a stipend to allow visual and literary artists to pursue their crafts.
Gillman is working on Volume Two of their popular webcomic As the Crow Flies. The comic follows Charlie, a queer 13-year-old girl who finds herself at an all-white Christian youth backpacking camp. Volume One was nominated for the Slate of Cartoonist Studio Prize (2013), an Eisner Award (2014), and an Ignatz (2016), and won a Gold Medal from the Society of Illustrators (2016.)
"I'm also working on a separate book, which is going to be an LGBT Western book, also a graphic novel. It's going to be in the same color pencil," Gillman says. "This one is a romance, so I tend to think of it for a little bit older audience than As the Crow Flies."
Gillman is glad their work reflects an often under- or mis-represented community.
"A lot of young, queer people have told me they've used my comics to talk to their parents about things that they're going through, so that's something that I keep in the forefront of my mind when I'm approaching writing," Gillman says. "Not just how this is going to feel to the young LGBT readers who are coming to these works, but also if their parents, teachers, church pastors or any other adult authority figure who has some influence on their life gets a hold of this, what is it going to communicate to them? Is it going to help them understand some things a little bit better?"
For Gillman, it's important that their comics are easily accessible, too.
"It's a way for kids who are still growing up in families that don't understand, kids who wouldn't necessarily talk to their parents and say, 'Hey, will you buy some of these LGBT books for me, Mom and Dad?' If they can get those at the library, if they can get them at school, or if they can read them online, they don't necessarily have to worry about outing themselves to their family just to get access to those materials," Gillman says. "The fact that books like this are getting into libraries is hugely significant."
While Gillman's work can simply be enjoyed as a good comic, they hope it's also part of a larger conversation.
"It's a goal that I have in mind with all of the work that I do that I want to be a part of positive change. I do think that one aspect of positive change is just putting more diverse stories into the hands of readers, both so that more people have media that represents them well, and also so that people who don't come from those backgrounds and don't share those experiences have stories that can maybe teach them something, maybe expand their empathy a little bit," Gillman says. "You're always hoping what you're putting out there, at the end of the day, makes the world a more open and understanding place."
*Gillman identifies as non-binary gender (gender identities that are not exclusively masculine or feminine) and prefers to use the gender-neutral pronouns "they" and "their" in reference to themselves. For more information on Gillman and their work, visit www.melaniegillman.com.
---
Julie Wenger Watson is a freelance writer who's worked in all aspects of music promotion. She's also Co-Director of "Live From Cain's," a public radio show pilot.