Meet North Tulsa Education Advocate Darryl Bright
Bright is the founder of Citizens United for a Better Educational System (CUBES)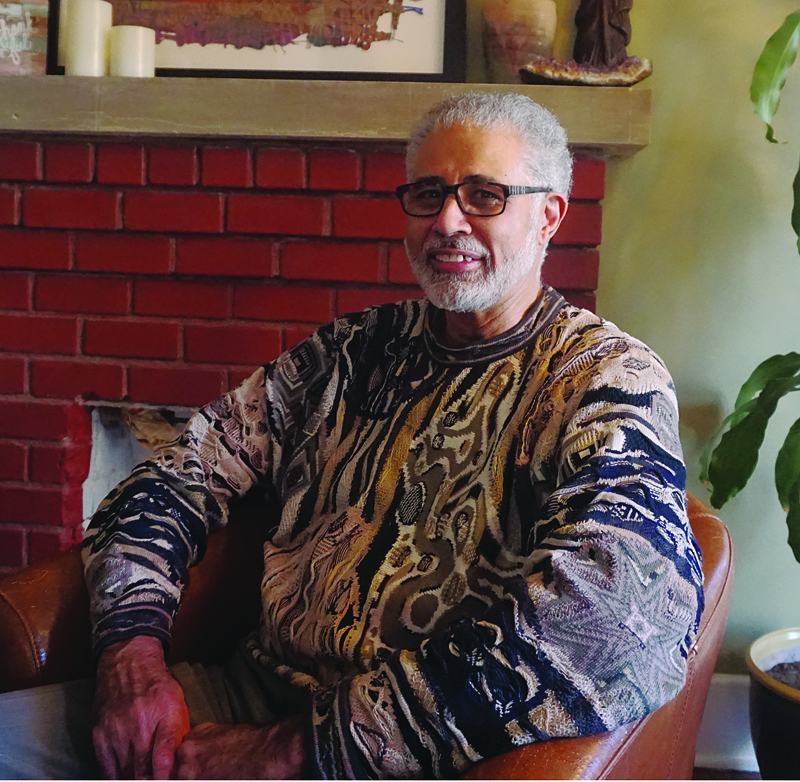 On a November evening more than 30 years ago, a representative from the Tulsa Public Schools met with parents and other interested individuals in the cafeteria of McLain High School in north Tulsa. Larry Zenke was superintendent at the time. The meeting was to announce that as part of an on-going school consolidation plan, several schools in the community would close due to declining enrollment. Promises were made to the disappointed folks in attendance that fewer schools would mean more money and increased efficiency in the schools that remained open.
"The district official told us that schools were just brick and mortar anyway," recalled Darryl Bright, a long-time education advocate who was at the meeting that night. "The room exploded. Right then and there the organization that I belong to – Citizens United for a Better Educational System (CUBES) – started in the McLain High School cafeteria."
Bright is a charter member and chairman of CUBES, a grassroots education advocacy organization. But his activism goes well beyond CUBES. Bright is currently the president of McLain PTSA, and recently completed a 31-year mentorship as a coach for the Salvation Army North Mabee Boys and Girls Club in addition to being a member of the Salvation Army North Mabee Boys and Girls Club's Advisory Committee, a vice-president of Oklahoma All State PTA and a member of the McLain Foundation. In 2017, he was appointed as a Commissioner to serve on the first Greater Tulsa African-American Affairs Commission. He also served as a member for over 30 years on various TPS committees charged with developing site improvement plans.
Bright says schools in north Tulsa continue to struggle, despite years of programs and reforms. A current bone of contention between the TPS administration and many north Tulsa residents is the McLain 7th Grade Academy. The school was slated to close last year, but the action was delayed due to protests from many in the north Tulsa community.
Bright says that the disagreement is indicative of a much deeper issue. For generations, educational reforms, including those currently proposed, have addressed symptoms rather than the inequity and systemic problems that have plagued north Tulsa schools. Until those issues are addressed, the failures will continue.
Bright's years of activism in the north Tulsa community allow him to take a long view of school improvement.
"We tried to convince Dr. Zenke (in 1987-88) that our economic development in the community thrived on quality schools," Bright said. "And, if you start reducing [the number of schools], it would certainly impact that development."
For Bright and other advocates, the decision wasn't just about closing schools, but about lack of quality and lack of resources in north Tulsa, particularly compared with other Tulsa schools.
"We've heard that (promise of more money and equity) for years," Bright said. "Many times. In more recent memory Project Schoolhouse made the same promises. The administration said we'd have more money to spend, and you should be happy. We're going to have bigger classes, but we're going to have more money. We didn't talk about inequity, but that's what it was, and they would not budge."
To protest the closings, CUBES organized a community boycott of schools on April 4, 1988. They called it Unity Day and arranged a press conference in front of Bunche, an elementary school slated for closing. Bright said that a group of parents in east Tulsa in the 11th and Garnett area were also distressed over school closings and joined north Tulsa families in the boycott after meeting with Bright.
"We had school in churches," he said. "We had supplies and lunches donated for the kiddos. One church was for the teenagers where we had discussions about the civil rights movement. It was very successful. But the result was that we got exactly the same thing we had always gotten. The administration still did not sit down and talk to us; although, we made a presence to be at every school board meeting that we could, and we have for 30 years."
After the school closings, then Oklahoma State Superintendent Sandy Garrett assigned a former school administrator, Dorothy Dewitty, to study the 26 schools that had been closed. The way Dewitty approached the school study helped the members of CUBES develop a framework and a language for education advocacy. She clarified the relationship between curriculum and instructional delivery. Using Dewitty's paradigm, CUBES moved from being a mere watchdog group to a research and recommendation organization. They began to look at problems and solutions, and to develop what Bright calls "the lexicon, the language, the vision, the end in mind that you have for the kids."
Armed with a plan, Bright and CUBES members poured over data and site plans of programs at McLain High School between 1954 and 2013. What resulted from CUBES' deep dive was a 300-page document, completed in 2015, entitled "Reinventing the African-American Child's Academic Experience: A Cultural Shift for a Strategic-Systemic Transformation of Tulsa Public Schools."
What they discovered was that program after program had been implemented over the years, with only a few showing good practices. Most were never sustained, and all failed to deliver "because there was no vision for the school, no end in mind. Because they really didn't know how to educate African-American children," Bright said.
Children in north Tulsa schools continued to perform poorly by any standard of measurement, despite promises of reform and support from the district. Bright says it is because district administrators are addressing symptoms rather than looking at the root cause.
"That's not playing the victim," he said. "You look at the data. That's what I look at. You would never see anything in the reforms that talked about our cultural heritage, our intellectual heritage, our cognitive and linguistic development. Education does not happen in a vacuum."
Bright hoped that the CUBES study would provide insight to guide those making decisions for African-American children in the district, but he says he was disappointed in the district's response.
"We gave the document to Dr. Gist because she was just coming on board as the TPS superintendent at about the time it was completed," Bright said. "She looked at it, but never responded in kind about what we really needed to be doing for African-American children."
Bright had hoped to engage in meaningful dialogue with Superintendent Gist and the school administration to come up with solutions to the problems that have plagued north Tulsa schools for generations. The CUBES document outlines "outdated mindsets" such as a lack of specific vision for the children, top-down decision making, operational and administrative solutions to systemic issues, an overemphasis on teaching methodology rather than substance and a lack of power for teachers and site administrators.
The CUBES document asserts that curricula, teaching methods and school culture must start with the individual child and with the individual school. Every program, every new reform must begin there, and must be contextually and culturally relevant to the student.
"We say we want all children to learn," Bright said, "but the pedagogies are predicated upon a particular worldview of education and how you view children. And it's usually white, middle class. It's woven into the very fabric of the curriculum, the instructional delivery, how resources are allocated, and what kind of teachers you bring into the school."
Bright believes that teachers, students and school administrators must be valued and respected for the differing views they bring to a school. When teachers lose autonomy due to prescriptive, cookie-cutter curriculum and methodology, many will quit, leaving a school with new or untrained teachers who may not understand the culture and vision of the school.
"A lot of teachers have left recently," Bright said, "because of top-down TPS administration, and being told, you gotta be a team player, and if you're not, you're ostracized."
The McLain 7th Grade Academy is a case in point, Bright says. He was on the McLain advisory committee when parents were promised a McLain Junior High.
"I had to resign from the committee because there were no results in 10 months," Bright said. "Our main concern was teaching and learning."
The district had other concerns. Superintendent Gist announced that the McLain 7th Grade Academy would be closed, and the students moved to McLain High School because of low enrollment. Bright said that a letter was sent out in January 2018 inviting input on the 7th Grade Academy.
"The community meeting wasn't about whether or not you wanted it," Bright said. "It was about, 'this is what we're doing, and we're going to let you know what goes along with that.' All these good things these kids would have if they moved back to McLain were promised — tutoring, City Year, Teach to One – it wasn't about keeping the 7th Grade Center open. "
Bright said that a group of activists, elected officials, and administrators subsequently drafted a letter with an alternative solution to putting McLain middle school children with high school students. They requested that Dr. Gist and the school board put the 8th graders currently at McLain High School and the 7th graders together at the McLain 7th Grade Academy location. The building could be renovated and outfitted to be a welcoming, appropriate place for middle school students. The test scores for the 8th graders at McLain were "woefully short," Bright said, so having them at the high school wasn't working. Additionally, many community members did not want the 8th graders with high school students.
The district response was about "administrative and structural things, but not much about teaching and learning," Bright said, "nothing about that these kids in early adolescence, arguably the most important physical and mental stage in their lives, there was nothing in there about how to address that. Those kiddos are looking for love, going through changes and finding self-identity. You have to have people that know how to create a curriculum and how to deal with the instructional delivery – culture and curriculum – that's what we were looking for. Middle school is not a holding pen."
Bright said Superintendent Gist held a meeting of community leaders and others to discuss the 7th Grade Academy but that Jeanettie Marshall, a school board member from north Tulsa, was not invited to that meeting. "They disenfranchised the duly elected school board member," Bright said.
Bright says he doesn't want to place blame (CUBES motto is "No Shame! No, Blame! No Excuses!), but rather to have a helpful relationship to talk about workable solutions with the district based on the CUBES members combined years of observation and study of schools in north Tulsa.
"This is a human rights issue. We don't want to blame teachers, administrators, the superintendent, we want to have a strategic relationship that recognizes the profundity and the scope and the generational longevity of this issue that is going to dictate one heck of a shift in how we look at each other, how we look at children, how we look at race, how we look at gender."
Bright says he'll keep fighting for Tulsa school children. He admits to not having all the answers or even all the questions, but hopes that the information in the research document will be seriously considered as a way to help provide the district with insight into how to approach pedagogy with African-American children.
"What is the next program that we have?" Bright asks. "The programs must be steeped in instructional theory of how African-American children learn. They must not harm other schools or children. The school board is part of a moral authority. They have a responsibility to fight for those who have the least in order to get equity across the district. We have to look at instructional racism, institutional racism, intellectual racism, even to the individual. You have to go deeper — KIPP, CKLA, choice, blended learning – we need to ask the question: How did you come to the conclusion that particular program is what is needed? You cannot have fear. You have to have courage to go against the status quo because the status quo has not served us well."
---