May the Fourth Be With You: Star Wars Day Treats and Ideas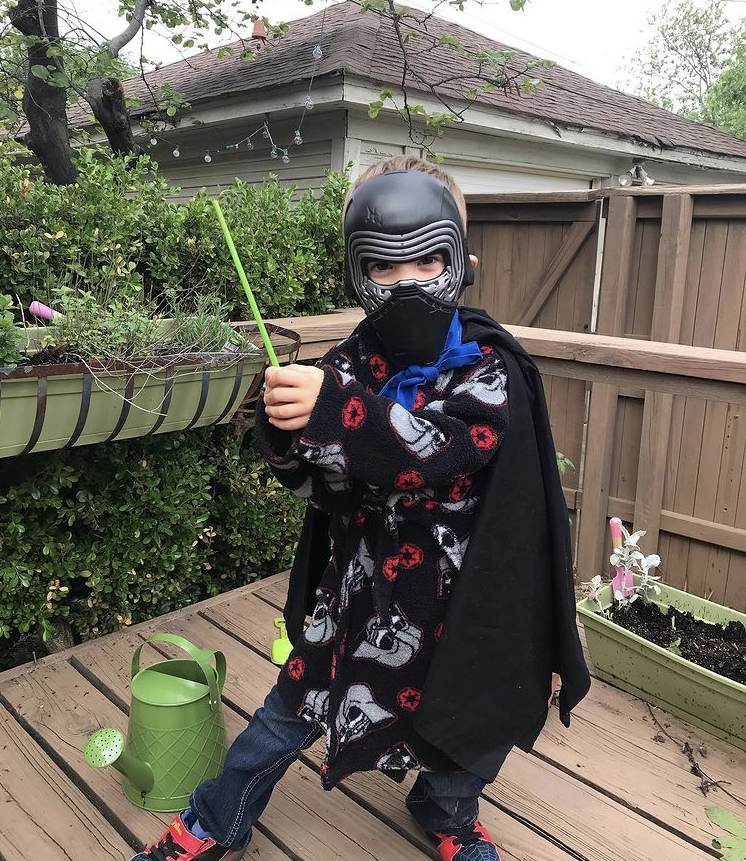 I can't believe I haven't written a blog post about this! I made some Star Wars Day treats a couple years ago, but can't find a record of sharing them here. It's always nice to have something extra to look forward to, so even if you're not an extreme Star Wars fan, why not celebrate May the 4th? I'll start with what we've done in previous years, then add some other suggestions. Obviously, watching the movies or your favorite Star Wars series is a good place to start! 🙂
1. Star Wars Cupcakes
These make me laugh, more than anything. Simply prepare your favorite cupcakes and frosting recipe. To decorate the Princess Leia cupcakes, you'll need Oreos, a length of red vine, candy eyes, smarties, brown sprinkles and light pink frosting. For yoda, you'll need candy eyes, a length of red fine, green frosting and mint leaves. Chewbacca gets a flattened tootsie roll bandolier, candy eyes, brown frosting and sprinkles and upside-down butterscotch chips.
2. Bantha Milk
Woo-hoo! It's just milk tinted blue with food coloring. If you want to take it a step further, this post from StarWars.com gives you their version of Blue Milk (added sugar + vanilla), plus ideas for using your Blue Milk in smoothies, etc.
And here are instructions for making Blue Milk ice cream as part of a complete Star Wars ice cream party.
3. Tie Fighter Graham Crackers


For this simple, Sith-inspired treat, just spread peanut butter into the middle of two graham cracker squares, and link them together with a marshmallow! You can also do this with crackers and cheese, probably cemented together with cream cheese. Hummus would be good, but I don't know if it'd be strong enough to hold up cheese?
4. Edible Lightsabers, Two Ways
First, the healthy version. Simply thread blueberries, raspberries or green or red grapes onto a skewer, depending on what color you want the light saber to be. Leave some room at the end, which you'll cover in foil. I got the idea here.
Alternately, buy candy melts in your favorite lightsaber colors. Dip a large pretzel rod 3/4-way into melted candy melt. Ta-da! Tutorial here.
5. Baby Yoda Grapes
This idea comes from @mellyeatsworld on Instagram. Cut some green grapes so that you have Yoda-ear shapes. Attach them to the sides of a green grape with toothpicks. Dip the bottom half of your grape into melted chocolate, and place on wax paper. Use a toothpick to dot melted chocolate eyes onto the grape. So cute! Her video also shows how to do this with kiwi, if you want a larger, less-chocolatey version.
6. Light Saber Battle!
On to the non-edible fun. A couple years ago at Tulsa Pop Expo, Joss got to do a Jedi training activity. The best part was getting to train with light sabers made out of pool noodles. If you want to make your own, here's a tutorial from Elevengables.com: http://www.elevengables.com/2014/09/star-wars-light-saber-pool-noodle.html. It looks pretty do-able! When you've completed your light saber, have a light-hearted duel in the backyard. Preferably dressed up in your best Star Wars cosplay.
7. Closet Cosplay
There's nothing quite like the accomplishment of throwing together a half-way decent costume in under ten minutes. So I like starwars.com's suggestion to host a family closet costume contest. Simply raid your closets to see who can put together the best Star Wars-inspired costume!
This reminded me of this very low-budget Twi'lek look we threw together last spring 😉
8. Read a Book!
We love a good family movie night, and of course that's a reasonable place to start when celebrating Star Wars! But there's a lot of Star Wars literature out there, too! I recently read Justina Ireland's "Star Wars The High Republic: A Test of Courage." It was really fun, and would be good as a family read-aloud (spread over several days) or for kids in grades 3-7.
About the book: "Vernestra Rwoh is a new Jedi Knight at age sixteen, but her first real assignment feels an awful lot like babysitting. She's been charged with supervising twelve-year old aspiring inventor Avon Starros on a cruiser headed to the dedication of a wondrous new space station called Starlight Beacon.
But soon into their journey, bombs go off aboard the cruiser. While the adult Jedi try to save the ship, Vernestra, Avon, Avon's droid J-6, a Jedi Padawan, and an ambassador's son make it to an escape shuttle, but communications are out and supplies are low. They decide to land on a nearby moon, which offers shelter but not much more. And unbeknownst to them, danger lurks in the forest…."
If you don't have any Star Wars books yourself, here's a video of Daisey Ridley reading "Star Wars: BB-8 On The Run."
9. Star Wars YouTube Crafts + Art Tutorials
There's an official Star Wars Kids YouTube channel, full of art tutorials and craft ideas.
The art tutorials are probably best for slightly older kids. Joss got frustrated pretty quickly when we tried the Kylo Ren tutorial, but I enjoyed it!
10. Star Wars Music
Of course, you can listen to John Williams' iconic scores, and you should! But if you haven't listened to "Sea Gulls (Stop It Now!), " "Bushes of Love" or "It's Not the Future," you're in for a treat!
Other fun options, Weird Al's "The Saga Begins" and this Star Wars medley performed by Jimmy Fallon, The Roots and members of the Star Wars cast. Finally, this video by TwoStepViolin talks about similarities between famous film scores and classical music, starting with Star Wars! If you watch that last video and want to hear more of "The Planets" by Holst, listen here.
There are plenty of other ways to celebrate Star Wars Day, but I'll end here. How are you celebrating? Which is your favorite Star Wars film or character? Let me know in the comments!
---