Local Pet Rescues to Follow and Support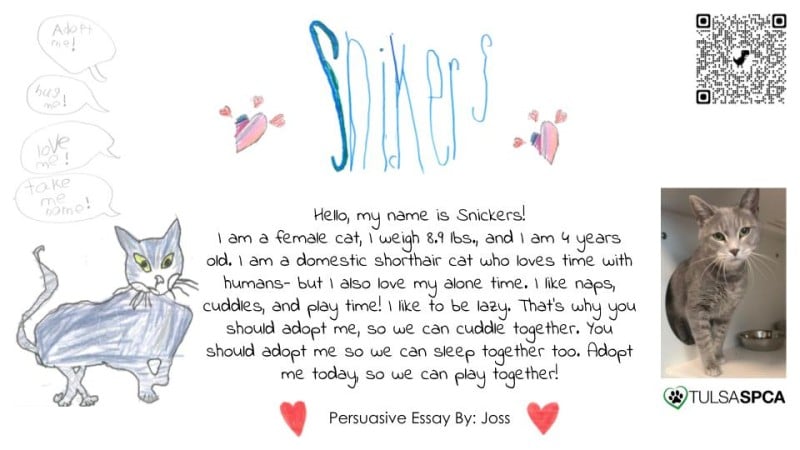 Joss's 2nd grade class did the coolest project this month. They each chose an animal from Tulsa SPCA's list of long-haul rescues. Aka, the dogs and cats that have been with the organization the longest. Next, they wrote a persuasive essay about why you should adopt their pet of choice, accompanied by pictures, of course! The end result was absolutely sweet, and I hope many of these pets get good homes in time for the holidays! Anyway, I thought now would be a nice time to piggy-back on that idea and create a list of local pet rescues to support and know about, including some upcoming holiday events.
A lot of the events are happening THIS WEEKEND, so I apologize for the late notice! But follow these organizations year-round for upcoming info. And it goes without saying that this is by no means a comprehensive list. So please share your own favorite pet rescues in the comments! And check the Oklahoma Alliance for Animals partner list linked below.
Also, because not everyone is looking for a new pet, I'm focusing on ways to support through volunteering, fostering, etc. But of course, you can always adopt if you are ready to commit to a sweet new addition to your family!
Location: 2910 Mohawk Blvd., Tulsa
Phone: 918.428.SPCA (7722)
Website: tulsaspca.org, facebook.com/tulsaspca
Mission: "To improve the lives of dogs and cats, and their human companions."
Tulsa SPCA does more than just help cats and dogs find forever homes. They also offer low-cost vaccination clinics, have a low-cost spay/neuter clinic, do community education and more.
Support Tulsa SPCA's work year-round by becoming a volunteer or foster parent. Volunteers must be at least 9 years old, and accompanied by a parent/guardian if they are between 9 and 15. Volunteers help with clinic clean-up, animal showings, green dog socialization, cat socialization and more. Foster parents typically house animals form 2-4 weeks. Supplies and veterinary care are provided, in addition to training and support. Learn more at at tulsaspca.org/become-foster-parent/
And of course, you can always donate!
Current Ways to Support (Nov/Dec 2022)
Rescue Love Calendar: Purchase Tulsa SPCA's Rescue Love Calendar either online or at Ida Red General Store, Dogtopia of South Tulsa, Bridges Mercantile, Dog4Dog Grooming and Three Dog Bakery.
Keep a Dog Warm This Winter: A project to provide dog houses to families in need. They hope to provide at total of 50 dog houses.
Santa Paws: The Tulsa Bar Association is doing a fun fundraiser on behalf of Tulsa SPCA. On Nov. 19, 9 a.m.-2 p.m., you can pay $25 for a 15-minute photo session with Santa. Plus, you can purchase a raffle ticket for $5. The winner will receive a Doggy Basket. Email frontdesk@tulsabar.com or call 918.584.5243 to participate.
---
Location: 5321 S. Sheridan Rd., Tulsa
Phone: 918.742.3700
Website: animalallianceok.org, facebook.com/animalallianceok
Oklahoma Alliance for Animals is not a single rescue, but rather a collaboration of animal rescues and welfare organizations working together. You can see a list of partners (which includes many of those mentioned here, at animalallianceok.org/resources/partners/). There are many ways to support Oklahoma Alliance for Animals, including adopting/fostering, donations, purchasing merch from their online shop or ordering items off their Amazon wish list. Volunteer opportunities include helping with events throughout the year. Learn more and sign up to volunteer at animalallianceok.org/support/volunteer/
Upcoming Events
Von Franken Family Food Run: If you're participating in the (free) Von Franken Family Food Run Thanksgiving morning, be sure to bring some pet supplies to donate!
Cookies and Pet Photos with Santa: This fun event will be held on Dec. 4, 12-4 p.m., at Dogtopia of South Tulsa (8170 S. Lewis Ave.). Reserve your spot at signupgenius.com/go/10c0f48afa723abfec34-santa. (Dogtopia is also collecting bags of dry dog and cat food through December to donate to OAA.)
Adoption Events at Pet Supplies Plus: Meet adoptable pets at Pet Supplies Plus (61st and Memorial) on the 2nd and 4th Saturday of each month, 11 a.m.-2 p.m.
---
Location: 6232 E. 60th St., Tulsa
Website: tulsapets.com, facebook.com/TulsaHumane
Mission: "Bringing Pets & People Together"
Humane Society of Tulsa helps finds help for dogs and cats. They also provide disaster relief, offering "immediate response to natural disasters including rescue, sheltering, veterinary services and victim support services." Volunteers 10-17 must be accompanied by an adult volunteer, but there are many volunteer needs, including offsite adoption events, fostering, fundraising, transportation, etc. Learn more at tulsapets.com/volunteer.
Upcoming Events
Pet Pantry + FREE Vaccine Clinic: November 19-20, 10 a.m.-4 p.m. Get free vaccines and pet supplies!
Location: 3031 N. Erie, Tulsa
Phone: 918.596.8000
Website: cityoftulsa.org/government/departments/working-in-neighborhoods/animal-welfare/
The City of Tulsa's Animal Welfare is a good place to check for lost pets – or if you're looking to adopt one. We got our kitty, Raven, from TAW! As with the other organizations on this list, they are always looking for help through volunteering and fostering. For the most part, volunteers should be 18+. However, volunteers ages 3-17 are accepted with signed parental consent and when accompanied by an adult. TAW also has an Amazon wish list if you'd like to help in that way.
---
Thanks to members of our Facebook group, TulsaParents, for these suggestions:
Location: 5201 S. Yale Ave., Tulsa
Phone: 918.622.5962
Website: arftulsa.org, facebook.com/arftulsa
Animal Rescue Foundation rescues homeless animals from shelters where they are in danger of being euthanized. Then, it places them with foster families and helps them find permanent homes. One special program is Sissy's Seniors, a fund that goes to support medical care for senior dogs. Donate here.
ARF Tulsa has multiple volunteer opportunities, including transporting dogs and cats to events, bathing and grooming animals, answering their help line – and of course, fostering! A particular need is large dog and cat fosters. They also have a Dog Jog program (volunteers under 18 must be accompanied by an adult), a need for people to play with kittens at PetSmart on 41st, and people to help with animals at their ARF House, located in LaFortune Park. Learn more about all of these at arftulsa.org/volunteer/
Upcoming Events
Saturday Adoption Events: You can find ARF Tulsa at PetSmart on 41st every other Saturday. Follow @arftulsa on Facebook for information about other adoption events.
---
Location: No physical location open to the public. But their mailing address is 11063-D S. Memorial Drive, Tulsa
Phone: 918.550.1515
Website: puppyhavenrescue.com, facebook.com/puppyhavenrescue
Mission: "To save dogs who have been neglected, abandoned, impounded, or forgotten."
Puppy Haven meets its mission by taking in dogs of every breed, size and age, socializing them and making sure they get the medical care they need! To support Puppy Haven Rescue, consider volunteering, fostering, purchasing an item off their wish list or becoming a monthly donor.
Upcoming Events (Nov/Dec 2022)
Puppy Haven Home Event: Meet adoptable dogs at the Puppy Haven facility. Dates are November 19 and 27, December 3, 10 and 17, from 10 a.m.-1 p.m. (With the exception of Nov. 27, 11 a.m.-2 p.m.)
---
Location: 2605 W. C Rogers Blvd., Skiatook
Phone: 918.578.9175
Website: skiatookpawsandclaws.com, facebook.com/skiatookpawsandclaws
Skiatook Paws and Claws is "a foster-based cat/dog rescue out of Skiatook, OK." If you're interested in fostering through Skiatook Paws and Claws, you can fill out a foster application form at skiatookpawsandclaws.com/foster. This page also includes a volunteer application form. (Most volunteers must be at least 18 years old.)
Upcoming Events
Skiatook Paws and Claws Fundraiser: On November 22, 9 a.m.-6 p.m., Skiatook Paws and Claws is hosting a fundraiser that benefits the organization and pet owners alike! At this walk-in clinic, you can get low-cost nail trims, anal gland expression and ear cleaning.
---
Location: 901 S. Lowry St., Stillwater
Email: tinypawsok@gmail.com
Website: tinypawsok.org, facebook.com/tinypawsok
Tiny Paws is dedicated to helping orphaned kittens. These babies need extra love and help in order to survive – and thrive! According to their website, "A team of well-trained, dedicated staff and volunteers tend to the kittens around the clock, providing bottle-feeding and medical care under veterinary orders in a safe and healthy environment." Furthermore, they are a no-kill rescue and never refuse a kitten because of its medical condition, so rehabilitation is another large part of the work they do.
To support Tiny Paws year-round, you can donate! Find a link to donate on their homepage at tinypawsok.org.
More Options
Other Events
Bark in the Park: November 19, 10 a.m.-2 p.m. at Ray Harral Nature Center. "Bring your dogs and enjoy a day in the park filled with fun activities and a pet friendly atmosphere, but most importantly to adopt homeless pets from area animal rescues and shelters!"
---