Learning in the Pandemic: Parents and Teachers Assess the Year So Far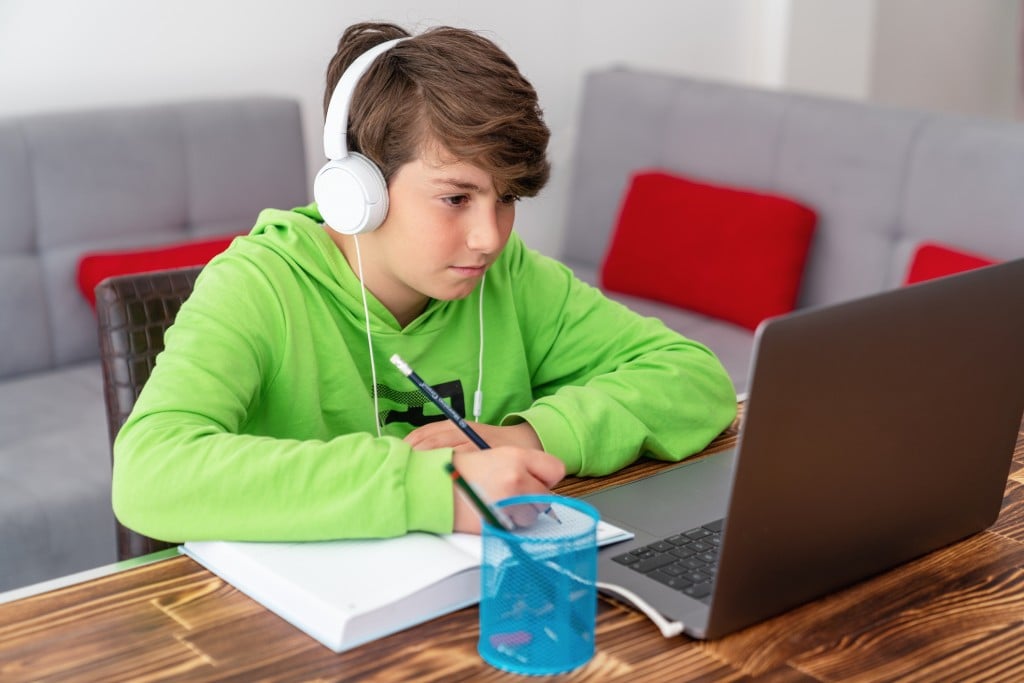 It's difficult to find the correct adjective to describe 2020 so far. Words like "challenging" and "interesting" come to mind, and while I can think of a few more, they're not suitable for print in this magazine. Although everyone's experience has been different during this pandemic, it's safe to say we've all had to adjust to the new reality of life during the time of coronavirus. Since we're well into the first semester of school, it seems like a good time to check in with parents and educators to see how things have been so far. You may be surprised to learn that even in a virus downpour, the clouds can still have a silver lining.
Tulsa Public Schools started the fall semester online and are currently contemplating a multi-step return to in-person classes. For parents and teachers alike, it's been a journey. For Amber Harrington, chair of Edison High School's Fine Arts Department and a drama teacher for 21 years, one of the most difficult things has been missing her students and the theatre season.
"My entire life has been built around the theatre season. We would have done three productions already," she explains. "I miss the process."
Harrington believes her students have missed each other and their "community," too.
To accommodate her virtual classroom, she's had to create a new curriculum, and she's learned a lot about technology as a result. In many ways, she believes it's made her a better teacher.
"My advice is to look to the big picture," she suggests. "You won't be defined by how you survived this year because that's really what we're all trying to do. Survive."
Jen's been a public high school counselor for nine years. According to her, communication is one of the most important, and most challenging things about this school year. Zoom calls make it easier for students to dodge assignments and more difficult for teachers to keep them engaged. Faced with new learning platforms, it's harder to hold students accountable for missing information.
Since much of Jen's job is centered on direct communication with students, the lack of in-person contact has been particularly tough.
"With the distance learning format, there is not time set aside or scheduled for counselors to meet with students," she says. "We've had to get creative and carve out where we can."
Jen worries some students may not have the self-discipline needed for distance learning to be most effective. Many of them aren't engaging with their Zoom classes "live," assuming they can catch up later.
"But that mindset doesn't work," she notes. "Their schoolwork quickly snowballs and becomes an overwhelming load when they put it all off to the weekend or do not allow enough time to take care of school business throughout normal hours."
Jen encourages communication and teamwork between parents and teachers and between students and teachers, too.
"I think adjusting expectations is also important. You just can't expect the same degree of progress you'd see under normal school conditions. The important thing is to keep kids engaged and don't lose ground," she says.
Kathy Pitcock is the parent of three TPS students. Balancing full-time jobs with helping the kids with their schoolwork has been the biggest challenge of distance learning for her and her husband. Her kids miss their friends, too, and she worries about all of their time spent on screens.
There is an upside, though.
"We're not leaving the house, which has given us more time together," she says. "We've played more, watched more movies together and gone on more walks. None of us miss the running around."
TPS chose distance learning, but several Tulsa area private schools have used a combination of in-person and online this fall. Libby Easterling just launched her teaching career with a first-grade class at Monte Cassino. Before school started, she was concerned about her students' ability to keep their masks on and their hands clean. However, she's been pleasantly surprised at how well they've done. She credits the parents with having prepared their kids well for the unusual school year.
"The current challenge we are facing is the difficulty to build classroom community without all the things that normally come in a classroom like hugging, playing close together, high fives, and sharing, just to name a few," Easterling notes. "On the flip side, it has been really fun and exciting as an educator to be malleable and try to find alternative ways to grow a classroom family during these times."
While she feels her students are adjusting well, she does think they miss some of the social aspects such as eating with kids from other classes during lunchtime, playing with them at recess and missing activities like field trips and class parties.
Despite the challenges, Easterling finds a lot to be thankful for.
"Watching my students, parents, coworkers and school community deal with the circumstances with grace and a positive attitude makes me so proud to be in education right now. I feel so supported every single day and everyone is always extending an extra hand," she says. "I have just been so proud of how well my students have handled the entire situation. They are great listeners and they know that everything they are doing is to keep others safe and keep themselves in school."
Stephanie Arnold de Verges has a fifth grader at Monte Cassino and a freshman at Bishop Kelley. De Verges is grateful that both she and her husband are self-employed, giving them the flexibility to deal with the kids' schedules.
"The biggest challenges I've faced have been emotional," she says. "How to keep cooking when glum kids complain about everything I serve, how to stay upbeat when we can't spend time with my aging parents, how to stay creative when faced with another day of isolation, how to stay calm when I see my son's screen-time report."
De Verges thinks both schools are doing a good job handling the remote and in-person learning. Her fifth grader has been on campus five days a week, and that has made things easier. Bishop Kelley's hybrid schedule means her freshman is on campus two days a week, which he likes more than the online learning.
"He enjoys his friends and is in good spirits when I pick him up, especially on football days. Getting to work hard and have fun on the field has been a huge contributor to his great start to high school, in spite of Covid," de Verges notes.
When asked, de Verges offers this advice, echoed by many, for other families finding their way during this pandemic. "Open up to other parents about what is working for you, as well as what's hard for you. With your child's teachers, keep the lines of communication open, and remember to tell teachers what's going well for your child. They need positive reinforcement, too!"
Julie Wenger Watson is a freelance writer who's worked in all aspects of music promotion. She's also Co-Director of "Live From Cain's," a public radio show pilot.
---