Issues with Child Care in Oklahoma
Tulsa is a national model for early learning, yet gaps exist in accessibility and affordability.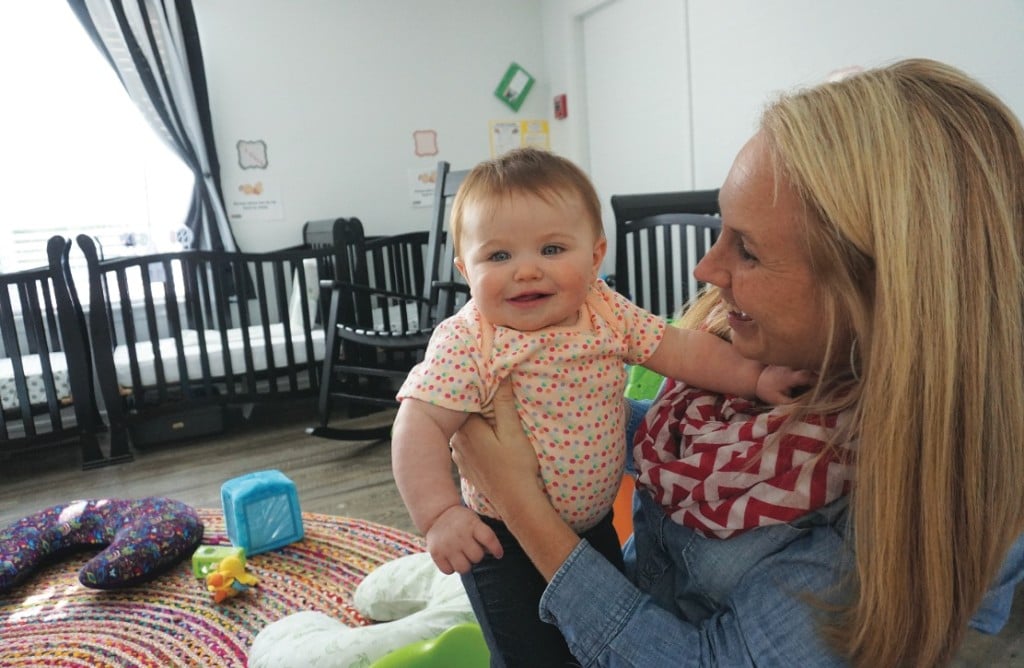 Tulsa mom Jacky Bramblett started looking for child care as soon as she found out she was pregnant. After visiting several options, she was placed on the waitlist for four of them and paid the deposits, thinking that one of them would have space for her daughter.
"I got on the list at most places in May," Bramblett said, "and they all said maybe they would have space in April, May or the summer or fall of 2017. It was exasperating."
When the time came, however, none of the child-care centers where Bramblett was waitlisted had a space for her baby. The reality is that being on a list and paying a deposit doesn't guarantee parents a spot for their child. Other factors such as the length of the waitlist, and sibling and community preferences often leave many Tulsa families like the Brambletts hanging.
According to Child Care Aware® of America, a non-profit that researches and reports on the state of child care in the United States, "an estimated 11 million children under the age of 5 spend an average of 36 hours per week in child care." Moreover, Child Care Aware's® current study Parents and the High Cost of Child Care: 2015 report finds that cost and quality are not necessarily equal. Even though parents are paying a large portion of their income for child care, "only 10 percent of child care meets the quality requirements that lead to positive effects on children's outcomes."
Bramblett's primary focus was on quality, and she had carefully considered the environment she wanted for her daughter. As she began her search, she identified centers that met the standards of the National Association for the Education of Young Children (NAEYC). She compiled a list with the help of the Child Care Resource Center (CCRC), a referral service that gives area parents a list of licensed day-care centers and homes.
Beyond a clean, safe environment and good adult-infant interaction, Bramblett was looking for plenty of sensory stimulation for her daughter. One center that she visited provided lots of tummy time for babies, with mirrors at baby-eye level, and wedges to maneuver babies into place. Bramblett liked that the center was following safe sleep standards of having babies sleep on their backs, and that the staff had adapted ways to give the babies time on their stomachs during waking hours. But that center was full, as were the other centers she visited.
"Availability is not there,"
Bramblett
said. "It's a big thing."
When none of her choices panned out, Bramblett was desperate, knowing that she had to return to work, but having no care for her daughter.
Bramblett was also concerned about the expense. Knowing how hard the search was for her, she wondered how other moms, especially single parents, who were thinking of returning to work or school, might have difficulty finding and paying for care. "It stagnates social mobility for a lot of moms."
Karen Smith, director of Tulsa's Child Care Resource Center (CCRC), said that child-care costs can be extremely high, leaving some parents struggling to find care for their children. Those parents may be turning to unlicensed care, leaving children home alone or exiting the workforce.
"Child care is as expensive or more expensive than college tuition or a mortgage payment," Smith said. "Right now the amount of (DHS child care) subsidy that a parent receives has not increased in seven or eight years. So two parents each working minimum wage do not qualify. Child-care subsidy is a support that allows low-income families to work while providing necessary learning for young children. It is not a handout. We do have quality programs. There are places for those in poverty and for families who can afford expensive child care, but it's the biggest issue for those in the middle."
Diane Horm, Ph.D., director of the OU-Tulsa Early Childhood Education Institute (ECEI), says that many families who live above the poverty line and don't qualify for Head Start or Early Head Start may fall into a child-care gap. "I run a research group where my staff are young women, and I see their struggles to find good quality care for their group," Horm said. "They have the knowledge, and they see the options out there, and it's really hard for them to come to grips with [the lack of options]."
Horm said that Tulsa does have good resources for families living in poverty. "We serve more children in Head Start and Early Head Start, that is more young children living in poverty, than a lot of other places in the United States," she said. "However, like other places in the United States, the working poor and the middle class struggle with affordable child care."
Child Care Aware® sets the realistic percentage of wages that parents should pay for child care at 10 percent, yet parents in most states pay much more, some over 33 percent.
Melinda Belcher, resource and referral coordinator for CCRC, agrees that affordability and accessibility to child care can be a problem, but she points out that many parents have a negative view of home-based child care. "That's an avenue that's sometimes overlooked," she said. "We have some wonderful child-care homes that offer flexibility and can be lower cost than centers." She also suggests that a home day-care might be a good temporary solution for parents whose children are on waiting lists for child-care centers.
In a TulsaKids Facebook response to a question about accessing affordable child care, Jennifer Barwick Barnett wrote that she and her husband started looking for care shortly after their son was born. Needing only two days a week because grandparents were picking up the other three days, the Barnetts soon found that most Tulsa day-care centers don't do part-time care. They eventually found an affordable place near their home that fit their schedule. "We did our homework, but in the end, it came down to right place, right time," wrote Barnett.
A home day care was the option that Bramblett was considering for her daughter when a friend told her about Avant Garde, a new center that was opening at 41st and Detroit near Bramblett's neighborhood. The center met her criteria and she felt comfortable with the director, Amber Crisp-McCann, a former DHS state child-care inspector. Crisp-McCann is also a certified trainer for child-care staff.
"My background is in early childhood," she said, "so I saw this as a good opportunity to be a director."
Crisp-McCann's vision of a great child-care center is one that meets and exceeds basic DHS licensing requirements. She says parents should look for good management, an environment that is clean and safe, a low turnover of trained staff and consistency. She says parents also should consider these questions: Are teachers reading to the children every day? Are the teachers happy? Does the management create a happy environment for the staff? Do you see the director?
Tulsa mom Nancy Allyn wrote on TulsaKids' Facebook that she and her husband experienced a waiting list both in Philadelphia and when they moved to Tulsa. She suggests that when parents are looking for a child-care center they should tour several centers in order to compare. "Don't hesitate to visit a couple times!" she wrote. Allyn also encourages parents to drop-in for a visit at different times of the day, such as during drop-off or pick-up to see how the staff interacts with parents. "Request a list of referrals. Pay attention to interactions with all staff you encounter during phone calls and tours." And, in the end, use your own judgment. "Just because another center is best for your nieces, it may not be the best fit for your child."
Crisp-McCann recommends that parents go to www.okdhs.org to see if the child-care center or home has any complaints against it. While some infractions may be minor such as a one-time rip in a changing table, others such as consistent infractions for teacher-child ratios can be a huge red flag.
Avant Garde Owner Laurie Penix empathizes with parents looking for high-quality child care, which is the reason she got back in to the business after 16 years. She recruited Crisp-McCann because of her expertise and willingness to encourage creativity in the staff and her ability to be flexible in meeting the child-care needs of the community.
Penix is a previous owner of Koala Care preschools, so she is building on that experienc in opening Avant Garde. She will open a second location soon."Just handling waiting lists is overwhelming to an owner," Penix said, so she plans to try her best not to leave parents hanging. "Every day we have tours and calls. I've had many parents say they're choosing child care that they're not really happy with, or that they've been on a waiting list for a year. People get hopeless."
Besides a safe environment, Penix says that parents care about good nutrition and a strong developmental curriculum. She has enlisted a professional chef to make healthful meals for the children and the staff and, in remodeling the existing building and surroundings, Penix wanted to ensure that children have room for art, project-oriented learning and outdoor experiences.
Importance of High-Quality Early Learning
While accessible and affordable child care can be difficult to find for middle and high income parents, Tulsa is a national model for providing high-quality early childhood education for many low income parents.
Tulsa's three Educare centers provide year-round early learning and care for children 6 weeks to age 4 or 5 who meet certain qualifications.
"Educare knows that parents are the most instrumental person to their child's success," said Caren Calhoun, Tulsa Eudcare, Inc. executive director. "We partner with parents to build strong bonds with their children, and help them better understand their children's developmental needs."
The Tulsa Educare Centers recognize the importance of providing a rich learning environment for very young children. "The earliest years of a child's life are a time of rapid and crucial brain development," Calhoun said. "In fact, 85 percent of the brain develops in the first three years of life. For parents working or in school all day, they are seeking an educationally rich environment for their children during the day. And, there are huge benefits to enrolling in a high-quality early learning center."
Diane Horm conducts program evaluation research with the Community Action Project's (CAP) Head Start, Early Head Start and Tulsa Educare. "In high-quality programs, it's all about the relationships," she said, "the quality and nature of teacher/child interaction."
Educare pays competitive salaries and benefits, enabling them to recruit and retain highly-trained teachers.
Low pay for child-care workers can undermine the quality of teachers and staff, who typically earn below minimum wage. Horm said that a study done by the National Academy of Science recommended that all preschool teachers have a bachelor's degree, but most states often require much less than that.
Recognizing the high overhead for child-care, the Child Care Resource Center supports child-care homes and centers by providing teacher training, a lending library and child-care advocacy. "We work to give them resources so that they can stay open and charge a little bit less," said CCRC Director Smith. "We work with them to help them find different business practices, so they can help families."
Improving Child Care
The research is clear and definitive. High-quality early learning experiences beginning at birth have a life-long impact on children, but also broader social and economic impact. Yet, many parents are still struggling to find adequate care, cobbling together a patchwork of baby-sitters, relatives and part-time care that can leave both children and parents stressed.
"Good research says that we pay now or we pay later," Horm said. "A report that came out recently says that high quality early learning has a higher return on investment than anything we can invest in the stock market."
In fact, recent research led by Dr. James Heckman, a professor of economics at the University of Chicago and a Nobel Prize-winning economist, shows that comprehensive, high-quality, birth-to-5 early education has a 13 percent return on investment. For every dollar spent on early learning, the benefit is more than six dollars.
"We invest the least when kids have the best learning capacity," Horm said. "As we learn more through brain science research in early childhood, particularly birth through three years, we see that time as particularly ripe for learning. Yet, our country has a non-system for supporting families during that time."
Horm believes that the research bears out the necessity for high-quality early learning experiences for all children to reach their full potential. She also points to Professor Heckman's work as evidence that investing in early learning creates a stronger economy.
"We need to do a better job of talking about the lost potential and squandered opportunity – we're choosing to spend money on prisons and remedial education rather than early learning," she said. "I don't think any rational person would make that choice."
Advocating for Change
Smith believes one solution that Tulsans could address is having more employers provide help such as on-site child care. Perhaps with some coordinating support from the Chamber of Commerce, several companies in the same geographic area might come together to pool resources to provide child care. Another option might be that companies provide employees with additional benefits such as child-care reimbursements.
According to Child Care Aware®, the pay-off to business is big. Access to high-quality child care results in increased employee loyalty and morale. Child-care problems cost businesses over $4 billion annually.
While Tulsa's Educare Centers are models of high-quality early learning, they only serve a portion of the population. Calhoun says that a fourth Educare is in the planning phase. "Tulsa is known to be a leader in early childhood education; we need to thank George Kaiser and the George Kaiser Family Foundation and Steven Dow and the Community Action Project of Tulsa for blazing this trail," she said. "The sky is the limit if parents and community leaders demand that quality expand such that every child in Tulsa can have the benefit of an excellent early learning experience."
Horm is optimistic about the bi-partisan support she sees for early childhood. "People are getting to know the research (about brain development and the importance of high-quality early experiences). If you look nationally, some states are starting to have more state funding for 3-year-olds," Horm said. "Where people get stuck is the funding. Until we have a citizens' revolt, nothing is going to happen. Each family is going to have to be an advocate for it. If we want public service, we're going to have to pay for it."
---
RECOMMENDATIONS
According to Child Care Aware of America® (www.childcareaware.org), "Child care settings do not rank high on quality. Nationally, it is estimated that less than 10 percent of child care is of sufficient quality to positively impact children's outcomes. Over 80 percent of child care centers are merely of 'fair' quality."
In order to better meet the need of America's working families, Child Care Aware® of America recommends that Congress take the following actions:
Increase significant federal investments in child-care assistance
Provide resources for planning and developing child care capacity
Reduce barriers in the subsidy administration process
Require the Department of Health and Human Services (HHS) to undertake a study of high-quality child care
Ensure that public pre-kindergarten programs are designed to meet the developmentally appropriate child care needs of working families
Expand the Child and Dependent Care Tax Credit (CDCTC)
Review and consider the policy options available to help families offset the rising cost of child care
Simplify the process whereby families qualify for various child care tax incentives
Ensure that parents who are enrolled in and attend college full- or part-time are permitted to take advantage of the Dependent Care Tax Credit
---
Resources
To check subsidy eligibility or child-care infractions, go to www.okdhs.org.
For information about licensed day-care and home-care facilities, go to the Child Care Resource Center (CCRC Tulsa) website at www.ccrctulsa.org.