In Praise of the Really, Really Free Market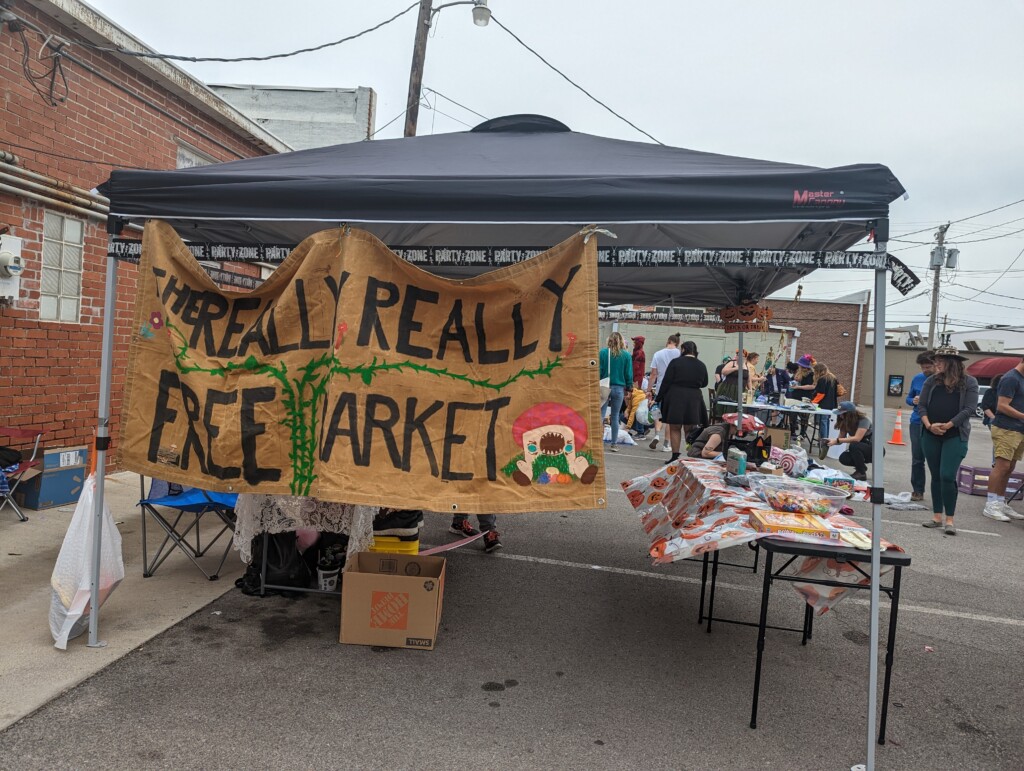 I first got involved with the notion of mutual aid and gift economy about eight years back after years of looking for practical ways to integrate voluntary simplicity into our household and experimenting with my own barter group on Facebook. It was around that time when I stumbled onto the Buy Nothing community — location-based Facebook groups connecting neighbors to folks in their area where they can ask for just about anything and gift items to others.
I first visited Tulsa's Really, Really Free Market in October 2022 when it was set up at Whitty Books. That's where I met its friendly cottagepunk organizer Rags Ragland, who offered me a star sticker for "being good" as I plonked down a pile of Beanie Babies and commenced browsing, ultimately taking home a nearly full bottle of what would end up being one of my favorite fragrances, Thymes Goldleaf Gardenia.
Since then, the event has expanded — blown up, if I'm being honest — and found a more permanent home at the Dennis R. Neill Equality Center, where it runs for several hours on the third weekend of each month [Editor's Note: As of Sept. 2023, the Really, Really Free Market has moved to the 2nd weekend of the month.] For our family, showing up has become a regular part of our routine as we gather up things we plan to regift and then shop for things we want or need ourselves. While there, we end up running into many of the same folks every month, so it's turned out to be almost like a social gathering for us at the same time.

We're still just as active with our local Buy Nothing Group, but the RRFM has become an excuse to look around our house more actively for things we could probably let go of each month. And truth be told, we have a lot of things we want to give away on the Buy Nothing Group that are better offered to a wider audience — quirky, vintage pieces or anime-themed clothing, for example. While the RRFM is open to everyone, a lot of artsy, creative folks tend to frequent the event, so we know those more obscure items are sure to find a good home.
How to Participate in the RRFM
If you're thinking about showing up but you're not sure what to expect, here are a few things to know:
1. Bring a shopping bag (or a few).
As you enter the Really, Really Free Market, you'll find a collection of shopping bags to reuse. But if you're really committed to getting your shopping on, it's not a bad idea to bring your own large, reusable shopping bag, tote bag, or the like — you'll even run into folks with wagons and collapsible shopping carts. I often see folks running around with their hands full, so I've made a habit of bringing a couple of extra sturdy bags when I find them around the house so I can offer them up to someone in need.
2. Expect crowds if you go early.
When I saw the RRFM has blown up, I'm not hyperbolizing. I manage crowds pretty well — I have been to Bonnaroo Music Festival seven times — but last month, so many folks showed up, it was so tight for a minute that I felt just a tinge of sensory overload. You can find some great stuff if you go early, but many folks show up later and bring in new items throughout the event, so if you struggle with anxiety or don't do well in crowds, plan not to come at opening time.
3. Bring good energy.
Central to the RRFM ethos is a spirit of community — it's not a place for aggro bin store energy. One of my favorite things about the market is just chatting with strangers or even listening to what they're looking for and keeping my eyes peeled. You'll run into folks from all walks of life and individuals with small children or mobility issues, so it's a good idea to help make sure folks can get through and just be generally neighborly.
4. You don't have to bring anything, but you can.
If you plan to bring some of your stuff to share with others, you can show up a few minutes before the market opens and set up, but again, you don't have to.
Here are a few things to remember:
If you have a lot to donate, you should show up half an hour before opening since tables are first come, first served.

Items need to be safe, clean, and in good enough condition that you would give them to a friend.

Take anything that doesn't get picked up with you — we usually find that everything we bring is wiped out by the time we're gone, but you don't want to stick the organizers with your stuff if it doesn't get picked up.

Small furniture donations can be set up outside.
5. Take what you want or need.
The RRFM is meant to serve as an alternative to capitalism, so take anything you feel like you'll use. If you don't need it or it doesn't fit, you can always bring it back next month!
6. Don't stash your stuff under a table.
It's not against the rules or anything, and I'll admit I end up doing it from time to time. But it's always a dice roll that someone else won't find it and think it's just something that hasn't been set out yet, so it's better to just make a walk out to your car and unload your bags.
What You'll Find There
One of the coolest parts about the RRFM is how many ways Rags and their crew have worked to expand the mutual aid side of things. Depending on the month, you can usually find most of these things at the market:
1. Clothing and Accessories
With three growing teenagers, the RRFM has been a lifesaver, especially since one of my kids' entire aesthetic changed over the summer. You'll find everything from casual clothing to school uniforms and costumes — we even got some of our garb for the Renaissance Faire there this year. I've also picked up some pretty sweet jewelry.
2. Housewares and Electronics
Whether you're just getting started in a new place or you're looking to replace and upgrade, you'll find plenty of good stuff here. Two of my favorite recent scores include a Bose Bluetooth speaker and a Pioneer Woman crockpot.
3. Books
There are a few avid readers who regularly clean out their collections at the RRFM. I've also picked up manga, comic books, and magazines at the market.
4. Toiletries and Cosmetics
I've seen everything from medicine cabinet staples to quality makeup and body fragrances at the market.
5. Art and Handmade Items
A few crafty folks like to bring their handmade goodies to share with the group, including some of the things they would otherwise list on Etsy.
6. Pop-up Pantry
If you're short on food, getting to the local food pantries can be a challenge since they're often scheduled during the week when many folks are working. You'll find a fairly well-stocked pop-up pantry of mostly nonperishables at the market, and unlike many of the food pantries around town, no one is going to make you sign anything or show any paperwork to take what you need or want.
7. Snacks
On the way into the market, there's usually a table full of grab-and-go type snacks like chip bags, water bottles, and fruit snacks to keep my crew of hangry teens from losing their ever-loving marbles while we shop. Sometimes generous folks will even drop off cakes, donuts, and other sweet goodies.
8. Plants and Seeds
If you like to grow your own food or you're just a plant lover, a few folks bring plants and seeds to the market. I picked up a handful of onions earlier this season and somehow managed to keep them alive so far.
9. Open Jam Session
Outside in the parking lot, there's a corner where musical folks show up and jam during the market.
10. Kid-Friendly Things
I've seen party games, coloring books and pages, temporary tattoos, and face gems all set up at different markets. You'll also find loads of kids' clothing and toys here — my kids are even bringing a few bags of manga this month if you've got a tween or teen in need of a good read.

11. Haircuts
A certified master stylist has been showing up to the market, and they have their hands full. One of my good friends had their hair cut, and it looked fantastic. But if you're in need of a cut, be prepared to stand in line patiently because you'll be one of many — it might not be a bad idea to bring them a thank-you gift (art? cookies?) for their troubles with all the folks they've been helping.
12. Yoga
Last month, there was a yoga session at 2 p.m., which sounds like a great way to prioritize some self-care and meet cool folks while you wait for your collection of Bob Ross mugs to get rehomed.
13. Narcan Training
I have an NP friend who once told me anyone who can should never leave their house without Narcan and an Epipen because you never know when you'll be called on to save a life — she has more than once. If you think she's on the right track as I do, there's a harm reduction group at the market that provides free Narcan training, Narcan, and harm reduction fentanyl testing kits you can pick up and keep handy.
14. Notary Public
I don't know how many times I've seen friends on Facebook ask about where they can find a free notary public in a crunch, but it's more than I can count on one hand. Last month, there was a notary public on hand to help out for anyone in need of these services.
15. Op: HydrateTulsa
Last month, Op: HydrateTulsa, a volunteer group committed to helping unsheltered Tulsans stay hydrated, healthy, and safe, showed up to request donations for items like Gatorade packets, chapstick, lotion, and sunscreen.
16. So Much Water
Thanks in part to Tulsa's weird weather, the Equality Center ended up with way more water than they needed at Pride this year, which meant a lot of folks got to take home cases of water from a massive stockpile last month.
17. STI Testing
If you or someone you know is in need of free STI testing, there's a sign pointing the way to a discreet location where you can get this done without any fuss.
See You There August 19th, 2023
This month's RRFM takes place on Saturday, August 19th from noon to 4 p.m., so we hope to see you there! Thanks for reading, and have a groovy week in your little nebula!
---