I'm a Tulsa Kid: Zoe Burdess
Burdess' view that her Asperger syndrome is a strength has helped her become a successful singer and performer.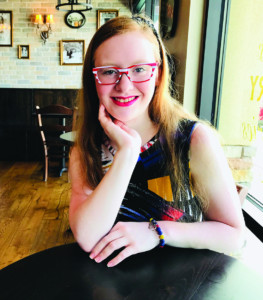 When life handed her lemons, 17-year-old Zoe Burdess made the sweetest lemonade. Handed obstacles from a very young age, Zoe was set to overcome anything that came her way. Taking her diagnosis of Asperger syndrome as a super power, she set out to conquer the stage and the world. Her beautiful voice has led her to perform throughout the country along with a once in a lifetime opportunity to perform in front of Pope Francis in Rome.
TK:  What makes you so unique? How did you overcome obstacles to get where you are today?
Zoe: When I was 3 years old, I was diagnosed with autism, specifically Asperger syndrome. Although we are still not sure how I got autism when no one else in my family had any signs of autism, we still found it a joy and a miracle nevertheless. The doctors thought that I would never talk or progress above a 3-year-old level, but I had a lot of support from friends and family that prayed over me, and supported my mom over this obstacle. As I grew older, going into middle school, I found where I was meant to be as I brought my vocals into choir and onto the stage. I found the atmosphere to be welcoming and accepting as I was in the theatre and the vocal department. I would say that I had overcome my autism not as weakness, but a strength as I was able to memorize lines, and given a tender heart to where I was able to comfort those in need. By accepting autism as a strength and not a weakness, I built my personality today as I encourage people around me to spread kindness and show others that they should never judge a book by its cover.
TK:  How did you land a chance to sing in front of Pope Francis in Rome?
Zoe:  It started last year in May. A few weeks before the end of school, a few of the Jenks' vocal students were invited along with eight other groups to sing in front of the pope and be a part of the Rome Music Festival. After a lot of consideration, I filled out the application and then a few days before school was out, we received a note on my acceptance for the choir. It took a lot of work, but after a year of preparation, we headed off to Rome to meet our guest conductor, Dr. Randall Stroupe, OSU Choir director. After a few rehearsals, we finally arrived on the day of the Morning Mass and met the pope. Afterwards, we prepared for the Rome Music Festival later that evening and to be one of those people to perform in front of them. I found it a once in a lifetime experience.
TK: What is American Kids? What's next on the journey?
Zoe:  American Kids is an organization started here in Oklahoma in 1982 by Dr. Dale Smith. It is designed to support young performers in a safe environment as they perform in different locations and can compete in regional, state, and national competitions. It's my first year, and now I wish I had known about this program earlier because they're very welcoming to new performers and treat you like a second family. In fact, some of the biggest celebrities have been through this program before like Blake Shelton, Kristin Chenoweth, Carrie Underwood and Darci Lynn. National will be in Branson, Missouri, at Welk Resort at the end of July.
TK: What are your hobbies?
Zoe:  Along with singing, dancing, and acting, I also enjoy watching the old films like "Singin' in the Rain" and "Saludos Amigos." I also enjoy drawing in my free time and studying new materials for my next audition. Along with that, I enjoy writing poetry, music, and plays.
TK:  What are your favorite things to do in Tulsa?
Zoe: One of my favorite things to do in Tulsa is seeing shows at Spotlight Theatre and the Tulsa PAC. I also enjoy visiting the Tulsa State Fair and Mayfest. One of my favorite things I like to do with friends is the Tulsa Zoo especially during their HallowZOOeen. I also enjoy Tokyo in Tulsa.
TK: What are your plans and goals for the future?
Zoe: After graduation, I plan to attend TCC and major in the performing arts. Along with that, I hope to follow my own footsteps to explore the world.
TK: What advice do you have for future performers?
Zoe:  Every audition is an experience. Even if you don't get accepted, don't worry about it. After all, every audition, you learn something new. Don't give up and patience is the key. You don't become an expert overnight. Don't be afraid to step out of your comfort zone; when you try a new character don't be afraid to try something new. Have fun. The theatre should be enjoyable and fun. Don't be afraid to be you. In the theatre they're different personalities and that's what makes the theatre so unique, whether you prefer musicals or plays, its what makes you unique. Finally, always ask advice and questions. Don't be afraid to ask how you could improve your performance or an audition.
TK: Who inspires you?
Zoe: I believe my inspiration came from my sister at a young age. She tried out for American Idol and America's Got Talent and unfortunately didn't get accepted, but I still remember when me and my sister would sing "When Christmas comes to Town" for friends and family and that brings me into learning more about the theatre world, and meeting so many great singers and directors.
TK: What is a fun fact about you?
Zoe:  The play that actually inspired me to do theatre was the Ronald Dahl play adaption of "Charlie and the Chocolate Factory." After four years of auditioning over and over again, I finally made it into a theatre troupe, and my first musical in that same month. My first musical was "The Little Mermaid Jr." with Mark Frank his first year at TCC. Ever since then, I've been there every year auditioning for his summer shows.