I'm a Tulsa Kid: Shermya Jackson
Diagnosed with lupus at age 8, 13-year-old Jackson is determined to tackle life head-on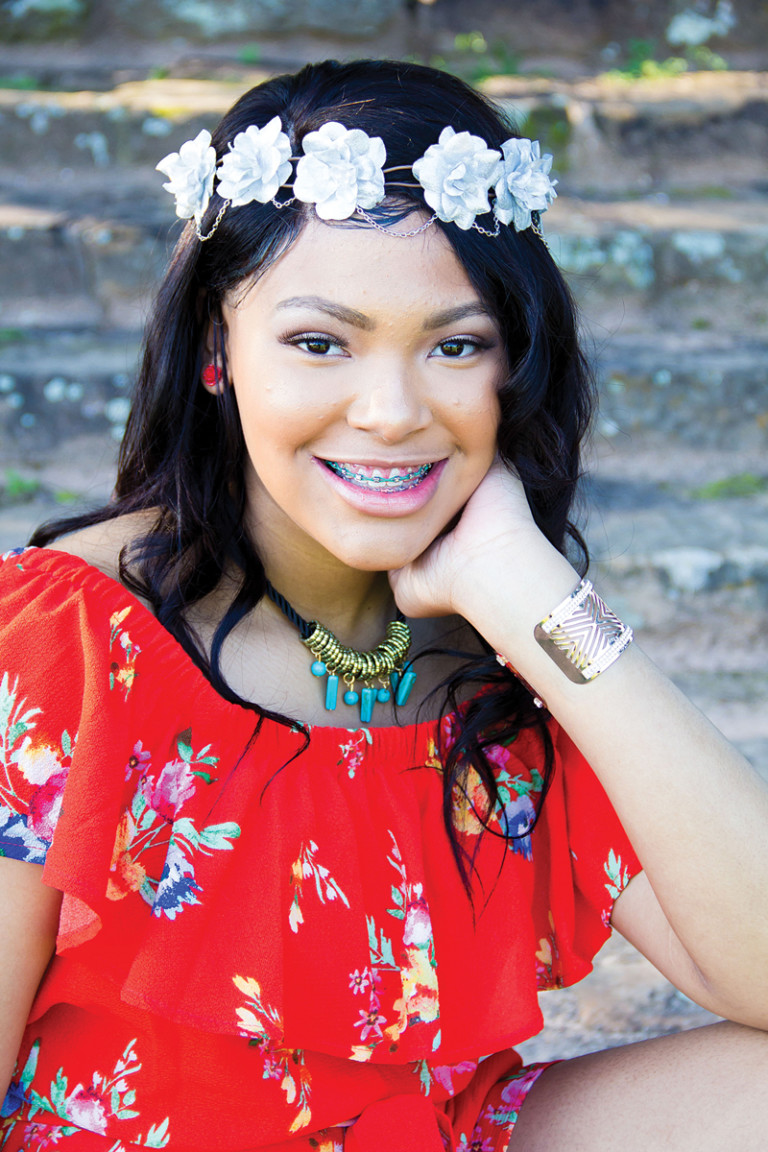 Sometimes life has a way of planting speed bumps along the way, but nothing will hold 13-year-old Shermya Jackson back. When she was just 8 years old, Shermya was diagnosed with lupus, but rather than letting the illness defeat her, Shermya has tackled every day head-on. She continues to balance lupus, school, sports and friends like a champ. Her positivity and light are just as infectious as her drive to overcome and succeed.
TK: What makes you unique?
Shermya: I have experienced a lot of things in my life. I have had to go through things that many adults don't face when it comes to my health. I have a lot to be thankful for. I have strong faith, and I know that God watches over me and helps me get through the rough times. I am a very positive person and try to encourage others and treat them like I want to be treated. I am a peacemaker and try to help others any time I can.
TK: What is lupus?
Shermya: Lupus is a chronic autoimmune disease that can damage any part of the body (skin, joints, and/or organs). My immune system gets confused and attacks healthy cells in my body. I was diagnosed when I was in the third grade.
TK: How has it changed your life?
Shermya: I am not able to participate in outside activities. I used to enjoy going to the park, playing outside with my friends, playing basketball and riding my bike. Normal things that kids my age like doing. Since having lupus, I found out that I am photosensitive, meaning I can't be exposed to the sun or UV exposure. It makes me extremely exhausted and I have extreme joint pain the following day. I don't even go outside for recess at school. I have to have inside PE classes, which means during the warm days I have to miss PE with my friends. When I do go outside, I can only be out for 10-15 minutes and I have to wear sunscreen and stay in the shade.
I have several doctors and specialists I have to see on a regular basis. I take close to 10 pills a day, and I have to do bloodwork every few months.
The worst part is missing important events like friends' and families' birthday parties or special events because I am not feeling well or it's an outside event. I miss a lot of school and have to go in late sometimes when I wake up not feeling well. I play volleyball, and sometimes I have to miss practice and games due to my lupus. I had to stop playing basketball and gymnastics because my doctor said it was too hard on my joints and it was causing me to have a lot of joint pain.
TK: How have you maintained straight A's and the honor roll? Any advice for other students?
Shermya: I make school a priority. I do my homework, study, avoid distractions, pay attention, keep up with any missing work I have when I am absent, don't procrastinate, ask for help when I need it. It makes me feel good to have good grades and to give 100 percent. My parents and teachers have come together to come up with a plan to make school successful. I receive accommodations as needed. Teachers have come in early, stayed after school to help me, and offered extra tutoring, if needed. I have a great support system from my parents and teachers.
My advice to other students is to stay focused, study, listen, do your homework and classwork and turn it in on time. To do your best and take it seriously. School is the key to your future and only you have control over that.
TK: What are your hobbies?
Shermya: My hobbies are playing competitive volleyball at BAVC (Broken Arrow Volleyball Club). I model; I am walking in my first professional runway show in September. I like to dance, do hair and nails, watch YouTube, hang out with my friends, play basketball and play video games.
TK: Who are your role models?
Shermya: Selena Gomez, who also has lupus and is fighting the fight; Elan McCall, my favorite college volleyball player; my mom; and Latoya Jackson. Latoya has lupus, too, and she has showed me how to fight and be strong and not let it get her down.
TK: What advice do you have for other children dealing with a chronic illness?
Shermya: Stay positive, keep fighting, don't give up. Never dwell on what you can't do. Think about what you can do. You can do anything anyone else can do. You may just have to do it differently. Your illness doesn't define who you are. You are not a victim; you are a survivor. My parents encouraged me to have and strive for goals and dreams to not let lupus control my life. Lupus is just one part of my life. I may have lupus but lupus doesn't have me. I am still of value and still have something to offer to the world. Look out for me because here I come.
TK: What do you want to be when you grow up?
Shermya: I want to be a pharmacist when I grow up.
TK: What plans do you have for the future?
Shermya: I plan to go to college to become a pharmacist, get married and have a family.
TK: What is a fun fact about you?
Shermya: I love to put things together. I have recently put together a desk and armoire. I have my own tool set. I am writing a book about having childhood lupus. When I was diagnosed with lupus, there was only one book for children with lupus and it was written 17 years ago.
---