I'm a Tulsa Kid: McKenna Raley
Raley held a drive for feminine hygiene products in order to help underprivileged young women.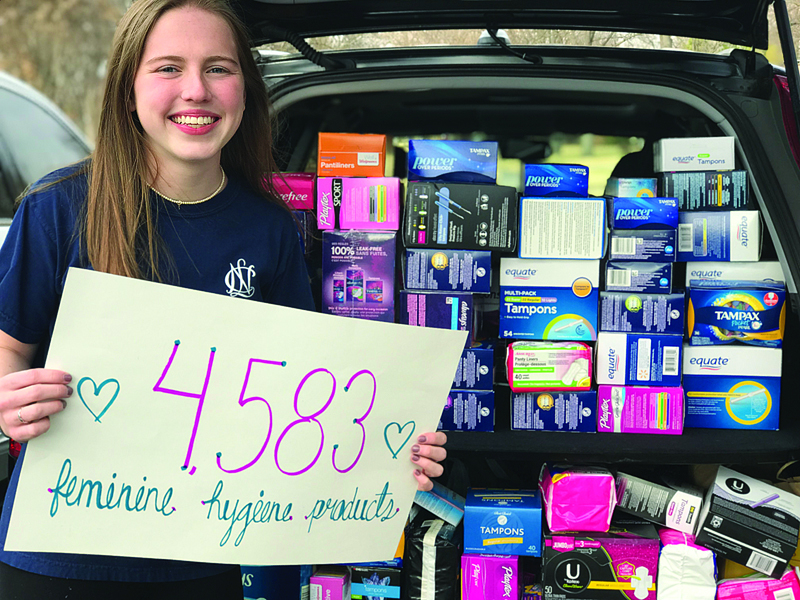 Some people think about changing the world, and then there are some that do change the world. Seventeen-year-old McKenna Raley is one of the latter. During a church volunteer activity, McKenna discovered that there was a hugely overlooked area regarding donations — feminine hygiene products for the underprivileged. The heartbreak over this reality spurred McKenna to start a drive for feminine hygiene products that would benefit underprivileged young women in the Tulsa community.
TK: What is National Charity League?
McKenna: I belong to a wonderful Mother-Daughter Service organization called National Charity League. I decided that I wanted to hold a drive for donations of feminine hygiene products, and I presented my idea to some leading mothers. Their response was amazing! I immediately set my project into action. Our organization meets once a month. I chose to hold my drive in January, because that was a month that included both mothers and daughters and thus guaranteed maximum participation (around 300 people). By the end of our meeting, the product count was 4,538 feminine hygiene products!
TK: What advice do you have for others who are thinking of ways to give to others?
McKenna: I hope my story inspires other kids and young adults to take action when they see a need that inspires them. Being a young person is not a barrier to helping others. In fact, I think being young provides an opportunity for a fresh perspective in philanthropy. I am extremely grateful for the opportunity to have worked with Youth Services of Tulsa in my collection process. I would highly encourage someone of any age to consider choosing a community issue of their own, and tackling it in a way that only they can. Individuality in philanthropy is a great thing!
TK: How did you come up with this idea?
McKenna: I do a lot of volunteer work with my church. At one of our service projects packing birthday gift bags for underprivileged youth, I asked the volunteer coordinator what one item her organization needed most. She [said] feminine hygiene products, and noted that these items are the ones most commonly neglected when people donate toiletries. It astounded me to learn that a lot of organizations have the same problem, and some of their clients have to wear trash bags as a substitute. This knowledge prompted me to start my drive. It is hard enough to be a teenage girl when one has access to the right resources, so I could only imagine the difficulties these girls were going through.
TK: Where have the feminine hygiene products been donated?
McKenna: The feminine hygiene products have been donated to the Youth Services of Tulsa.
TK: What are your plans for the future?
McKenna: I am still undecided on where and largely what I want to study, but I plan to attend college once I graduate high school and hopefully minor in Spanish to aid my plans to study abroad. My participation in organizations like the National Charity League and the Youth Philanthropy Initiative have helped me discover a passion for non-profit work, so I also hope to continue that aspect of my life once I leave. I am also exploring some opportunities to continue my soccer career while in college.
TK: Who inspires you?
McKenna: I feel inspired by people from a lot of different parts of my life. My teachers, for example, have shown me what it means to dedicate yourself to what is important to you no matter the sacrifices you have to make. Teaching in Oklahoma is not an easy task right now, but they continue to do it because they care so much about their students. My parents have continued to be amazing role models in my life, and motivate me to always work hard. And thanks to my undying love of sports, athletes like Mia Hamm and Serena Williams for all they have done to create athletic opportunities for young women like me!
TK: What are your hobbies?
McKenna: I play high school and club soccer  (my Booker T. team won state this year for the first time in school history!) I also participate on the Speech and Debate team at my school. I love to hang out with my friends and family, and spend time with my job. My favorite travel activity would have to be participation in outdoor adventure! I go on a backpacking trip every summer, and love to snow ski and water ski.
TK: What is a fun fact about you?
McKenna: I have been speaking Spanish since I was five years old. My parents are convinced I am fluent, but I insist that they take me on a trip to Spain to make sure! I also hope to be a Park Ranger at Yellowstone sometime when I am retired.