I'm a Tulsa Kid: Kadence Long
Tulsa's Little Lighthouse recently added a statue modeled on Kadence to their school grounds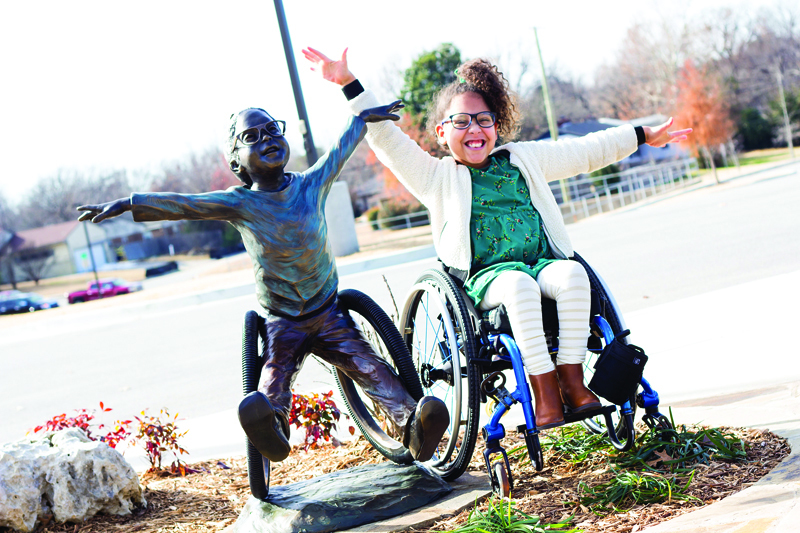 Tulsa's Little Lighthouse is a school that serves children with special needs, their families and the community. The Little Lighthouse helps those who live with Down syndrome, spina bifida, cerebral palsy, autism spectrum disorders and sensory deprivations. Recently, a new sculpture was added to the schoolyard garden. It was modeled after 8-year-old Kadence Long. The statue captures the essence of Kadence, and her incredibly infectious smile, spirit and personality. A perfect welcome to a wonderful facility.
TK: What is the Little Lighthouse?
Kadence: My old school that was so much fun!
Mom: It was our safe haven, honestly — a breath of fresh air while coping with a lifelong disability in your child. Sometimes that's all you can see, but the Little Lighthouse is a constant reminder of potential, the potential to love and hope and appreciate the good.
TK: What did you learn from the Little Lighthouse?
Kadence: To play!
Mom: I think we mostly learned that we all have a special place in this word, completely decided before we were born. And that there are some amazing people with huge hearts that truly love our kiddos with special needs and want the best for them. They want them to do the most that they can do. For someone to have that much hope for your child is nothing short of a God thing.
TK: How were you chosen to be a statue in the garden?
Mom: No special reason other than to help represent the love and work of God through the Little Lighthouse. Kadence has a fun spirit about her and brings light to those she encounters. Her presence in a room is captivating… perhaps the best part about that is that she has no idea.
TK: How did it feel when it was revealed to the public?
A: Kadence giggled. Mom said, "It was a precious moment, full of curiosity and awe of what was before her… similar, perhaps, to our meeting with Jesus that is to come.
TK: What are Kadence's hobbies?
Mom: Playing with babies, riding her wild thing, and making slime!
TK: Who inspires you?
Kadence: My GaGa ( her grandma) and God (as she points upward) because he's nice.
TK: What do you want to be when you grow up?
Kadence: A cop!
TK: What advice do you have for others?
Kadence: Just to be nice and a friend.
TK: What is a fun fact about you?
Kadence: I was born twice!
Mom: Kadence had in-utero surgery as part of a NIH trial for Spina Bifida. They closed her defect (hole in her spine) while I was 25-weeks pregnant and she was born prematurely about seven weeks later.
---