I'm a Tulsa Kid: Joplin and Harper Keidel
Sisters Combine History, Cooking and Video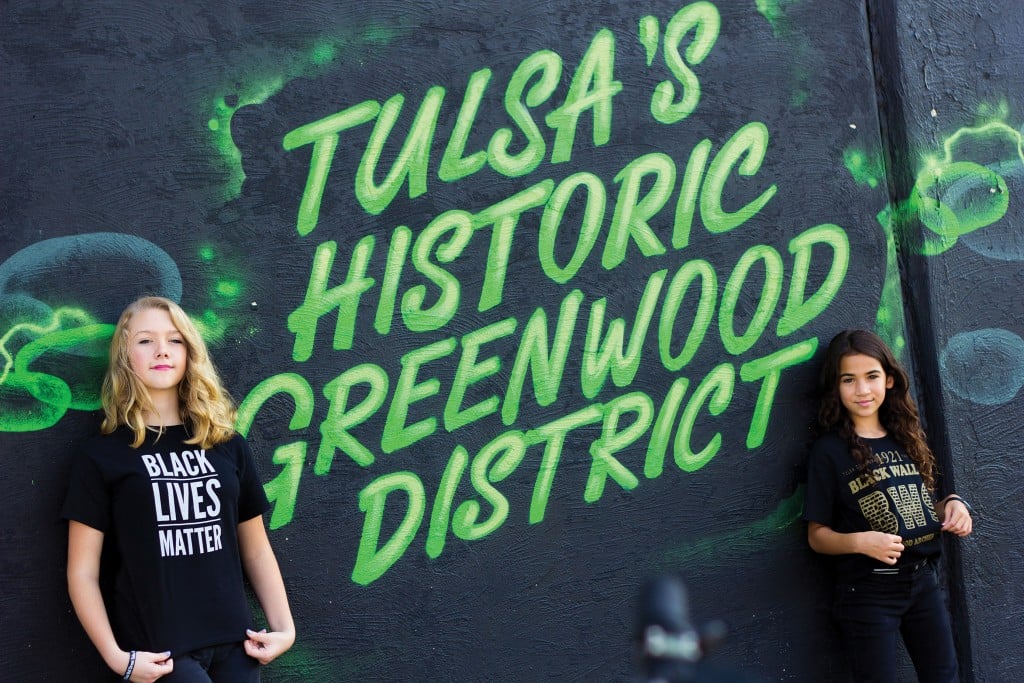 During the pandemic of 2020, sisters Joplin and Harper Keidel set out to educate and entertain the world. Younger sister Joplin, age 10, started a YouTube channel, Jop's Chops, where she discusses a current or historical event along with sharing an easy recipe. Next, big sister Harper, age 13, edits the video to make it ready for their followers. Their videos are not only creative and entertaining, they are also educational. Watch their video about the Tulsa Race Massacre here.
TK: At what age and how did you start your YouTube channel, Jop's Chops?
Joplin: I just started my YouTube channel a couple of weeks ago. I just turned 10 on July 5. I love cooking, so I thought it might be a good idea to show other kids how fun it can be to create delicious meals in the kitchen. Harper does all of the editing on iMovie on her computer. She is 13. We plan to make more videos. We have to come up with a recipe, then go to the store and buy all of the ingredients. We usually forget something, so then we have to go BACK to the store and get the rest. Then we shoot the video. We usually cook a dish and edit a video in about six hours.
TK: How did you come up with the concept of recipe and the Tulsa Race Massacre?
Joplin: My mom takes us to Greenwood a lot to walk around and learn and support Black-owned businesses. The owner of Black Wall Street T-Shirts and Souvenirs suggested before we did the episode to make something he likes. He suggested something with peanut butter. I took him a pie after the episode was over. He posted a video of him eating it! I felt really proud and surprised! I had seen a girl on YouTube that talks about murder mysteries while she does her makeup. My mom, who used to be a teacher, thought it would be a good idea for me to talk about something important while I cooked, so kids and adults could learn more about Black history.
TK: What have you learned from/about the Tulsa Race Massacre?
Joplin: It was big racist thing and there are still racist people today. Black people should be treated with kindness. No one is more powerful or less powerful. Everyone is on the same level.
Harper: A Black man was blamed for something he didn't do, because he was Black. That's obviously not right because skin color shouldn't matter.
TK: Where is your favorite place in Tulsa to learn about its history?
Harper: I like to learn about history by going to Black Wall Street because that's where the Tulsa Race Massacre happened. I feel really sad when I walk around and see the plaques on the ground that commemorate the people and businesses lost.
Joplin: I like to go to Black Wall Street. There are many places you can go to learn about the Tulsa Race Massacre. There should be field trips there. I like the energy there. I feel like there is a strong connection in the Earth. It should be a place to be remembered. There are too many racist people in the world. They shouldn't take the street mural down.
TK: What other hobbies do you have?
Joplin: Painting, singing in the shower, riding bikes, climbing, eating, playing Minecraft and Animal Jam on my phone. I love all things related to horses. I also like American Girl Dolls. I love playing with my toys.
Harper: I like playing Minecraft, journaling, and before the pandemic I played soccer.
TK: What do you want to be when you grow up?
Harper: I would like to be a film editor when I grow up.
Joplin: I want to own my own business or be a singer.
TK: Who inspires you?
Joplin: My mama, John Legend, Zumbo's Just Desserts, and Bruno Mars.
Harper: My mom and grandmother. My grandmother let me play with her iPhone 8 when she first got it many years ago, and she said I could do whatever I wanted. That's when I found iMovie and started liking editing.
TK: What advice do you have for others who want to learn more about the Tulsa Race Massacre?
Joplin: People should go to Black Wall Street to learn more about the Tulsa Race Massacre. I encourage people to learn more about Black history because it's a really important part of history.
Harper: They should look up Tulsa Race Massacre and read about it. They should go to Black Wall Street and tell people about it. A lot of people don't know about it and we need to spread awareness.
TK: What is a fun fact about you?
Joplin: I'm adopted and Harper is adopted, too. It's not a bad thing to be adopted. There needs to be awareness about all the kids in this world that need families.
Harper: My favorite color is red. That's pretty much all I know about myself actually, and there are thousands of kids in the US that need homes.
Follow Us At: Facebook: Jops Chops; IG: @JopsChops; YouTube: Jop's Chops
---