I Would Drive 100 Miles (or Less!): Day Trip Destinations
Sponsored by Just Kids Pediatrics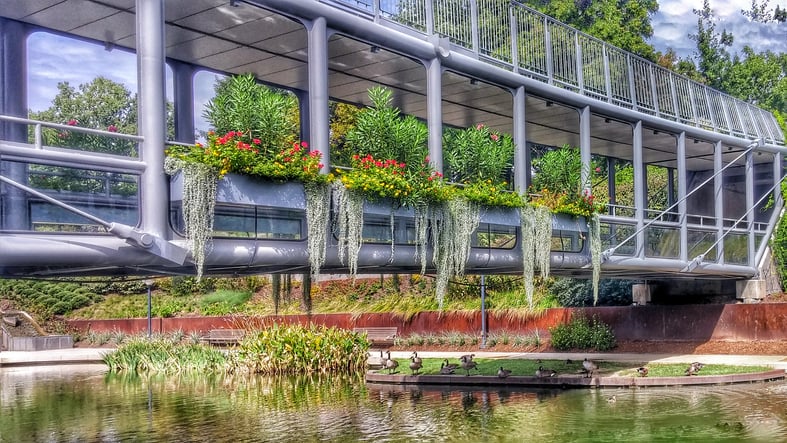 Pack some snacks, hop in the car and turn up your summer road trip playlist! A day of family fun is just a short drive away.
Claremore: 30 Miles from Tulsa*
Perhaps best known as the home of Will Rogers, according to okhistory.org, Claremore is a key stopping point if you're traveling Route 66 through Oklahoma – or just looking for a day of entertainment.
Be sure to visit the Will Rogers Memorial Museum, which sits on a hill overlooking the city. Kids will especially enjoy dressing up like cowboys and following in Will Rogers' footsteps by putting on a show!
When you've finished touring the museum, head to Hammett House Restaurant at the bottom of the hill for one of their famous pies.
After noshing on your pie of choice, stop by the J.M. Davis Arms & Historical Museum, "the largest privately-held firearms collection in the world," with over 12,000 firearms and thousands of other historical artifacts on display.
If you have extra time, continue up the road to Foyil, Oklahoma, where you can visit Ed Galloway's massive concrete totem poles. And say hello to the Blue Whale of Catoosa on your way back to Tulsa.
The Bartlesville Kiddie Park has been drawing parents of young kids to Bartlesville each summer for generations. Here, you'll find pint-sized rides and unbelievably low prices. It's only open in the evenings, so plan for a late drive home.
In addition to the Kiddie Park, Bartlesville is known for the Woolaroc Museum & Wildlife Preserve, which houses an animal barn and mountain man camp, in addition to an impressive collection of Western art and artifacts. On your way up to the main buildings, you'll pass wildlife such as bison, longhorn, Japanese Sika deer and more.
If you get hungry, try the Painted Horse restaurant in downtown Bartlesville, which has a varied (and humorous) menu including The Cluck & Squeal Mac and a Cheesus! (Take the Wheel) Burger.
Looking for a picture-perfect moment? Bartlesville has its own painted buffalo herd! Find their locations at visitbartlesville.com/bartlesville-buffalo-art-bartlesville-ok-listing-55.
Muskogee: 45 Miles from Tulsa
With its Azalea and Renaissance Festivals, spring might arguably be the best time to visit Muskogee. However, this nearby city has plenty to offer all year long. From May-September, don't miss The Papilion at Honor Heights Park – Oklahoma's only Butterfly House. Besides getting up close to swallowtails and other butterfly varieties, you can also visit the children's garden, gift shop and nearby playground.
History lovers will want to pay a visit to the Muskogee War Memorial Park. Here, you can step aboard and tour the USS Batfish, a World War II submarine, and honor veterans as you walk through the Walk of Honor.
Looking for fireworks? The iconic Castle of Muskogee goes all-out on providing an incredible selection of fireworks, from June 15-July 4.
Pawhuska: 56 Miles from Tulsa
When the Pioneer Woman Mercantile opened in 2016, Ree Drummond fans began flocking to Pawhuska. And for good reason! The Merc has a delicious, decadent menu, plus a curated selection of fun gift items and a made-fresh bakery.
However, even before the advent of The Merc, Pawhuska was well worth the drive. Home to the Tallgrass Prairie Preserve, visitors can drive through an untamed Oklahoma landscape – and the bison herd that roams there! Walking trails are available as well, for kids (and adults) who need to stretch their legs.
Other Pawhuska attractions include The Swinging Bridge, described by roadsideamerica.com as being "not for nervous pedestrians;" the Ben Johnson Cowboy Museum; and the Osage Nation Museum.
Stillwater: 60 Miles from Tulsa
Stillwater is "America's friendliest college town," according to visitstillwater.org. The OSU campus is a beautiful place to visit. If you attended OSU, take the kids to your old college haunts, like Eskimo Joe's and the original Hideaway Pizza!
The Botanic Garden at Oklahoma State University is a restful place to stroll, breathe deep and learn about native plant species. Check the events schedule to learn about Open Houses and evening concerts throughout the summer: trumba.com/calendars/okstate-The-Botanic-Garden.
Lost Creek Safari is another popular destination for families. At this USDA certified Exotic Animal Park, kids can meet fennec foxes, spider monkeys, tamarins, kangaroos, kookaburras and a host of other creatures up close.
Ponca City: 72 Miles from Tulsa
Start off your day in Ponca City with a visit to the Pioneer Woman Museum and Statue. The Pioneer Woman statue, pedestal included, rises 33-feet above the earth; both the statue and museum seek to honor the history and influence of women in Oklahoma.
The Pioneer Woman statue was a project of Ernest Whitworth Marland, a well-known lawyer, oilman and politician. The Marland Mansion is another Ponca City highlight, with its Italian-inspired architecture and beautiful grounds.
Located about 8 minutes south of the Pioneer Woman Statue, you'll find the Standing Bear Museum and Education Center, along with a 22-foot statue of Standing Bear, a Ponca Chief. Here, you can soak up some sun on the walking trail and learn about the heritage and role of Native Americans not just in Oklahoma, but the U.S. as a whole.
If you love historic districts and shopping, leave some time to explore Ponca City's Main Street.
Depending on where you start from, your journey to OKC may be slightly over 100 miles. But we couldn't leave it off the list! Make your journey even more exciting by stopping at POPS 66 and the Arcadia Round Barn in Arcadia, Oklahoma. All you have to do is follow the Mother Road!
There is so much to do in Oklahoma City. Can't-miss attractions include the new First Americans Museum, the National Cowboy & Western Heritage Museum, Science Museum Oklahoma and Myriad Botanical Gardens.
Popular shopping, dining and activity districts include Automobile Alley, the Paseo District, Adventure District, Boathouse District and Plaza District, where you'll find incredible, ever-changing murals.
*Distances are approximate
---