How to Discuss Race and Racism with Your Child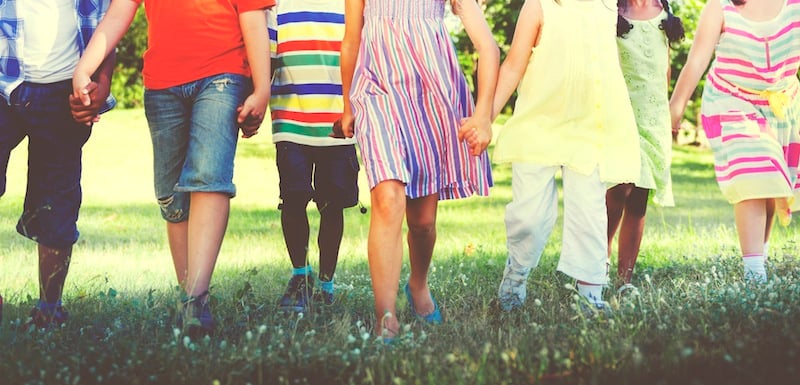 When my son was barely older than a toddler, we were talking about his day at preschool and he mentioned a girl in his class. I had not yet learned the names of all his friends, but I thought I knew who he meant, so I started down the list: Is she the girl with curly hair? And blue shoes? And the pink backpack?
"Yes," he said. "And the brown skin."
Wait, I remember thinking. Is that OK? Is this a big deal?
To him, of course, this was most definitely not a big deal. In that beautiful way that children have, he stated a fact without assigning any type of value to it. He was using skin color as a simple, physical descriptor.
Like many white parents, I grew up with some version of the egg metaphor for understanding race: The color of the eggshell doesn't matter, and we are all the same inside. To boil it down, describing anyone by his or her race (or shell) conflicted with my idea of race as a divisive social construct that needed to be overcome.
Is It Okay to Talk About Race?
I shared this experience with Chad Johnson, Ph.D, an associate professor at the University of Oklahoma-Schusterman Center who is also a father of two. His advice was that when it comes to valuing each other, color blindness is a good approach, but when it comes to raising a socially aware human, we can't continue to shy away from the important discussions surrounding race. It can be uncomfortable, but there are ways to approach the conversation using terms that even young children will easily understand.
"Parents of young children can emphasize how we are the same, while explaining that there are also differences," says Johnson. "And some of those differences – while they should be celebrated – are often used to hurt people. Kids can empathize with feelings of exclusion. Parents can begin by talking about how excluding others is not kind, and we don't want anyone to feel that way."
Different Approaches to Talking About Race
For many parents, race is hard to talk about, but there do seem to be significant differences in approach depending on the family's ethnicity.
"My mom raised us with the understanding that you will be treated differently," says Marq Lewis, of We the People Oklahoma.
Lewis is a father and community organizer who focuses on accountability within government institutions. He says there wasn't one specific moment when his parents sat him down to discuss race and racism; it was something that was embedded in his consciousness for as long as he can remember.
His experience is echoed by many members of the black community. Lavell Harris, a Tulsa grandfather and president of the Save Our Youth Foundation, says many cultures are represented in his family, and his children also grew up with a clear understanding of what race meant. "It's not something you can run from," Harris says.
Dr. Rhameka Shelley is a mother and mental health professional who has been working with children and families for seven years. She agrees that for many minorities, race and racial justice are discussed early in life.
"Topics such as these are central to our survival…it is a part of our everyday experiences," she explains. "We cannot simply choose whether to address race [with our children] or not."
The idea that white parents view discussions about race as optional while parents of color do not touches on a concept commonly known as white privilege.
"We all have to be able to call something wrong," Lewis says. "I do believe that the majority of people don't agree with racism, but [white people] can turn it off. African Americans, Native Americans, Hispanics, we cannot turn it off. We live with it every day."
According to Johnson, many white people don't understand that people of color may grow up with a "higher degree of stress and anxiety rooted in racial disparity and discrimination" and perceptions of a world that is unsafe.
While it can be an uncomfortable topic for some parents, Johnson and Shelley both advocate being proactive in talking with their children about race in an age-appropriate way. To ignore the fact that people of color are exposed to explicit discrimination and implicit bias perpetuates inaccurate ideas that racism is no longer a part of our society.
"Despite what some may believe, talking about race with our children will not make them notice race as if they didn't notice it before," Shelley says. "It appears that most parents do not want to talk about race or racial justice with their children because they want to avoid exposing them to 'too much, too soon,' or because they do not want to misstep and say the wrong thing or inadvertently sound like a racist."
While certainly inhibiting to parents, these feelings of caution may be viewed as a positive indication of understanding how serious and important the topic of race actually is.
Local Tragedy
In September 2016, Terence Crutcher was fatally shot by a police officer in North Tulsa. His death and the circumstances surrounding it led to several local protests, including the 100 Bad Dudes Rally, organized by Harris. The name of the rally was taken from an audio recording of an officer in a helicopter commenting at the time that Crutcher "looks like a bad dude."
"We wanted to show the community what a 'bad dude' really looks like. I am a father, a mentor, a coach, an uncle, and yes, to some people I am a 'big bad dude'," says Harris.
When a tragedy like the death of Terence Crutcher occurs locally, it is especially difficult for those living in the surrounding community. It becomes impossible to believe "these things don't happen here", and it forces tough conversations, even for parents who are comfortable talking to their kids about race.
"It generates uncomfortable emotions, such as anger, fear, and disbelief, and it can be difficult to manage those emotions," Shelley says. "Not only will your child potentially hear about it on the news, but also in their neighborhoods, schools or churches. When [the tragedy] is local, it does not allow us to turn a blind eye. Children, regardless of their age, are more aware of current events than we may realize."
For younger children, too much information without context could lead to confusion because they are still learning how to think through complex issues. Older children and teens are more likely to comprehend the details and will often seek out additional information to increase their understanding of a specific subject, says Shelley.
Parents are uniquely positioned to influence their children's outlook on race and racial justice by speaking openly about current events.
"The research shows us very clearly that kids learn racism and discrimination whether we talk about it or not. They are bombarded with implicit messages about race, and by not speaking up we are perpetuating the problem," says Johnson.
What can parents do?
Build your community:
The Leadership Conference on Civil and Human Rights advises parents to work to "populate their lives and the lives of their children with people of diverse backgrounds." There is no conversation that will have the same power as modeling inclusivity to your child.
Become a change-maker:
Lewis encourages all Tulsans to become more active in local government, whether through a group like We the People Oklahoma or independently. "Vote, find out who your representatives are, and attend public meetings to become more educated about how decisions are made," says Lewis. He emphasizes that understanding how and when rules and policies are crafted is the first step in influencing systemic change.
Speak openly and honestly:
Don't hide facts from your children, and when they ask a tough question about race or current events, take a deep breath and have the conversation using age-appropriate language. Creating a safe space to have open, respectful conversations about the impacts of race is important.
Ultimately, all parents should get comfortable with the discomfort of discussing race, says Johnson. "It's OK to not have all the answers. It's OK to say, it is hard, it is painful, and I'm not sure why this is happening. But don't think that if you don't talk about race with your child our culture will teach them better. It won't."
---
Resources
BOOKS FOR TEENS/ADULTS
"Everyday Acts Against Racism" by Maureen Reddy
"The First R: How Children Learn Race and Racism" by Debra Van Ausdale and Joe Feagin
"Why Are All the Black Kids Sitting Together in the Cafeteria?" by Beverly Daniel Tatum
"Between the World and Me" by Ta-Nehisi Coates
"White Like Me: Reflections on Race from a Privileged Son" by Tim Wise
"Citizen" by Claudia Rankine
"Open Veins of Latin America" by Eduardo Galeano
"An Indigenous Peoples' History of the United States" by Roxanne Dunbar-Ortiz
"Yellow: Race in America Beyond Black or White" by Frank Wu
"The New Jim Crow" by Michelle Alexander
"How Does It Feel to be A Problem? Being Young and Arab in America" by Moustafa Bayoumi
---
BOOKS FOR YOUNGER CHILDREN
"Daddy, There's a Noise Outside" by Kenneth Braswell
"The Colors of Us" by Karen Katz
"The Other Side" by Jacqueline Woodson
"A is for Activist" by Innosanto Nagara
"It's Okay to Be Different" by Todd Parr
"Grandpa, is Everything Black Bad?" by Sandy Lynne Holman
---
LOCAL SOCIAL JUSTICE GROUPS/ COMMUNITY ORGANIZATIONS
The United League for Social Action (TULSA)
Originally published November 2016. Updated June 2020.
---