Homeschooling With a Newborn:
What to do when you can't call a substitute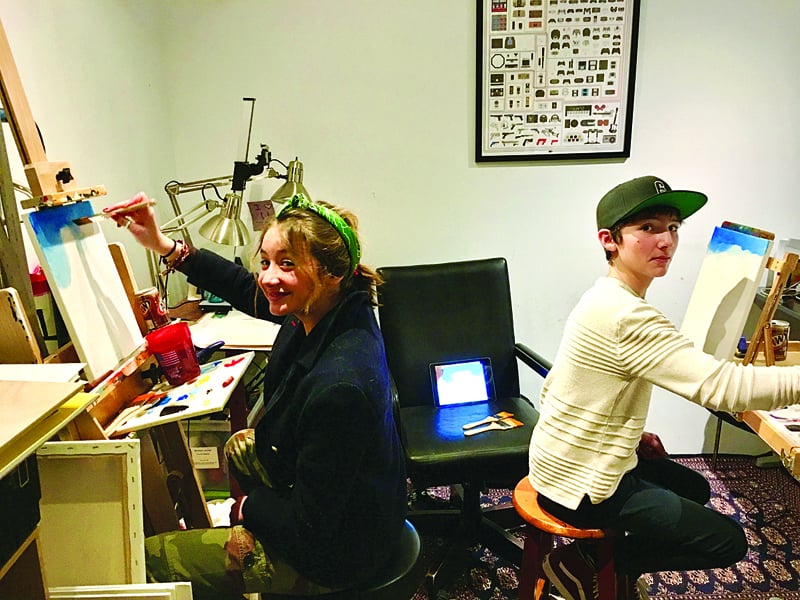 At the end of last year we added a new student to our classroom! Indiana Hanson. He is the cutest boy and quickly became the most popular guy in our school. His arrival was thrilling! It was also extremely distracting. Add to that a rough postpartum recovery and you can guess how efficient our homeschool situation was in the weeks following Indiana's birth.
Historically, January is the time of year where we have just taken a break for the holidays and are ready to roll strong into the new year. This January, however, shaped up a little differently. As much as I love to be up and running, now six babies in, I have acquired the wisdom that the weeks after birth are sacred and delicate and should be spent doing as little as possible besides taking care of you and baby. So, for the first several weeks of our spring semester, my children's teacher was in bed. Thankfully, my older children are mostly self-sufficient and could carry on their lessons without me, but my little ones still require plenty of hands-on training. Since calling in a substitute wasn't an option, I did my best to create an environment where my kids could still learn, dare I say even thrive, while I took a break from head schoolmarm and focused most of my energy on helping acclimate our newest member to the family.
Here are some of the ways I outsourced my efforts:
Game Time: No offense to video games, but sometimes you just can't beat the comradery of an old-fashioned board game. Since my kids don't always sit down all together and play, I used these few weeks as a time to make this a required activity. It sounds almost silly to say I made board games a requirement, but in this day and age, that's not what my kids might naturally choose to do when they have the time. This was a way to make room for fun, but also work on communication skills with each other at the same time.
Outside Time: With the ups and downs of our Oklahoma winter, this one we had to take when we could get it. My kids were extra hard to kick out the door this time of year, but when they finally suited up and headed out, there was always an immediate change in everyone's headspace. It was worth getting through a little extra whining to make this happen.
Housework: I don't know about you, but it is always challenging for me to let go of control enough to truly let my kids take over as many household duties as they should. But as they say, necessity is the mother of invention, so postpartum time seems to be when my kids learn best. I passed as many chores as I could their way during this period. If they weren't done perfectly, that was ok. They knew that I wasn't going to get up and pick up the slack for them as I usually did. That motivated them to actually complete their tasks!
Documentaries: There is a treasure trove of documentaries available online these days, and we used them to elevate our screen time for a few weeks. What an amazing multi-grade learning experience they have been! We've covered so many topics from Lewis and Clark to micro currency with all kinds of other things in between. I wish I would have been taking better advantage of these gems since I started school at home!
Baby Holding: It had been six years since we had a baby in the house, and everyone (including me!) was a little out of practice with our baby skills. Time was spent holding, changing and rocking. You won't see these on a standard skills checklist, but I think they are pretty important, and I'm happy to say everyone received an A+ in baby care! It was a sweet blessing to take advantage of homeschool flexibility to allow for these slow days of simple bonding.
Bob Ross: Lastly, a big thank you to Bob Ross, and ipads, and Michael's for carrying out some awesome art lessons for my students. I was so happy when my kids decided to fill some of their "unschooling" hours by setting up canvases and having a Bob Ross-off. For several days they went to work with dad and made it their all-day project at the studio. It was crazy and messy and definitely not what they would have been doing in school, but I loved it.
Now that we are back to (mostly) normal, I am reminded that even though it is always a mental challenge for me to slow down, sometimes the slow times are surprisingly fruitful. Different things blossom in different climates, and I'm thankful that homeschool allowed everyone the freedom and time to rest, heal and grow into our new family rhythm.
---