Homeschool: A Day in the Life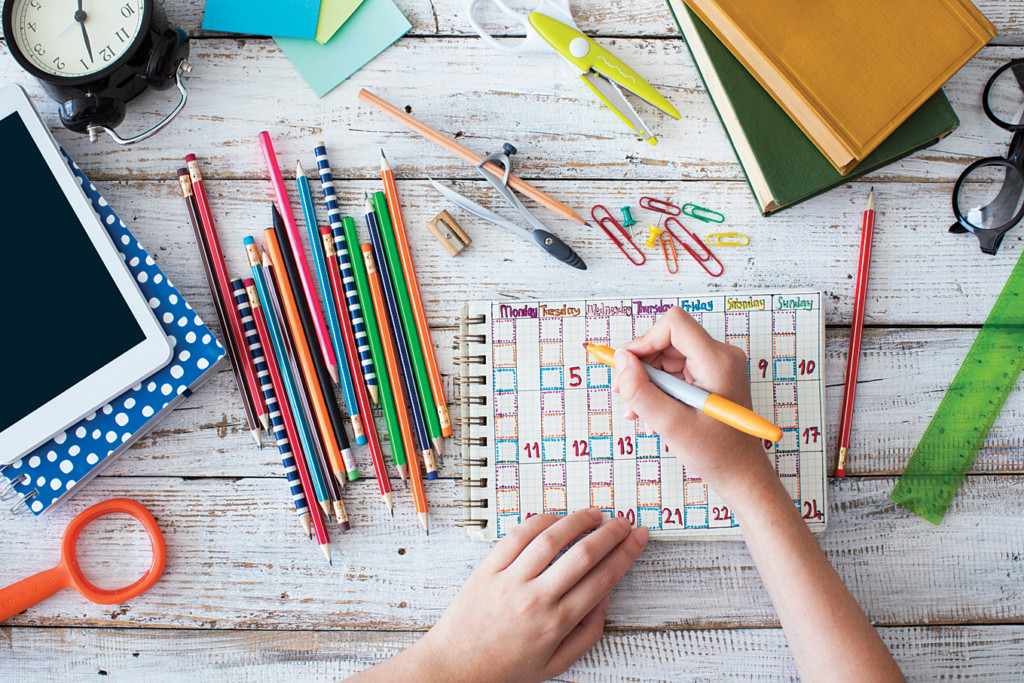 This month's article was inspired by my sister-in-law who is in her first year of homeschooling. She told me she has read enough to understand that homeschool isn't just school-at-home, and that it can be structured or not, but would love to read more specifically about how that looks in real life. Now before I attempt to break down our basic school day for you, let me give a little disclaimer. This is an outline of a day with few unexpected interruptions. I feel like a true guide to homeschool days with my family would read more like a "Choose Your Own Adventure"! But we work around whatever life throws at us and try to stay focused on learning with our long-term goals in mind. That said, here is a glimpse into our day:
6:30 a.m. – I normally wake up around this time. I'm a morning person and can't remember the last time I needed to set an alarm. My husband is usually already out the door for work, so I try to get my coffee and sit back down by my baby for a little quiet work time before the house awakens. My brain is clearest in the early hours, so I plow through work stuff until Indy wakes up.
7:30 a.m. – Indy wakes up and we cuddle for a minute while it's just the two of us.
8:00 a.m. – Willa and Viggo are up and ready to go! I usually pass Indy to them to get breakfast, and then I dress and meet them downstairs to start school.
9:00 a.m. – My bigger kids get up and join us. I don't mind them starting a little later because it lets me give the younger ones a little focus time while they are able to stay on task. The younger they are, the harder it is for me to keep them going unless I'm with them.
9:30-noon — I spend the next several hours bouncing around between kids. I'm usually with whoever needs me most. If I start to feel monopolized, I try to switch it up.
12:30 p.m. – People start to get hungry and we break for lunch. It's rare that I can get my younger ones to get back to focused school work after this, so I usually just tell them no screens until 3 p.m. and let them loose. This usually ends up being a little outside time, Legos, writing, and drawing, but by 3 or 4 p.m., the requests for the iPad start coming.
1-3 p.m. – My older children continue to work, and I start to be able to back off to do some of my own work alongside them, as long as I stay close in case they need me. The baby often falls asleep around this time, but he's pretty inconsistent. It's not a big deal though, because I usually do not have any trouble finding someone to help with him in order to get out of other tasks!
After 3 p.m. – Each afternoon shapes up a little differently. We have activities that start as early as 1 p.m., and some that go as late as 7:30 p.m., so each day works around those things.
Dinner – We eat dinner anywhere between 4:30 – 7 p.m., depending on the day. Some people get it hot, some do not. Thankfully, my kids are getting old enough to pitch in, and I find it less of a scramble than when everyone was little. If somebody older than 13 is home, they can help get the dinner process rolling.
Bedtime – A hot mess. Really, though, with a 17-year-old and a 10-month-old, long gone are the days of everybody getting a bedtime story and me quietly cleaning the kitchen while listening to a baby monitor. On the upside, while bedtime might not fit into the neat box it once did, it's also mostly self-sufficient. Sometimes older ones have to stay up to work on things, and I let them make that call. My kids still like to share rooms, so if I feel someone is going to be up too late, I'll grab the younger ones and stick them in a different room. I know it's not the most organized, but we are surviving!
---