Helping Kids Create a Vision Board the S.M.A.R.T. Way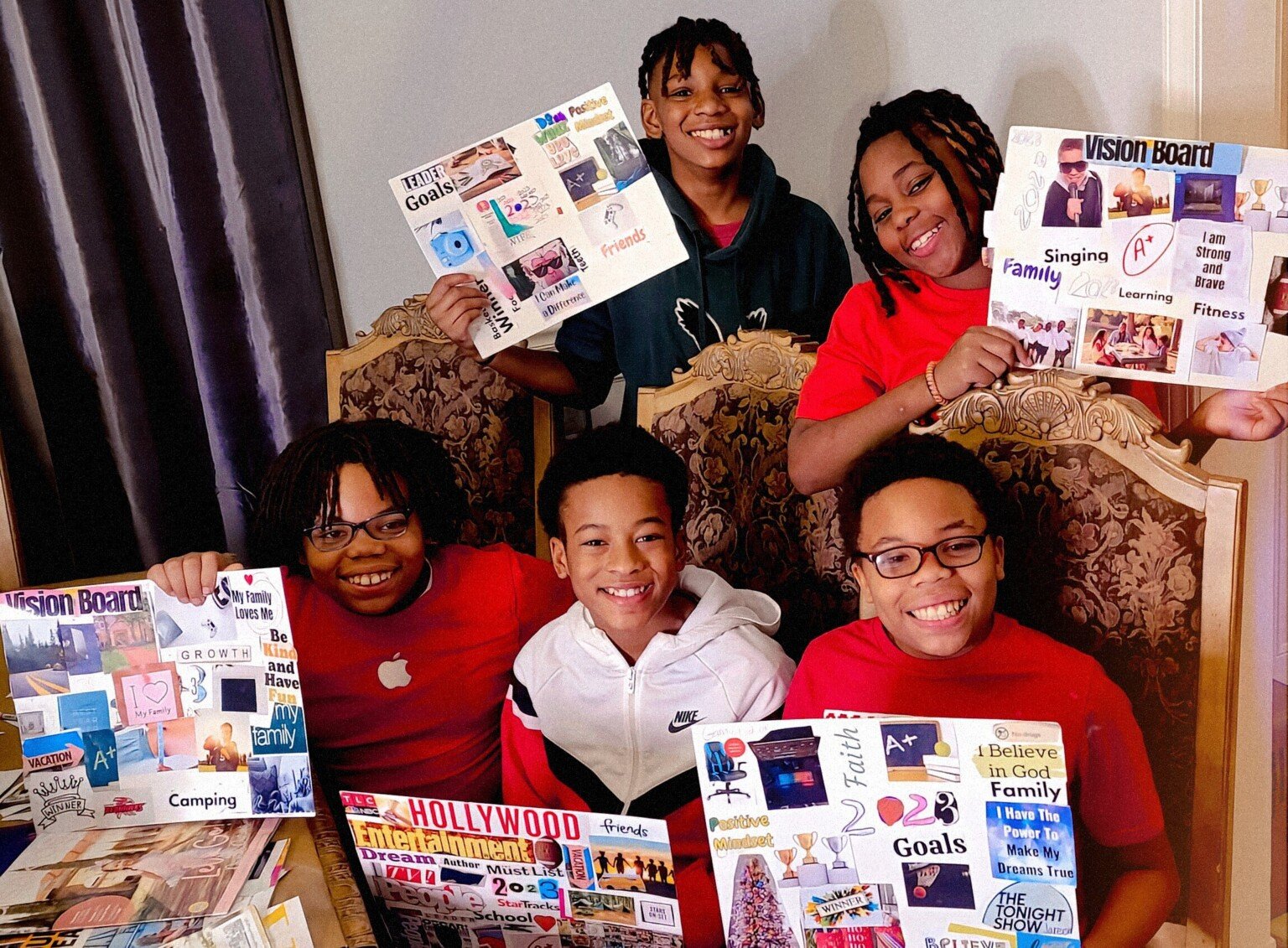 Whew! How did 2022 get away from us so fast? We survived the holidays and are embarking on a new year! Many of us have been in survival mode for the last few years. COVID, social issues, politics, escalated cost-of-living prices and now the flu and RSV are wreaking havoc in our homes. Sometimes, the last thing we think about is setting goals with our children. However, besides creating great memories, carving out time to set goals with our children can set them up with essential life skills, which will teach them to take responsibility for themselves.
One way I like to help my 11-year-old son, Keith Ross, with his goal setting is by helping him create a vision board. A vision board is a visual illustration of what you want to acquire or accomplish. At the beginning of each year, I usually get together with my friends to create a vision board, but last year, I thought it would be cool to ask my son if he would like to make one. Once I explained to him what it was, he embraced the idea. The vision board is a great visual reminder of what we are working toward. Ultimately, it can keep us motivated to achieve our goals throughout the year.
Setting SMART Goals
Before I give you a few tips about helping your children make a vision board, it's important to mention collaborating with them to set goals. Remember, as parents, just like we wouldn't want anyone to tell us our goals, we don't want to dictate our children's goals. But we want to guide them, so they are realistic and attainable.
For example, last year my son wanted to add a fancy Corvette to his board. I responded, "Um, sir, is that a toy Corvette?" Well, it wasn't. His goal was to buy a car in 2022! So, after discussing the legal driving age (which is clearly not 11 years old) and the requirements to obtain a driver's license, we looked up the cost of his dream car. After that, he agreed to take it off his list for now. I explained to him it's great to dream big, but we should use SMART (specific, measurable, attainable, realistic and timely) goals for the vision board.
Creating Your Vision Board
After I sold him on the SMART goals, I explained that a goal without a plan is just a dream. We used the Goal Setting for Children worksheet to write down our goals and how we planned to achieve them. We devised a system to track our progress and hold each other accountable. We did that by breaking our goals into smaller goals and giving ourselves deadlines with the disclaimer that if we don't meet the deadline, we can reassess the goal and change the timeline if needed. With my son, I knew he had to see his progress, so we created a progress graph.
When all the work was done, we both were eager to start cutting, gluing and pasting. I had a few magazines around the house, but as a working mom, I always look for ways to make life easier. So, I ordered some vision board clip art books from Amazon, and we both loved them. I spread the magazines I had and the ones I purchased from Amazon on the table, along with our supplies, glue, markers, poster board and, of course, our worksheet. We rolled up our sleeves and got started. We meant business.
I let him use his creative side without directing him where to put a picture or what looked best. If he wanted my opinion, I would have been glad to interject, but he didn't; he took it and ran with it. Keith enjoyed making the vision board so much last year that he invited his friends to join us this year.
Keith's friends, Jareon, Dareon, Legend and Da'Corier, joined us in setting goals and making vision boards. Although sometimes the process with five boys was like herding cats on a rainy day, listening to them come up with their goals made my heart smile and my cheeks hurt from laughing. I learned so much about what was going on at their school, which included their favorite classes, not-so-favorite classes and girls they had a crush on. There was a lot of laughing and redirecting, but the mission was accomplished.
In short, Jareon's and Dareon's main goals are to get straight A's on their report cards, build a platform to be a gaming influencer and join the basketball and football teams. Legend's main goals are to make A's in two of his most challenging subjects and to go camping. Da'Corier's goals are to make straight A's and to earn a spot on the football team.
Keith Ross' main goals are to make a B in Geography and to make $100,000, which led me to a conversation with the boys about having $100,000 dreams with a two-dollar work ethic. In other words, to accomplish your goals, you must work for them. I think I got my point across without sounding too preachy.
Ultimately, finding a downside to creating a vision board with your children is hard. Keep it fun. Let them be creative. Don't apply any pressure. Enjoy your quality time together and reiterate the power of positive thinking and achieving your goals.
Goal-Setting Worksheet
A simple worksheet from kiddiematters.com helps kids understand that goals require action, and sometimes the work of achieving goals can be difficult or slow. You can create your own worksheet.
Include the following:
Ask kids to write down three goals for themselves.
Underneath each goal, ask them to write an action plan on how they will reach their goals.
At the bottom, have kids answer or think about the following questions:
What are some positive qualities about you that will help you reach your goals?
What might get in the way of your reaching your goals?
How will you monitor your progress toward your goal?
Dr. Tamecca Rogers is Director of Diversity, Equity and Inclusion at Tulsa Technology Center. She is a writer and mom to three boys who love adventures.
---