HallowZOOeen and More:
Our weeklong Halloween celebration begins!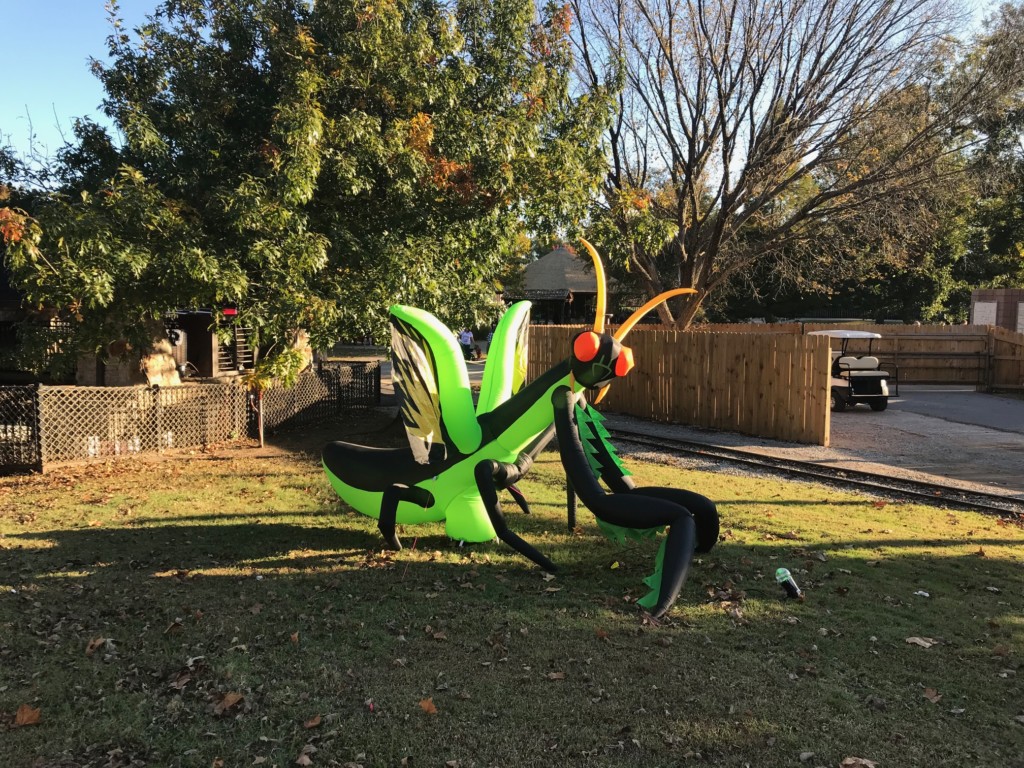 Daniel was out of town this past weekend for a work vacation on which Joss and I had been planning to tag along, but last-minute circumstances meant that we stayed home. This is a bad combination: Dashed Dreams of FINALLY Visiting Crystal Bridges + Being Left to My Own Devices meant impromptu trips to Goodwill and an art show (in the name of "Christmas Shopping"!) and finally, an impulse decision to purchase HallowZOOeen tickets for Sunday evening.
We'd already attended Brookside BooHaHa on Saturday morning, and due to the uncertain weather, I think the candy distributors were being a bit more generous than they normally would have been! We ended up with a FULL trick-or-treat bag, so the decision to go to HallowZOOeen was not based on needing more candy in our lives!
It had more to do with the fact that we'd never been before, my natural curiosity to "see what all the fuss is about," and a Tulsa Zoo Instagram post saying "WE STILL HAVE TICKETS LEFT! GET YOURS NOW!" Haha.
Trick-or-Tickets
You don't actually have to purchase tickets in advance, and when you purchase HallowZOOeen tickets, they are good for any day of the event. So just because I purchased them online on Sunday didn't mean we were obligated to go then. However, HallowZOOeen opened an hour early (at 5 p.m. instead of 6) on Saturday and Sunday, and I liked the idea of an additional hour of daylight.
Also, when you purchase tickets online, the confirmation will say "Print your eTickets," which sent me into a panic because we don't have a printer at home. However, I called the Zoo, and they confirmed that they'd be able to scan them from my phone. Good to know!
There was an express entrance for people who had purchased tickets in advance. I don't know how much faster this was than just purchasing tickets at the door. At least, when we were standing in line, people were commenting that it looked like people were getting in to the zoo faster the usual way; but once 5 o'clock hit, the line started moving and the wait wasn't bad.
Be There (On Time) or Be Scared
My plan was to show up to the zoo 15-20 minutes before 5 p.m. because I imagined this would make parking less of a hassle. And while it did, I would recommend probably showing up thirty minutes early if at all possible!
The main Zoo parking lot is $5 paid parking. Otherwise, you can park along Mohawk Drive or in one of the Mohawk lots. When we pulled onto 36th Street at 4:45, there was already a line of cars waiting to turn into the Zoo entrance, and the paid parking lot looked nearly full.
Lots of cute characters walking around for photos!
When we left around 7:30, there were still people arriving at the Zoo, and so many cars parked along the drive that some families would have had quite a walk before even getting inside! Which is fine if you're prepared for that, but that would have scared me off. So: Go early or be ready to walk!
Haunted Train Ride
Joss refused to wear his Kylo Ren mask, but…we knew he was in costume 🙂
You can take a Haunted Train Ride for $5 per person; unlike the Zoo's usual train, the Haunted Train does a full lap around the Zoo, so you start and end near the entrance. I'm sure this would have been scarier in the dark, but I'm glad we did it because there were a lot of fun stations set up along the track that we wouldn't have seen otherwise.
And towards the end, we even got to go through "Jurassic Park," a tunnel painted black with giant fluorescent venus fly traps–and a glowing green dinosaur head! Complete with sound effects, of course.
The Haunted Train Ride is where I learned that Hornsby and Bigfoot are besties!
Goblins and Pirates and Pumpkins, Oh My!
Once we disembarked from the train, it was time to follow the line of kids for trick or treating! On the train, we overheard the family behind us talking about how they'd heard that the zoo would be passing out a total of 3 TONS of candy over the course of HallowZOOeen! I don't know if this is true, but it sounds likely.
Be prepared to do some standing-in-line at HallowZOOeen. The lines really did move pretty quickly overall, but you definitely can't just walk right up, take your candy and move on. My favorite thing about the "Goblin Stops" (aka the candy stations) are the fun backdrops–and the fact that the candy is kept in large wooden coffins!
In addition to the Goblin Stops, there are three main attractions: QuikTrip Pirate Island, Burger King Royal Castle and Pumpkin Patch Playroom. We didn't do the Pumpkin Patch Playroom because of timing, but there you can find a hay maze, pumpkin decorating, carnival games and of course, more candy.
QuikTrip Pirate Island was probably my favorite–who doesn't love pirates?! They'd set up a giant boat in the middle of a clearing, with a variety of games and photo ops lining the sidewalk surrounding the boat. Joss enjoyed ringing the giant bell on board the boat (many times). The games looked fun, but we skipped most of them because of the lines.
Burger King Royal Castle offered several activities as well, from "The Sword in the Stone" (Joss removed it with ease!), to fingernail painting, to Princess meet-and-greets to a rocking dance party! I think Joss was most excited about getting his Burger King Crown.
And Ghostbusters, too!
Secondary attractions included a Ghostbusters station, where you could take your photo with the Staypuft Marshmallow Man, Slimer and genuine Ghostbusters! Joss loved this part.
This was located next to the Haunted House, which Joss said was his favorite part, but I think this may be because he thought the Ghostbusters were part of it 🙂 If you're wondering, the Haunted House was not terribly scary–Joss exited with a big smile, although he has a pretty high tolerance for light scares.
Joss desperately needed to have napped earlier. Sleepy boy!
My favorite part about the Haunted House was how friendly all the volunteers looked, haha. There was a group of witches around a cauldron, and they just looked too nice to be scary! One was even wearing a Mickey Mouse T-shirt. And no one jumped out at us or anything (Thank you!).
Wrapping Up…
All in all, we loved HallowZOOeen! And I really couldn't believe how many other Tulsa families do, too, apparently. I was in no way prepared for just how many people were there. But at $9 per non-member ticket, it's priced very reasonably, considering how much there is to do. Only the Train Ride and Carousel cost extra ($5 per train ticket, $1 per carousel ride).
HallowZOOeen continues through October 31, 6-9 p.m. daily. Purchase tickets online here.
And Moving On
Now that we've done BooHaHa and HallowZOOeen, what's next on our Halloween agenda?
Well, Monday evening is A Spellbound Social Justice Story Hour at All Souls Unitarian Church, with a free screening of "Room on the Broom," a performance by Hot Toast Music Co. and $1 pizza slices.
Tuesday we may take a day off from celebrating, but Gathering Place's Sweets & Treats on Spooky Street kicks off on Wednesday, Oct. 30. Since this is the inaugural year for that, I'm hoping to take Joss–if the weather isn't too miserable!
And then on Thursday, of course, we will be out trick or treating! If I can manage to fit it in, The STEMCell Science Shop is hosting a bat education event with the Alabaster Caverns on October 30 and 31, with real bats! I love bats, they are so cute! Hoping to have the time to go meet one.
If that's not enough, check out TulsaKids' list of Family Friendly Halloween Events because there are plenty of other options this week, including HallowMarine, which Daniel, Joss and I attended a couple years ago. It's an excellent indoor option and tons of fun!
---