Growing Good Food in Containers
Make these delicious, simple summer recipes using your home-grown veggies and herbs.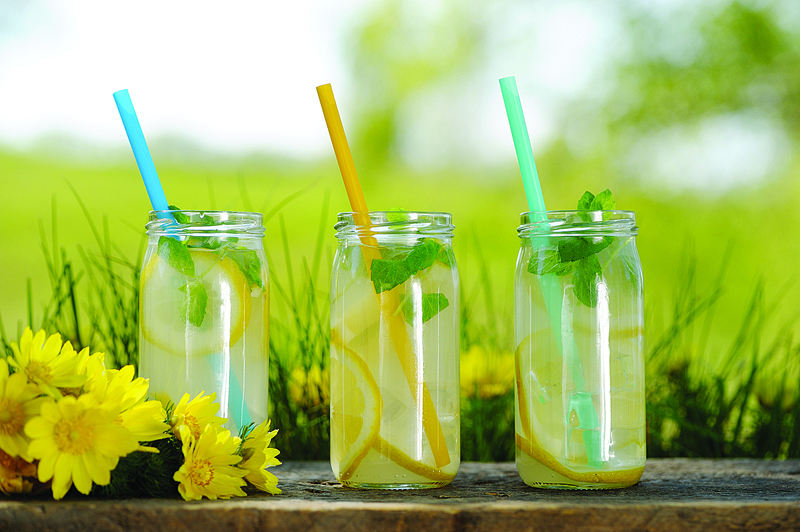 Container gardening is one of the easiest ways to develop green-thumbed kids.
Beautiful gardens with trailing strawberries and seven-foot sunflowers along stepping stone paths made just for little feet are dreamy. But if this is not your reality, think about container gardening. By May, it's too late to start many plants from seed, so instead, head to a nursery or farmers' market and pick up little herb, tomato or vegetable plants ready to stick in a pot and grow.
Kids will love checking the progress in their pots and can learn responsibility by watering the plants each day. Their favorite part will likely be harvesting the fruits of their labor. Show them what makes all the watering and weeding worth it by bringing them into the kitchen to make something yummy with whatever you've picked.
A few things to remember when growing fruits, vegetables or herbs in containers: Check the soil for dryness. In the summer, the soil in pots can become dry very quickly. Teach your kids to stick a finger in the soil. If it's dry below the surface, give it a drink. Also consider the size of your containers. Herbs can be grown in small containers. But vegetables with deep roots will need plenty of room to grow. For those, choose big pots or buckets.
Here are some of our edible container garden favorites.
Zucchini Squash
One of the easiest things to grow is squash. Zucchini squash has deep roots, so you'll need a large container. But don't worry about buying an expensive pot. An empty 5-gallon bucket with drainage holes is perfect. Zucchini requires full sun and steady watering.
This recipe, adapted from All Recipes, is a favorite of kids.
Whole Wheat Chocolate Chip Zucchini Bread
3 cups white whole wheat flour
1 teaspoons salt
1 teaspoon baking powder
2 teaspoons cinnamon
3 eggs
1 cup vegetable oil
1 1/2 cups sugar
1/2 cup brown sugar
1 tablespoon vanilla extract
2 cups shredded zucchini (do not drain)
1 cup semi-sweet chocolate chips
1. Preheat oven to 350 degrees. Spray two 9-by-5-inch loaf pans with nonstick spray.
2. In a large bowl sift together flour, salt, baking powder and cinnamon.
3. In a separate bowl mix together eggs, oil, sugar, brown sugar and vanilla until well combined. Add to the flour mixture, and stir until just combined. Stir in zucchini until well blended. Fold in chocolate chips.
4. Divide equally into the 2 loaf pans. Bake for 45-65 minutes, until a tester comes out clean. Allow to cool for 10 minutes on a wire rack before removing from the pan to cool completely.
Tomatoes
When planning a container garden, tomatoes top the list. There's nothing better than eating a warm cherry tomato right off the vine. Give kids the chance to do this, and you'll be creating gardeners for life. Tomatoes are happiest in big containers with plenty of soil and room to grow. You'll also want to stake them to keep the fruit from breaking the vines.
Tomatoes need full sun, consistent watering and fertilizer for best results.
Let the kids pick the tomatoes, then toss them into this recipe from the Food Network.
Fresh Corn and Tomato Salad
3 tablespoons white wine vinegar
Kosher salt and freshly ground black pepper
1/4 cup extra-virgin olive oil
6 ears fresh corn
2 cups red or orange grape tomatoes, halved
8 ounces fresh mozzarella, cut into small cubes
1 bunch scallions (white and green), thinly sliced
1 1/2 cups fresh basil leaves
1. Whisk together the vinegar, 2 teaspoons salt and some pepper in a small bowl. Gradually whisk in the oil, starting with a few drops and then adding the rest in a steady stream, to make a smooth dressing.
2. Shear off the corn kernels with a sharp knife over a bowl (you should have about 4 cups). Toss in the tomatoes, mozzarella and scallions. Pour the vinaigrette over the salad and toss to coat. Cover and let stand for at least 15 minutes and up to 2 hours. Before serving, tear the basil over the salad and stir.
Potatoes
Potatoes are one of the coolest vegetables to grow with kids. Plant a few small potatoes in a 5-gallon bucket, cover with soil, water well and watch them grow. Potatoes take a few months to fully grow, but you'll know the potatoes are ready once the foliage has withered and died. Let the kids dig up a potato to make sure it's ready to go. Digging in the dirt for your lunch is just as satisfying for adults as it is for kids.
Be sure to create plenty of drainage holes in your bucket. Potatoes need plenty of sun and loose, well-drained soil for best growth.
Roasting new potatoes is one of the simplest ways to prepare garden-fresh potatoes. It's also one of the most delicious.
Simple Roasted New Potatoes
2 pounds small red skin new potatoes
3 tablespoons olive oil
1 teaspoon kosher salt
1/4 teaspoon black pepper
1 clove crushed fresh garlic
Preheat the oven to 400 degrees. Line a large baking tray with parchment paper or lightly coat it with nonstick cooking spray. Scrub the potatoes thoroughly and pat dry.
In a large bowl, drizzle the potatoes with the olive oil. Toss to coat. Sprinkle with salt, pepper and garlic, then and toss again to coat.
Pour the potatoes out onto the prepared pan and bake for 35 to 40 minutes or until the potatoes are tender when pierced with a knife.
Mint
My favorite herb to grow is basil. But some herbs are better suited for container gardening. If you have a small garden space and don't want a prolific herb, like mint, to take over, then a pot is the way to go. Mint is a favorite of my kids. They love to rub their hands through the mint leaves and then smell the fresh scent.
In the summer, we like to add a few mint springs and slices of lime to ice water. You can add even more flavor to your ice water or tea or whatever else you're making, with flavored mint plants, like ginger mint, pineapple mint, orange mint or chocolate mint.
Mint grows best in full sun. It can tolerate some dry days, but you'll need to keep your soil moist.
This recipe from Jessica Merchant is sweet enough for kids and sophisticated enough for a grown-up drink. It's my favorite summertime drink. It's really pretty garnished with fresh mint leaves and a watermelon wedge.
Homemade Mint Limeade
Makes 4 to 6 servings
2/3 cup water
2/3 cup sugar
1 big bunch of fresh mint leaves (around 3/4 cup)
2 1/2 cups freshly squeezed lime juice
2 1/2 cups water
1/3 cup freshly squeezed lemon juice
3 limes, sliced
Fresh mint leaves for garnish
To make the mint simple syrup, add the water, sugar and mint leaves to a saucepan and heat over medium heat. Whisk constantly until the sugar dissolves and the mixture comes to a boil. Let it bubble for a minute or so, then reduce the heat and let it cool completely. Remove the mint leaves before use.
Stir together the mint simple syrup, water, lime juice and lemon juice. Add the sliced limes and extra fresh mint leaves. Refrigerate for at least an hour. Stir before serving and pour over ice.