Green Country Grown-Ups: Stacia Fox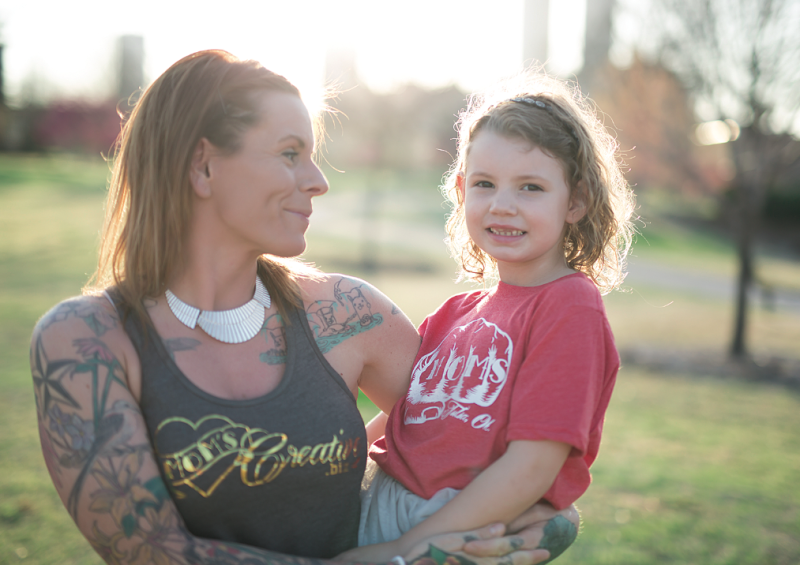 Stacia Fox, a self-confessed "creative," enjoys turning her clients' ideas into reality. Fox owns Mom's Creative, a Tulsa-based screen-printing company and has, as she says, the best little assistant in Tulsa – her 6-year-old daughter. As a single mom, Fox works to find balance raising her daughter and running a successful business. At this point, Fox seems to have found the sweet spot – which, admittedly, takes a lot of planning and preparation to achieve. Owning her own business allows flexible hours with a lot of early mornings and late nights, but the trade-off in quality time with her daughter is well worth the effort.
I met Fox though the Rising Tide Society, a local creative group that meets one Tuesday a month, referred to as "Tuesdays Together," to discuss entrepreneurial lessons as well as network with local creatives around the Tulsa area. On occasion, Fox will bring her daughter to the Tuesdays Together group meeting, which everyone seems to enjoy – including her daughter.
TK: How long have you lived in the Tulsa area?
Fox: I originally grew up here. I was raised by my father in South Tulsa and moved away after high school in 2000. I lived and traveled all over before settling down in Kansas City where my daughter was born. We moved back at the end of 2015. Both Tulsa and I have definitely changed during that time.
---
TK: What brought you to Tulsa from the Kansas City area?
Fox: There's several things about Tulsa that drew me back. Of course, the most important is family. I have two younger sisters, Lila and Harper, that are very important to me. But, I also have to admit, Tulsa is a great place to raise a kid. It has a great balance of what I need, great schools, great people, and creative influence.
---
TK: What do you enjoy about being a parent?
Fox: Everything. Both the good and the hard times are amazing. Outside of being creative, I consider myself to be an adventurer. It's amazing to have a little version of me by my side while I take on the world. Teaching her the things that I've learned and watching her experience things for the first time lights up my life. She also has a very daring personality, so there are times that she teaches me things as well. And, oh goodness, is she funny. I have laughed and smiled more in the last six years than I have my entire life.
---
TK: How do you juggle your business and being a single mom?
Fox: Exhaustedly. McKenzie is extremely important to me. A major priority is that I carve out time just for her. Time that we put everything else on hold and are together without distraction. This makes for a lot of early mornings where I am tackling work before she wakes up, and late nights where I am still working after she has gone to bed. But the bulk of the time she is right in the mix of the day's work and has been since she was born.
---
TK: On the business side, what does your daughter like to help you with?
Fox: She helps with everything from making buttons to folding t-shirts to even going to meetings. I call her my "little assistant," and she is very well received by my clients. They always have smiles, high-fives, and cookies for her.
---
TK: When you have free time, what do you and your daughter enjoy doing together?
Fox: The fun thing about us is we don't have a favorite routine. We are like-minded in our draw to adventure, fun, and creativity. We enjoy everything from just walking the dogs through the neighborhood and finding things, to creating pottery and painting, or just taking off in the car and seeing new places. I don't think we've ever had a bad time.
---
TK: What would McKenzie say is her favorite thing to do with you?
Fox: In my mind, it is some deep and profound answer like "teaching me the meaning of life, or exploring our heritage through cooking lessons" but I asked her and she said "going to Chuck-E-Cheese." I have to admit that's one my favorite things, too.
---
TK: How did you get into the screen-printing business?
Fox: I wish I had some glamorous story about how I was destined for the industry but it actually took some trial and error with careers before I found myself here. I originally went to school to be an animal psychologist. I graduated from my university and found myself absolutely lost with my degree. I didn't feel satisfied, and I couldn't quite put my finger on it. So, I decided to go to culinary school in Chicago where I received a degree in the Patisserie Arts and worked as a pastry chef for years. I loved it. It was then that I realized how important creating was to me. Unfortunately, I lost my father in 2007, which turned my life completely upside down. With the loss of my dad, I also lost myself and my work drive. I didn't quite know what to do with myself for quite awhile. I come from a long line of entrepreneurs and for some reason opening my own business seemed like the easiest path at the time. I opened my own t-shirt shop in 2009 and my passion was born. Printing shirts, graphic design, all of this, I love it. It makes me smile. The old saying "do what you love and you'll never work a day in your life" is true. Loving what I do gives me drive to learn more about my industry and get better every day.
---
TK: What products do you work with?
Fox: I can't stop expanding my knowledge base. If it's out there, I want to make it. Digital printing, traditional screen printing, embroidery, sublimation, vinyl, buttons, tees, towels, totes, hoodies, hats, blankets, mugs, keychains, decals, socks, you name it. Just recently I started making jewelry, and experimenting with sportswear.
---
TK: How quick is your turn-around time?
Fox: About a week. I also do order fulfillment for a lot of groups, fashion lines, and businesses which is print and ship on demand.
---
TK: How have you benefited from being a part of the "Tuesdays Together" in Tulsa group?
Fox: I think all creatives can feel isolated at some point. When you work for yourself and have that creative mind, you can kind of get blinders on. The "Tuesdays Together" group has helped bring me closer to others like me for a ton of beneficial reasons, but most importantly to feel connected. We share our personal and work struggles. Learn how to network, fix organizational problems, and tackle creative issues.
---
Wrap-up: Happiness is key. Think outside the box when it comes to your life and create one that makes you happy.
Nancy A. Moore is a Public Relations Coordinator at Montreau, Adjunct Professor at Tulsa Community College, and has been writing for TulsaKids for almost 20 years.