Green Country Grown-Up: Symon Hajjar
Giving children a voice through music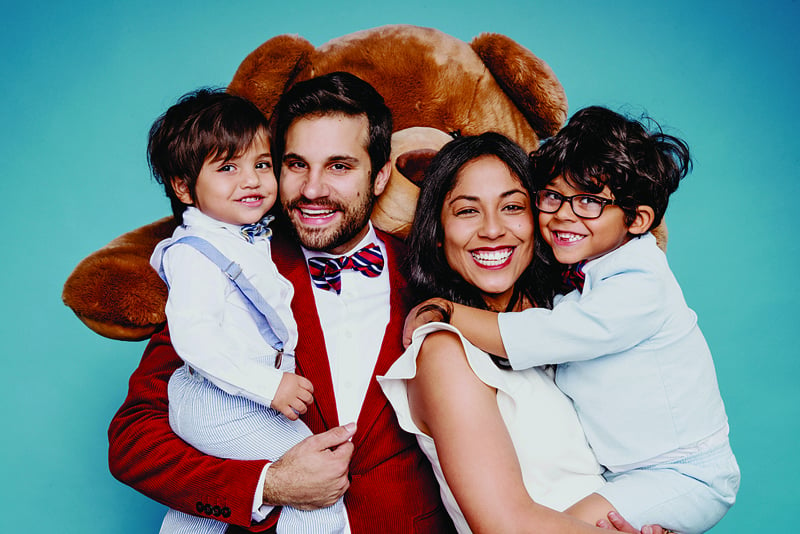 Local musician, educator and father, Symon Hajjar (aka Mr. Symon), of Hot Toast Music Company, expertly combines his educational background and musical talent to compose music that resonate with both kids and adults. His songs have purpose – with topics ranging from light-hearted and silly to more serious topics that spark discussion between adults and kids. With a musical mission to help kids discover, play and create, his engaging style encourages just that! What makes the lyrics perfect for kids? They influence every song. Check out Hajjar's newest album, "Let Me Hear Your Voice" out this month.
TK: Tell us about your background.
Mr. Symon: Originally from New York, I came to Tulsa to attend Oral Roberts University. After finishing college, I made Tulsa my home. My wife (Princess) and I have two boys, Isaac, 4, and Ezra, 23 months.
TK: What is your favorite quote? Why is it your favorite?
Mr. Symon: There are two quotes from the Mr. Rogers documentary, "Won't You be my Neighbor," that really resonate with me. The first being when Mr. Rogers is describing why he started making TV, saying, "I got into television because I saw people throwing pies at each other's faces, and that to me was such demeaning behavior. And if there's anything that bothers me, it's one person demeaning another." When I heard that, it just hit me — why waste an opportunity? Kids are experiencing things for the first time and their brains are like little sponges soaking up knowledge. Music is a great way to set the context to help them learn how to ask questions, learn to appreciate others who are different than they are and provide a way to dignify their voices.
The second meaningful quote, also from the same documentary, is "Love is at the root of everything." Mr. Rogers says, "All learning, all parenting, all relationships. Love or the lack of it. And what we see and hear on the screen is part of who we become." For me, it's a big responsibility to write words and songs that kids are going to repeat and remember hopefully for a long time. So, it's important that love is at the root of them.
TK: Why do you target your songs toward children?
Mr. Symon: It was a natural progression. I've been writing songs for almost 20 years and after the birth of our son, Isaac, I started making up little lullabies to help him fall asleep. As he got older, I transitioned from writing songs for him to writing songs with him. I have found music is a great way to communicate an emotion that might be difficult for a small child to articulate – like sadness or frustration. They are so in-tune with everything happening. Early on, I found that songs helped him communicate and gave him the words to express his emotions.
TK: How do you find ideas, or inspiration, for your music?
Mr. Symon: A lot of people think that you can just sit down and write a song. For me, it's more of a process than that. My boys are a constant well of inspiration. Also, over the years I've learned to let the children I'm singing with take the lead. Much of the time my inspiration comes from my interaction with kids. I simply ask them, 'What do you want to sing about today?' It's not always dinosaurs and trains. Sometimes it's bullies or Click beetles. I give them words, and then we put them into action. It's amazing the depth of knowledge in 3- and 4-year-old kids.
TK: Where did the clever musical name of "Hot Toast" originate?
Mr. Symon: It came from making a song about our son's favorite food, hot toast. That was one of my first songs about all that was happening in the kitchen, including throwing a piece of hot toast in the air. My music has always been introspective, thoughtful and lyric based, but the name also shows the silly edge that my songs have.
TK: Why do you feel it is important to put an educational spin on your lyrics?
Mr. Symon: Because kids are always learning, all songs are empowering and play a role in kid's development. For example, when my family and I made a trip to the ocean, we noticed that they loved the sound of the ocean and the gentle and calming effect it had on our boys. We wrote a song to mimic the sounds and the memories of the ocean that we can sing when we need to feel calm. Another song on the album, about beards, is a social and emotional song about how being different is something to be celebrated.
TK: Why do you feel it is important for adults and kids listen to these songs together?
Mr. Symon: Music is another way for parents to engage with their kids. One of our goals is for the songs and activities we share to help parents talk with their kids about themes brought up in the songs. There are so many ways parents can connect with their kids, and I want to help them take advantage of these opportunities. We can teach kids now. They are ready.
TK: Tell us more about what's behind developing your songs.
Mr. Symon: My lyrics have a social and emotional focus. It's about dignifying kids and their feelings and emotions. It teaches kids how words and melody come together to communicate a message.
TK: How do you recommend parents encourage music in their homes?
Mr. Symon: Making music doesn't have to cost a lot of money. We encourage parents to grab items from their recycling bin to make instruments. The lesson is that found and recycled objects can be some of the best. It also sparks the conversation about the importance of reusing items and not being wasteful. Kids are innate learners and habits taught at an early age will stick with them into adulthood.
TK: What is your favorite song from the new album, "Let Me Hear Your Voice"?
Mr. Symon: The song, "I'll Think of You in My Heart," is a song about goodbyes. It talks about remembering people in your heart and how when you think of them, it causes a warm feeling in your heart. This song can be used in so many situations – from the difficulty a child has saying goodbye at school drop-off to losing a loved one who passes away.
TK: What age range does the music best lend itself to?
Mr. Symon: This music is geared towards children from birth to age 8. All songs are empowering and play a role in their development.
Follow Hot Toast on Instagram @hottoastmusicco and Facebook: Hot Toast Music Co. for instrument ideas and inspiration for sharing music with the children in your life.
For more information about Symon Hajjar, to view a show schedule, or to order a CD visit: www.hottoastmusic.com
Nancy A. Moore is a Public Relations Coordinator at Montreau, Adjunct Professor at Tulsa Community College, and has been writing for TulsaKids for almost 20 years.
---