Green Country Grown-up: Meg Myers Morgan
In her new book, Morgan teaches women that everything is negotiable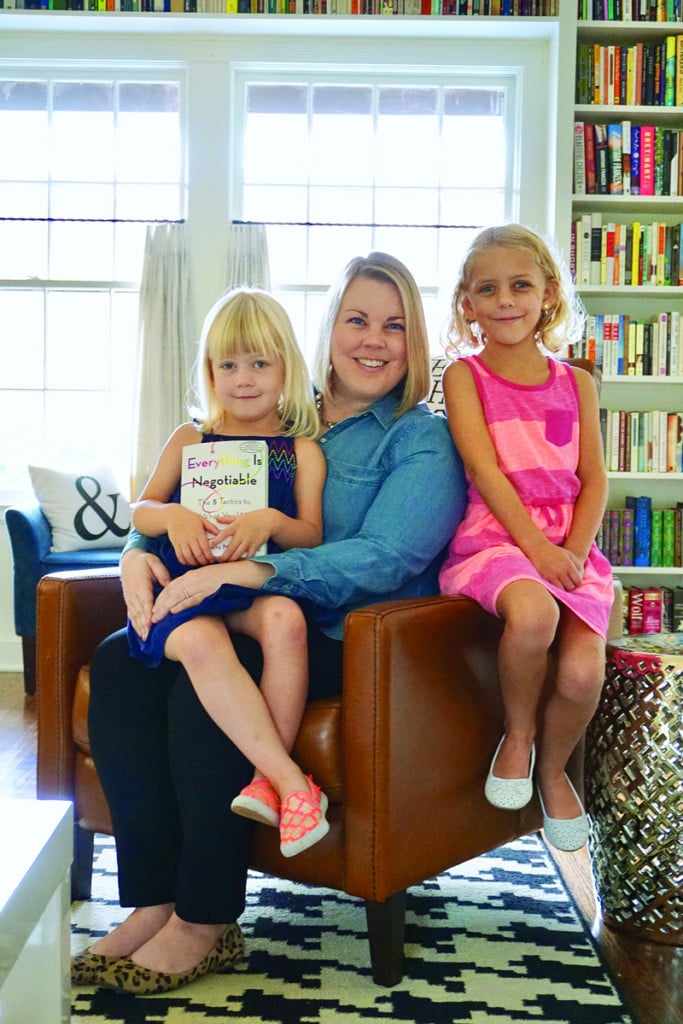 With the kids returning to school, mothers may find additional time on their hands to reevaluate their lives – dreams, goals, relationships, careers and everything in-between. For those who lack motivation, inspiration or just wonder how to become the woman they want to be, there is help! Meg Myers Morgan is a wife, mother, author, professor and career coach who is teaching women that they can have everything. According to Meg, women can and should negotiate for the life they want.
In her new book, Everything is Negotiable, she combines factual and educational information on life, career and relationships in a clear-cut, easy-to-read format with real-life examples that are both hilarious and inspirational.
TK: Why do you think women need help in achieving the life they want?
Meg: Women have perhaps been taught to see each thing they want in life as being in direct opposition to all the other things they want in life. I've had women say they couldn't pursue certain career goals because they want/have kids, and I've had women say they wanted to get married but feared it went against their independence. We have to stop steering into this line of thinking. All the wants in your life don't contradict the others; they complement them. Think of all your wants as instruments and assemble a symphony.
TK: Are there any tips you can share about the importance of self-confidence and how to overcome negative thoughts of not feeling worthy?
Meg: I firmly believe that confidence is a skill you can develop—sometimes from nothing—and make it one of your strongest character traits. Watch the way you talk about yourself. People can only think and speak of you as highly as you are willing to think and speak of yourself. I sometimes hear women call themselves "frazzled" or "crazy" or even thank their spouses on social media for "putting up with" them. It's minor, of course, but one quick way to change your confidence is to change the narrative around yourself and your life.
TK: What events prompted you to write this book?
Meg: A former student of mine went to work running a TEDx program. She approached me about giving a talk based on the themes in my first book, a collection of humorous essays called Harebrained, which covered topics like marriage, motherhood and the journey to the career I have now. At the time, my oldest was 4 and was a master at negotiating—she could talk us out of any snack, toy, or later bedtime. I wanted to encourage women to have the tenacity and boldness of my kid, who just kept negotiating for everything she wanted.
TK: Can you share a little about the topic of your TEDx Talk and how it was received?
Meg: My TEDx Talk outlined three negotiating tactics my 4-year-old used that I thought would be helpful to women as they negotiated for the lives they wanted. After I finished the TEDx Talk that day, I was swarmed by young college women eager to talk to me about their career goals. One young woman said, "Well, that's it, I'm going to change my major from pre-med to what I really want to study, art history!" I'm sure her parents weren't happy with me, but at least she was able to realize her wants were important and worth exploring.
TK: Who will this book resonate with?
Meg: Any woman working to balance a lot of wants. There's a lot of advice in here, but it's subtle self-help. The kind you get from your funny friend over drinks.
TK: What has come about as a result of your own negotiations?
Meg: Everything from a higher salary to self-confidence. Rare is the case you get handed things you don't ask for. That's true of raises, promotions, help, and even happiness. It's certainly true that women have to fight harder for opportunities. But we also have to change our mindset from one where we are waiting for permission or approval, to one where we stand up and ask for everything we want. My daughter is happy to show you exactly how to do this.
TK: What do you consider your most successful negotiation?
Meg: The one around how I shaped my career. For a while, I felt it had to fit within a nice box with a clear label on the top. And I struggled to know exactly which box that was. I enjoyed my graduate work, and I get so much professional satisfaction out of leading a graduate program at OU-Tulsa. Teaching and training students is a passion I don't ever see growing tired of. But I also love to write and coach women on career development. My career wasn't looking like any other professor, writer, or coach I knew. Finally, I realized the only person who thought I needed to be within a box with a label was me. So I renegotiated the terms around how I see my career. Now I know that the less it looks like anyone else's career, the more I know it's mine. As I say in my TEDx Talk, "Build a career your parents can't explain to your grandmother."
TK: What do you enjoy most about the life you have negotiated?
Meg: All of it except the laundry. I think what I like most is that I've set my own rules. It's so easy to compare ourselves to others, try to parent like others, and even try to emulate the career of others. I wrestled with all of that for a while before I realized I could just set my own rules, and measures of success, in life and work. And since doing that, I've had more opportunities and a heck of a lot more fun.
TK: What is your favorite book?
Meg: I was an English major in college so I'm partial to literary fiction. But the book I read over and over again is Tina Fey's Bossypants. Even though she's famous, her journeys in marriage, motherhood, and establishing her career are so relatable. Plus, you know, it's hilarious.
TK: What is your favorite quote and what resonates with you about it?
Meg: My mentor at OU always says, "Don't compete for a trophy that doesn't exist." I love it because sometimes I find myself wasting time and energy on a goal I don't even want. It's easy to get sidetracked by other people's races, but it's important to remember exactly what it is you are running toward.
TK: In your free time, what does your family enjoy doing around Tulsa?
Meg: If we aren't in the pool at the YWCA, or at the zoo, you can find us in our house trying to break up a spat over how the Lego castle should be built.
TK: What else are you currently working on?
Meg: Aside from my career in academics, I have a career coaching practice on the side where I help women develop their careers. Whether it's figuring out the next steps in their career, or helping them prepare for a salary negotiation, I love helping women work toward a satisfying professional life.
Nancy A. Moore is a Public Relations Coordinator at Montreau, Adjunct Professor at Tulsa Community College, and has been writing for TulsaKids for almost 20 years.
---