Green Country Grown-up: Libby Billings
Billings is a mother of two and owner of three downtown restaurants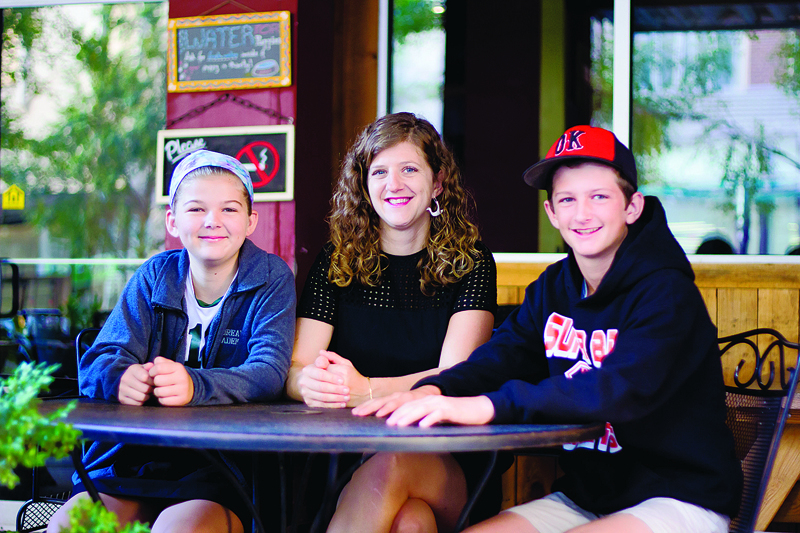 Native Tulsan Libby Billings is one smart mother. She has been referred to as the Queen of Boston, and rightfully so. She owns three restaurants, The Vault, Elote and Roppongi, tucked along Boston Avenue in downtown Tulsa. Her strong work ethic, determination, and creative ability in uniquely combining fresh ingredients, has helped her develop and grow these businesses into successful culinary destinations. So, what's her recipe for success? As a natural optimist, she finds joy on a daily basis. When she's off work, she enjoys uninterrupted time with her kids by following one rule (she shares below!) that has sparked creative ideas, engaged conversation and kept their connection strong.
Recently, her son began his freshman year at her high school alma mater, Booker T. Washington. She is looking forward to sharing this connection with him (and going to high school football games again!).
TK: How did your childhood influence who you are today?
Libby: I grew up spending a month every summer with my grandma in Santa Barbara, which was like heaven on earth. I vividly remember picking oranges from the orange trees in her backyard. Eating locally grown foods, like spinach and strawberries, was so good! I believe experiencing such fresh food influenced my style of cooking. The restaurants all source fresh, locally grown food.
Also, my parents were very conservative in the way we packaged things. Growing up, we didn't use plastic bags. When I first started in the restaurant industry, I was shocked to see how many plastic bags were used when they didn't need to be. The restaurants' biodegradable take-out packaging and straws are a result of my upbringing and commitment to sustainability.
TK: What inspired you to attend culinary school?
Libby: I wasn't that interested in academics, but really enjoyed people and cooking. My first job during high school was at a local Mexican restaurant. It was an introduction to an industry where I really thrived. I liked the fast-paced environment and customer service. I remember my dad bringing up college and it didn't sound that interesting to me. When he suggested going to culinary school, that seemed right up my alley. After high school, I enrolled in OSU Technical School and loved it. I am a huge supporter of vocational and technical schools.
TK: Where would we find you and your family on a typical weekend?
Libby: We're usually at one of the kids' sporting events. Between baseball, volleyball and soccer, we stay very busy. If we're not at those, we love to take trips exploring Oklahoma. We venture to different hiking trails, creeks and lakes – anything that takes us away from the electronics. Unplugging is one way to relax, hang out in nature and connect with my family.
TK: What do you think of your son attending your high school alma mater?
Libby: It has been exciting and surreal. When we went to Back-to-School night and I stood up to sing the school song, I was standing next to an African-American woman, about 20 years older than I, who also stood up and sang. When we sat down, she asked me what year I graduated, and we started visiting. It was an instant connection and great reminder of how BTW bonds generations of alumni, regardless of race.
After my son got his schedule, I realized that my Driver's Ed teacher is still teaching and is now my son's PE teacher! I'm excited to experience high school again by going to football games and other events.
TK: How do you create daily joy with your family?
Libby: I look forward to cooking for my family and sharing a meal every night. I'm lucky because my passion for cooking healthy, fresh food is good for my life, job and a great way to be with my kids.
TK: What is one of your parenting rules?
Libby: I don't allow them to play on their phones in the car. That time is precious to me, and I want to utilize that time we have to connect. We have had some of our best conversations in the car.
TK: As a mother of teenagers, what has helped you in parenting?
Libby: I really try to listen to my kids. Hearing what they have to say and not immediately reacting is important. Also, trusting them to make the right decisions.
TK: To what do you attribute your work ethic?
Libby: Both of my parents are really hard workers. Even though they could retire, they are still working. They instilled a strong work ethic in me, and I'm trying to instill that value in my kids. Elote is 10 years old now, so my kids have really grown up watching me work to grow the businesses.
TK: What one trick has helped you with time management?
Libby: I do my weekly meal preparation on Sundays. This helps to maintain healthy, nutrient-rich meals throughout the week. I sauté a variety of vegetables and steam beans, rice and legumes. I also make a couple of sauces to mix in. Each food is in a different container. On a busy night, all I have to do is pull out what I want, maybe adding a couple of things, heat it up and dinner is ready.
TK: What would your kids say is their favorite dinner you make?
Libby: They are used to me cooking at home all the time, so if asked, they would rather go out. Roppongi is their favorite right now. If we're home, they like boxed macaroni and cheese.
TK: Can you share an easy, healthy and delicious, five-ingredient recipe that takes 15 minutes or less to prepare?
Libby: Absolutely! This is my Sweet Potato Recipe I use for meal prep:
3 large sweet potatoes (medium dice)
2 Tbsp. EVOO
1 Tbsp. kosher salt
1 Tbsp. fresh garlic
2 tsp. Garam masala spice
Toss ingredients together and bake at 350 degrees for 25-30 minutes. Cool, keep in the fridge and add to just about any meal. I eat these with kale and over easy eggs a couple of times a week for a filling and healthy meal.
Visit www.elotetulsa.com for more information about Libby or the following upcoming family-friendly events: Pumpkin Spice Luchador Night – October 13; Downtown Tulsa Dog Pageant on the Patio – October 20.
Nancy A. Moore is a Public Relations Coordinator at Montreau, Adjunct Professor at Tulsa Community College, and has been writing for TulsaKids for almost 20 years.
---