Green Country Grown-Up: Kristi Stanger
Living unconventionally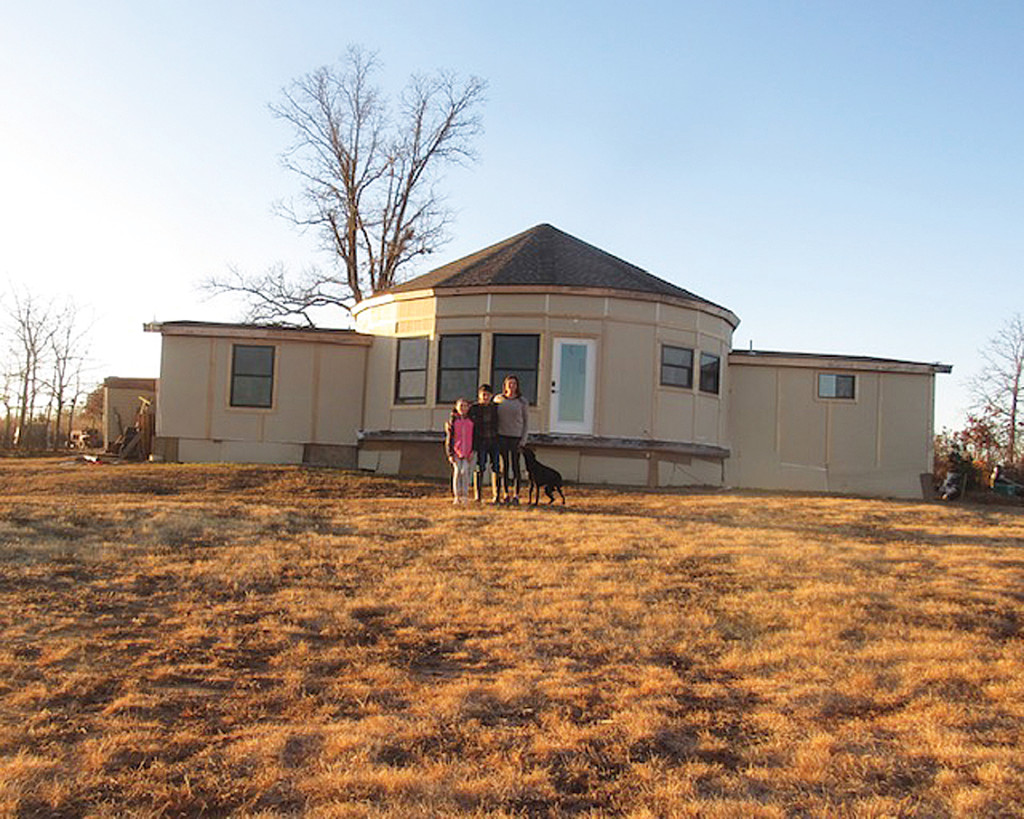 With the start of a new year, many commit to New Year's Resolutions that center around eating healthier, getting organized or reducing debt. It didn't take a resolution for the Stanger family to consider the latter – being debt-free. It was a little over a year ago Kristi and Chad Stanger decided to take the leap and followed their hearts on an unconventional journey of becoming mortgage-free. They sold their traditional home and used the funds to purchase land and live modestly in a 140-square-foot rustic cabin as they build their "round house."
The dreamy part of their process includes the gorgeous piece of property they found. The reality of living under those circumstances with two kids and five dogs has definitely been an adventure.
TK: Tell us about your family:
Kristi: My husband Chad and I have two kids. Jaxon is 12, and Olivia is 10. We also have five dogs, Cooper, Humphrey, Millie, Drake, and the baby, Annie.
TK: How long did you dream/plan buying some land and building a home?
Kristi: We started discussing the idea around five or six years ago. The whole plan evolved over the years and is continually changing as we go forward.
TK: At what point did you decide to sell your home?
Kristi: In the fall of 2017, we decided we would list our house for sale in spring of 2018. We knew we wouldn't be able to buy land and build a house as long as we had a mortgage. We sold our house and moved out by July 1st – significantly faster than we had anticipated. We rented a house for six months before we found the land to build our home.
TK: After selling your home, was it liberating to be debt-free?
Kristi: Debt-free definitely has its perks. I can't say we are debt-free yet, but our land is paid for and we are paying for materials as we go. We have also performed a majority of the labor ourselves — with some help from friends. It is a slower process than we anticipated, but we're grateful to be doing it together.
TK: What has been difficult about this process?
Kristi: (Laughing) What hasn't been?
TK: Have there been any moments of regret? If so, how did you overcome those feelings?
Kristi: I don't think we've had any regret. We have had moments where it felt like everything was working against us, for every five steps forward, it seemed we were taking three back. Those days come and go. There are days the kids don't like the lifestyle we've created, and there are days where they appreciate and enjoy it.
TK: What did your friends and family think about this choice?
Kristi: I think some were envious and would love to take the leap themselves. There were also some who thought we had lost our minds.
TK: Has this process been harder or easier than you thought? Why?
Kristi: Definitely harder and longer than I had in mind. From January-April 2019 we were going between our Airbnb in Tulsa and our land — staying in a 140-square-foot cabin with our five dogs. The cabin is small and very basic, with no amenities i.e.: bathroom, kitchen or beds. We were sleeping on cots and air mattresses. We made an outhouse until it was taken over by snakes and spiders, then we went back to primitive ways. We got our water from a well and had no electricity.
TK: How did you incorporate modern conveniences like lighting, toilets, showers, laundry?
Kristi: We've gone from lighting a room with candles, to lights powered by batteries from a solar panel, to getting electricity a few months after moving into the round house. The toilet installation may have been one of the most momentous moments yet! Showering outside next to the pond and tons of trees isn't too bad. I tried to take up doing laundry by hand. It lasted a month or more, and I was back to the laundromat.
TK: Where are you in the process of building your family's home, dubbed the "Round House"?
Kristi: In May, we finally reached a progress point with our house where we felt like we could stay there as we build and still have more room for our family and dogs. On Father's Day (June), my friend and I installed a toilet; that was a huge upgrade! Then, in mid-July, we got electricity and could close the windows and enjoy some air conditioning. We are currently planning to get a water line installed from the well to the house before it gets too cold. Until then, we will continue to collect our water from the well and bring it to the house.
TK: What have you found to be the best part of taking this leap?
Kristi: I really think it has brought our family closer together, and that's what really matters. We've all pushed ourselves further than we knew we could even possibly go. We always seem to get through the hard days and keep rocking it. All that… and still have a good attitude.
TK: What are some things that you all specifically enjoy about this piece of property that are different from your former house?
Kristi: There is so much that we love about living on 24 acres. Other than exploring the land, some of the kids' favorite things would be the stars, the quietness, different types of insects, plants, animals, and learning to drive the tractor. Jaxon actually pulled my car out of the mud the first time he learned to drive it. There are days when the kids are covered from head to toe in mud or are swimming in the pond. I agree with the kids and all of their favorite things. I've seen more ladybugs, dragonflies, and Scissor-tailed Flycatchers where we are now.
TK: What advice would you give to those thinking about following their dreams?
Kristi: Do it! You only live once.
Nancy A. Moore is a Public Relations Coordinator at Montreau, Adjunct Professor at Tulsa Community College, and has been writing for TulsaKids for almost 20 years.
---