Green Country Grown-Up: David Berntson
Harmonica in his hand, and music in his heart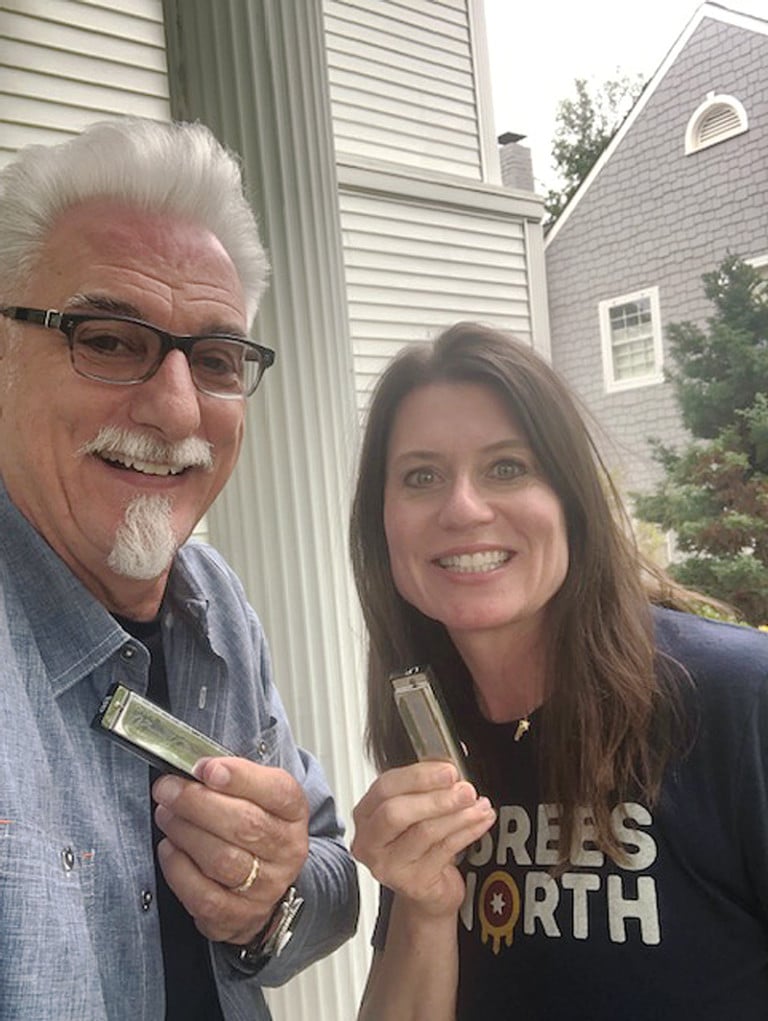 Accomplished musician and talented harmonica player, David Berntson successfully engages audiences of all ages. His love for the instrument began at a young age when he taught himself to play. Over 40 years of playing has led to mastering many genres of music and earning numerous accolades. A couple of the awards include his induction into the Oklahoma Blues Hall of Fame in 2015 and the Morrow-Webster Lifetime Achievement Award by the Blues Society of Tulsa.
His unique playing style, love of blues genre, and gift of connecting with people make him an engaging entertainer and educator. As a Drug and Alcohol Prevention Educator, he appeals to kids by blending music with character education. In August, he will be teaching kids' classes (ages 8 – 21) at the Annual Society for the Preservation and Advancement of the Harmonica (SPAH) Convention.
TK: Do you have a personal mission statement? If so, what is it?
David: I developed my mission statement a long time ago. To have joy in life and to help people any way I can. It has evolved to helping young people – and one of the ways I do this is through drug education — and another way is through music!
TK: How did you become interested in playing the harmonica?
David: I think the harmonica chose me. My grandfather, a railroad engineer of German descent, loved playing the harmonica and had several laying around his house. As the oldest grandchild, when he was away for work, I would stay with my grandmother. While I was visiting, I would pick up those harmonicas and play. This was my first exposure to the instrument. It came very naturally to me.
TK: What do you love about music?
David: It has been a part of my life since I was a little kid. In my teens, I quickly learned that it was the gateway to social acceptance. Playing the blues came as easily as falling off a log. It became a way for me to express powerful adolescent emotions – playing helped me then, and it still helps me express my emotions today. Playing the blues was a way to play out my teenage angst without being destructive.
TK: You have been able to play music since you were young without any formal training. Have you had mentors?
David: For some people, playing music is their gift. The gift that I have for music is "tone matching": I can hear a tone and easily reproduce it. I've had several informal mentors. Most harmonica players are self-taught. However, now we are in the Golden Age of online teaching, and you can learn in person or online. One of my early mentors was an African American man in my town, James "Sonnyman" Range, and I learned from him just by hanging around him. People whose music resonated with me and I could decode became mentors. Little Walter was the boss of the blues harmonica, and I have also learned a lot from him over the years.
TK: Can anyone learn to play the harmonica?
David: Absolutely. Anyone can learn if they want to.
TK: What genres of music can you play? What is your favorite?
David: I come from a blues background and play by feel. I have been playing professionally since my 20s. My genre is pre- and post- World War II known as Traditional Blues.
TK: Do you have a favorite song to play?
David:It just depends on what inspires me that day. I enjoy listening to music just as much as I love to play. Music brings me joy!
TK: What do you tell people who are interested in learning the harmonica?
David: I have taught hundreds of students – of all ages – how to play the harmonica. Not all go on to play – I think of teaching as a way of creating people who appreciate harmonica music, too. Any time there is a young person who wants to learn, we want to work with them.
TK: What is the investment in a harmonica?
David: When I was a little kid, harmonicas were $3.25 at a local music store; now they are $50. It is a small investment, but they are easy to transport, easily carried in a pocket. An interesting story to share relates to looking at Hohner Harmonica catalogs as a kid and noticing people pictured in the book – and fast forward, my photo is now in the Hohner Harmonica catalog as an educator and endorsee!
TK: Tell us about SPAH and how families and kids can take part.
David: SPAH stands for the Society for the Preservation and Advancement of the Harmonica. The 2019 convention, held on an annual basis, will be held in Tulsa from August 13 – 17. We will be offering classes that kids can take part in as well as performances that will be free and open to the public. The kids' classes come with a Hohner Harmonica in the Key of C that will be theirs to keep. The classes are free and lunch is included, you just need to register by July 31.
TK: What do you consider some of the advantages of playing the harmonica?
David: It is portable! Also, the psychological advantage — playing is a great way to deal with emotions. There could be a health advantage. It is both an inspiring (breathing in) and expiring (breathing out) instrument. Playing an instrument is a great way to get attention in a positive way – something I emphasize with young people is to find out what you do well and do it; gain attention for something good!
TK: What are some words of wisdom you share with the young people you work with?
David: Find what brings you joy and do that! I'm fortunate that what brings me joy is what I get to do. I encourage kids to try different things because maybe the thing they do well, they haven't tried yet. Or…maybe the thing that they do really well hasn't been invented yet. Have your mind open to different possibilities.
To view the SPAH schedule, register for kid's classes, or check out additional information, visit the website: www.SPAH.org.
Nancy A. Moore is a Public Relations Coordinator at Montreau, Adjunct Professor at Tulsa Community College, and has been writing for TulsaKids for almost 20 years.
---