Green Country Grown-Up: Christie Matthews
Helping Children and Adults Stay Connected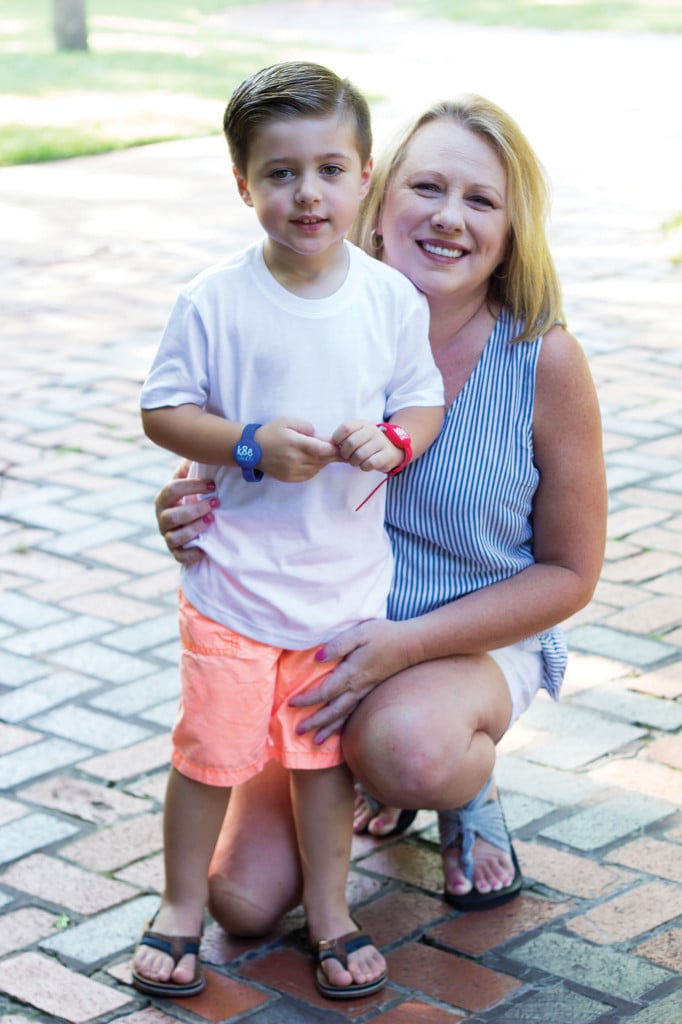 Christie Matthews' career in special education has spanned over 20 years. During that time, she witnessed first-hand the struggles parents and caregivers experienced with special needs kids unable to verbally convey necessary information when they were separated from their loved ones. After many years of hearing similar stories, Christie decided to tackle the problem by developing a product for kids that would allow them freedom to safely explore within set boundaries while providing peace of mind for the adult caring for them. With help from a local technology expert, she devised a solution known as K8ebands, www.K8ebands.com (pronounced "Katy" bands).
Getting to know Christie
TK: Tell us a little about your background.
Christie: I have worked with children in education for 20 years – most of those years have been working with special needs and autistic children. I love working with kids, and I understand children with special needs. It's always been my dream to make the world a better place for those children to grow up.
TK: How did you become interested in developing a product for kids with special needs, specifically those on the autism spectrum?
Christie: I was working with "K8e" (not the child's real name) a couple of summers ago and her family went on vacation to a popular waterpark. She had not really been one to venture off, but on that day, she did. Her grandparents were frantically looking for her and after 12 long minutes, she was eventually found safe. She had ventured off and was unable to verbally express vital information about her grandparents to the lifeguard who found her. After hearing that story, I began thinking about a way she could experience the fun of the water park while being protected. This was the beginning of my interest in developing a product that could help all kids, especially autistic kids like K8e.
TK: What is the company's Mission Statement?
Christie: "Offering all children the freedom to run, play, grow, and explore, while allowing parents peace of mind." I wanted the Mission Statement to relate that we have so much to offer our children — parks and museums to explore, going outside to catch lightening bugs and going on family trips – children with special needs need to be able to explore the world, and parents want to be able to offer all of this to their children while staying connected.
TK: Who can use this product?
Christie: This product was developed with special needs, and autistic children in mind, but it has become popular for kids and adults – anyone who might wander off. I recently became aware of an added benefit. It can be strapped to a car seat and will notify an adult if they accidentally leave their child in the car.
TK: What are some of the major benefits of using the product?
Christie: Users can set a safety perimeter for the child and be alerted if the child extends outside of that perimeter. When time is on your side, you can quickly lay eyes on a child that is still at a safe distance. Each band has a water feature – if it becomes submerged in water, you are notified immediately. Additionally, I developed a special key that is needed to remove the product, so it cannot easily be removed by the child or a would-be abductor.
TK: Describe how K8ebands work:
Christie: It is very simple to use. The adult has a K8ebands watch or app and can link as many children as they would like. The watch provides a 30-feet safety perimeter and the app provides a little more – up to 100 feet of safety perimeter. If the child ventures outside the safety zone set up by the adult, the watch has an immediate alarm sound and lights up. The 30-feet circular zone provides an easy way to visually see the child if you turn around 360 degrees. If you don't see the child, you can start moving until you see the distance getting smaller as you approach the child.
TK: It has been less than a year since the product was launched. Have you heard any success stories from those using it?
Christie: We have heard back from numerous parents and adults thanking us for developing this product. It definitely provides parents a safety barrier and peace of mind for those using it.
TK: How can people find out how to work the product?
Christie: We provide step-by-step tutorials on video available through our Facebook page.
TK: What's next for K8ebands?
Christie: We want to enable kids to grow up being a kid – able to explore, travel and enjoy the outdoors. We have several other products in the design phase to help adults provide the fun while keeping safety as the utmost concern.
Final Thoughts
Christie: We live in an amazing world. There is no reason why we can't allow children to experience all the world has to offer while keeping them safe. That's what is all about.
---