Green Country Grown-Up: Brice Harader-Pate
Making every moment count through medical missions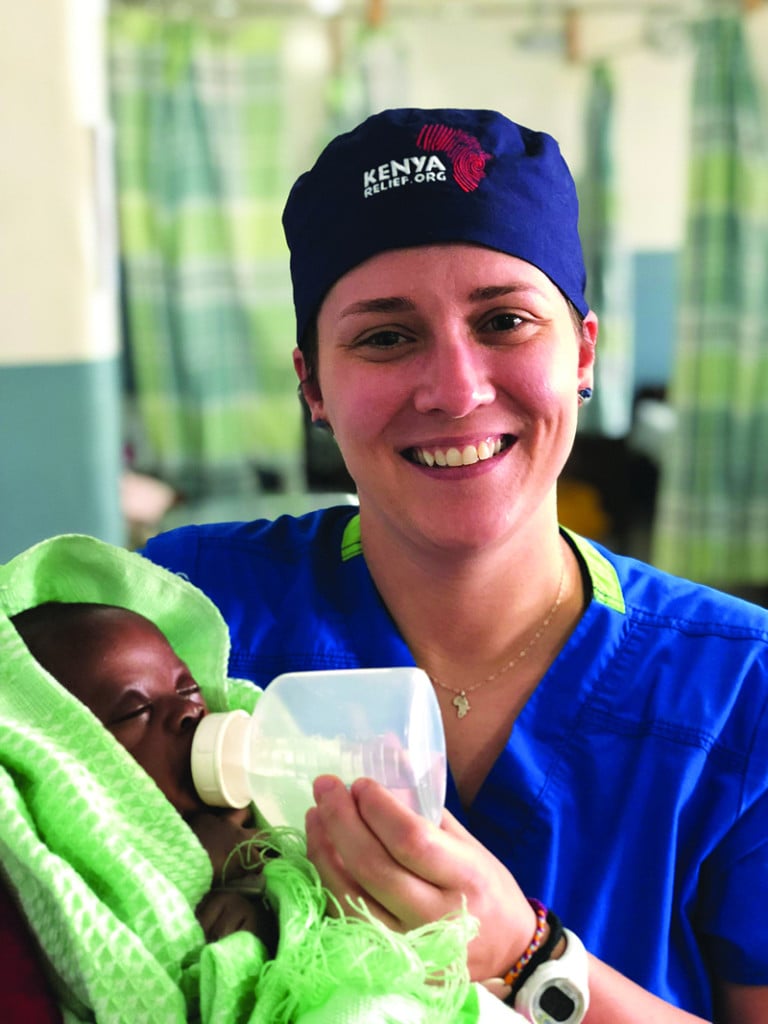 Everyone has the same amount of time in each day, but Brice Harader-Pate consistently chooses to make every moment count. Her driven personality meshes well with her heart for helping people, choosing a career that is less of a "job" and more of a calling. In her profession as a nurse practitioner, she has witnessed, first-hand, how precious life is and as a result is cognizant of making the most of the time she has been given. Despite life's demands – working, taking classes in the Doctorate of Nursing Practice program at The University of Oklahoma, and any number of life's demands – she still makes time to serve abroad on short-term medical missions.
TK: What three adjectives would you use to describe yourself?
Brice: I feel that is one of the hardest questions to answer. Can I phone a friend? I hope my friends and colleagues would say I am driven, motivated and focused. I use these terms to describe things I do in life. My work, my education has been my focus since pursing a career in the medical field. I am the first person in my family to attend college, and I made it a point to excel and have given 110 percent in all that I do. My family sacrificed a lot to see that I had an education. My grandparents even paid my rent and expenses as I attended the nursing program at OU. I try to make it a point to prove their confidence in my desire to return to school was not wasted.
TK: Do you have a favorite quote? If so, what is it and why does it resonate with you?
Brice: Absolutely! My favorite quote is "Dream as if you'll live forever; live as if you'll die tomorrow," by James Dean. Working in the medical field has made it all too clear that we (individuals) are given a short time on this earth. Unfortunately, some more than others. Every individual should have goals, dreams and desires and work to attain those in order to better themselves emotionally, physically and spiritually. Do I want my time on earth to feel wasted? No. I want to make every moment count.
TK: How did you become interested in serving with medical missions?
Brice: I first was involved in medical mission work as a student of OU. OU operates the Christian Medical & Dental Association working with United Servants Abroad to send teams to Peru annually. I had an instructor and her son who had attended previously. Five nurse practitioner students went to Pucallpa, Peru, in 2014, and I have since returned on three occasions. The poverty, yet pure joy of the local community receiving your words and care was inspiring. I always had a desire to travel, and medical missions seemed to be a happy medium. I was able to provide medical care to those who needed it and travel the world. I had a colleague who had moved to Africa to provide free medical care at an orphanage in 2014. I decided to start researching reputable and sustainable missionary organizations to travel with to Africa. I stumbled across the organization, Kenya Relief, and was forever changed. From the history of the organization to its sustainability rooted in Migori, Kenya, I easily made my decision to apply to travel with their organization.
TK: What type of commitment is required for those who serve on a medical mission?
Brice: The only true barrier to committing to serve on short-term missions is yourself. Everything else can be overcome. You can make excuses all day long, but you need to dig deep into yourself and decide "Why?" My response is "Just go." I can tell you all the personal victories, challenges and reasons not to go. But only you can tell yourself to "go!" When I first thought about traveling with short-term missions, I was also hesitant on the cost, devotion of time and safety concerns. Cost is dependent on where and which organization you travel with. Most missions include airfare, lodging, food and all the other amenities required. You can think of it as an all-inclusive package. Time is also dependent on where and what organization you travel with. I have been on trips that last 7-14 days. Safety? Not a concern. There is a reason I research the organizations' history and look at reviews prior to traveling. If you are traveling with a reputable and established missionary organization, you will usually be well taken care of. Never have I found myself concerned about my own safety when on mission work.
TK: How many times have you served on medical missions? Where have you served?
Brice: I have traveled to work with United Servants in Pucallpa, Peru, on three separate occasions. In 2018, I began my work in Africa with the Kenya Relief organization. That short 12-day journey sparked a fire in my medical work, and I have since gone on three medical missions to Africa in 2018 alone. I traveled to Migori, Kenya, to work with the Brase Clinic and traveled with a local non-profit to Lome, Togo, in June of 2018. Once you personally experience the poverty, lack of access and affordability of medical care throughout the world, you cannot not go back. I have my next trip planned to return with Kenya Relief in August and am looking at 2020 dates as we speak.
TK: What have you enjoyed about serving?
Brice: Foremost, I enjoy the people. Regardless of where I was serving, everyone was so thankful for everything and anything you could provide, even if it only meant reassurance, vitamins or Tylenol. Many individuals were diagnosed with either terminal or unrepairable conditions. For example, individuals with brain tumors or cancers simply do not have treatment options in third-world countries.
TK: What have you found difficult about serving?
Brice: Again, I answer this with 'the people.' When individuals are diagnosed with conditions that simply do not have treatment options, it is very hard. You know their outcome is solely based on their geography. If they were in the U.S., they would not be in such a predicament. For example, I had a father spend his last $100 on an MRI that diagnosed his 11-year-old son with bone cancer. The father then could not afford pain medications to make him comfortable, let alone chemotherapy or radiation. I've diagnosed a 14-month-old with cerebral palsy who was not feeding. In 24 hours of posting his story on Facebook, we collected $1,200 to find a surgeon in a neighboring country to place a PEG tube. These are the tough cases. In return, I enjoy so many rewarding experiences.
TK: Can you describe what the living conditions are like in remote areas where you serve?
Brice: I am thankful that we, as missionaries, have the luxury of living in guarded areas with security. We have fresh water, beds and plumbing. However, I would estimate that over 90 percent of the individuals we care for do not have such luxuries. Many individuals house their entire families (4-8 people) in a self-built house about 12'x12'. Houses are usually composed of mud, sticks and tin. Most do not have electricity, let alone toilets. These 'houses' have no plumbing. They use buckets and nature. Hygiene by bathing is 1-2 times per week. Families have to afford education. There is no such thing as public education. Average education costs $100/month, not including supplies and uniforms. The average income in Togo per household is $100-150/month.
TK: What types of illnesses do you treat on medical missions?
Brice: Medicine is very different in other countries. I've spent time focusing on the geographic illnesses in order to provide appropriate care. There are diseases in other countries that the U.S. does not experience. For example, a patient in Tulsa may present with 'flu-like symptoms' and it may actually be influenza. However, in Kenya, this may be malaria, brucellosis, typhoid or HIV/AIDS-related illnesses. Skin infections are also a very common complaint. Unfortunately, many of these skin conditions have gone weeks to months without treatment and are more complicated.
TK: Do you have any "off" time or free time? If so, what do you do with that time?
Brice: It depends on the organization I am traveling with on missions. I am very thankful to have had some time to myself when arranging my travels. I have had pre-mission trips to Machu Picchu. I have taken a sea plane over the Amazon River. Kenya Relief is unique in the fact you work really hard for four-five days working eighteen hours a day, and then you spend three days on Safari in the Maasai Mara.
TK: What advice would you give someone thinking about going on a medical mission?
Brice: Choose wisely. There are many organizations throughout the world that offer opportunities. Choose a mission that can offer everything you are looking for and one you feel comfortable with serving. For example, some organizations only provide itineraries once you arrive, and you must take care of all the other details, which can be challenging. If you are not comfortable making all the arrangements, find another organization. If you have no concerns, great, go! Secondly, give 110 percent. The more you give, the more you get in return. Be open to ideas and suggestions. Understand the people you are serving and their background. You are by no means wealthier than they. Many will tell you they have happiness and a higher power and have no further needs in life.
TK: Who can volunteer for a medical mission?
Brice: No specific background is needed. Every mission has unique needs. It takes a lot of hands to make a mission successful. If you are open to ideas, you can usually learn how to take vital signs and organize patients very quickly. In some of my previous experiences, nurses have served as providers due to 300+ patients with only 3-4 medical providers.
TK: Besides going on a medical mission, what are some other ways people can get involved?
Brice: Even if you cannot travel, there are many ways to help. I currently sponsor a child in Kenya. I have met him twice. Enosh is a 7-year-old orphan. He lives at the Brittney Home of Grace. My sponsorship provides 100 percent of his care, needs, medical care, if needed, and education. Also, every missionary requires local support in order to serve. Besides the time commitment, there is a small monetary commitment. For some missionaries, this is not so small. If you would like to help support missionaries like myself, we would be forever grateful.
Nancy A. Moore is a Public Relations Coordinator at Montreau, Adjunct Professor at Tulsa Community College, and has been writing for TulsaKids for almost 20 years.
---