Great Gift Ideas for Grandparents to Give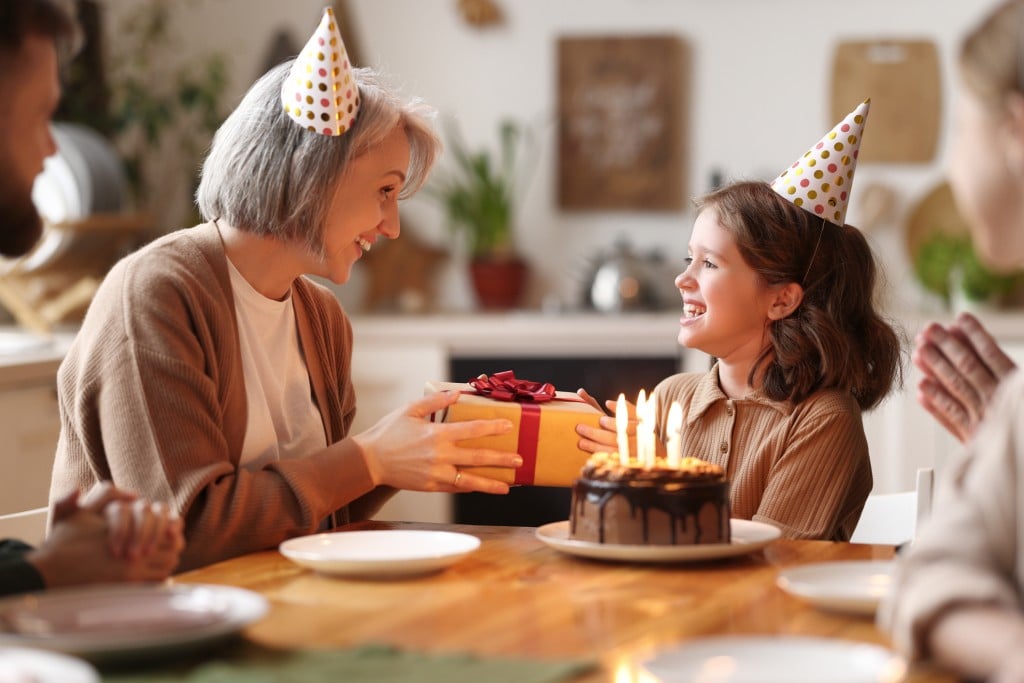 "Spoil them and send them home." Whether it brings a smile or a smirk, it's a saying that grandparents and parents understand.
There's a certain amount of indulging that's expected from grandparents. It can be as simple as letting the kids get double dip ice cream cones – something parents might never let the kids do, and something that makes the kids' eyes light up.
But many a parent can tell tales of spoiling that goes too far. On a local online parenting group, one mom said she stopped letting her kids stay overnight with her parents because they came home little monsters. They were crabby from staying up way past their bedtimes and had stomach aches from all the junk food they ate. Letting the kids have fun with grandma and grandpa wasn't worth it to her.
Another parent mentioned the excess "stuff" taking over her kids' playroom. Toys given to the kids by her parents were everywhere. And for someone who preferred basic wooden blocks and simple toys, the loud toys with flashing lights were driving her crazy. She wondered how she could gently let her parents know that enough was enough with all the toys.
Of course, not every parent feels this way. Some parents will tell you that letting their kids feel like they're getting away with something or breaking harmless rules while at their grandparents' house is perfectly fine. Or, if giving gifts is the grandparents' love language, so be it.
Setting boundaries and then respecting the parents' wishes is key to keeping a healthy grandparent-parent-child relationship. And there's a difference between grandma letting the kids pick out a new toy at Target and grandma letting the kids watch a movie she knows they're not allowed to watch.
The Gift of Emotional Connection
Patty Banes is a grandmother of three boys who has spent 35 years in early childhood education. She said the idea of "spoiling them and sending them home" is becoming a thing of the past.
"My generation of grandparents is not that way so much. We have a different twist on what's good for kids. We don't want to send them back so that their parents have to undo what we just did," she said.
For Banes and her husband, Jim, creating an emotional connection has always been a priority over giving gifts or money.
Their idea of indulging the kids is letting them stay up a little later to take late night walks with flashlights with their grandpa while on family vacation. They call them Papa Walks, and it's a time for the boys to bond with their grandpa and do something they don't normally get to do with their mom and dad.
Being long-distance grandparents, Patty and Jim have worked to create ideas to bond with their grandchildren, making them feel loved and special across the miles.
This type of indulgence in emotional love is healthy and just what kids need. Doing things parents may not want to do or have time to do, which may feel like spoiling to kids, builds a bond and creates memories between grandparents and grandchildren. Taking the kids to the movie theater and sharing a big popcorn, taking them sledding, working on a craft together, building something with your hands or growing something together are all ways to build relationships with children.
Patty and Jim have a weekly Skype call with the grandkids to stay connected, but they've also found extra special things to do for the kids to make them feel loved and a little spoiled.
"We have sent them puppets and let them write the story and name the characters. Then we would watch the puppet show on Skype," Banes said.
Another fun tradition she created is to ask the kids to pick out a book, and then they all read it and discuss. Talking about the book and what they did or didn't like about it gives them something to talk about besides the standard, "How was school this week?"
Grandparenting love through emotional connection isn't as easy as typical spoiling. But the gift of time – of reading the same book your grandchild is reading or helping them create a puppet show – is a gift more meaningful than something store-bought.
Banes recommends finding ways to create a one-on-one connection. This could be something as simple as splashing in the puddles after it rains. Kids will remember that grandma or grandpa let them have fun and make a mess. Or it could be something more elaborate like the holiday care packages Banes sends her grandsons. She creates a maze puzzle for the kids to fill in the blanks to learn about the holiday. For Cinco de Mayo, Patty filled the box with Mexican coins and snacks.
One gift kids may need to be older to appreciate but that's important nonetheless is family history.
"Grandparents are one of the few links to the past," Banes said. "We send letters about what pets we had growing up, our first cars, jobs we had, what schools we went to. I send a letter every so often with photos. It gives them a reference to our past."
No one's ever been spoiled by letters from their grandmother. But if it's an excess of candy, toys or TV watching that's worrying parents, it may be time to talk boundaries. Gently reminding grandparents of your own family rules rather than accusing them of doing something wrong is helpful. And letting grandparents know that their most valuable gifts are time and connection can make them feel empowered.
Experience Gifts
Over-gifting is a real thing. Kids who end up with an excess of toys, electronics and other gifts after the holidays can sometimes end up not appreciating what they have or will come to expect the same year after year.
When the grandparents ask what they can give this year, consider experience gifts rather than more stuff. Here are some ideas.
1. Lessons
An instrument and lessons for the year is a great gift and takes a major financial load off parents. Art workshops/classes, swim, tennis, golf or soccer lessons might be a good fit.
2. Museum membership
A membership to Discovery Lab, Tulsa Zoo, Tulsa Botanic Garden, Philbrook, Gilcrease, Oklahoma Aquarium or the Tulsa Air and Space Museum makes a great gift. If you're a local grandparent, include a promise to the parents to take the kids for a fun day out using the membership. Often, museum memberships offer reciprocal admission to museums around the country (check narmassociation.org).
3. Savings account
Even little children can understand the concept of saving, and having their own savings account is a great way for them to appreciate it. Adding money for birthdays and holidays to grandkids' savings accounts adds up and will be ever more important as the kids get closer to college age.
4. Books
Find out if there's a book series the grandkids are into, and surprise them by completing the set. For little kids, buy a stuffed animal to go with a favorite book. Paddington Bear, Clifford the Big Red Dog and Madeline never go out of style. For the full experience, read the books together.
5. Vacation
This is a big one, but if you want to feel like grandparent of the year, give your grandkids the gift of time away together. It can be as big as a Disney cruise or as simple as a weekend away at a nearby campground. Check out sites like roadscholar.org.
---