Global Gardens Helps Kids Discover Vegetables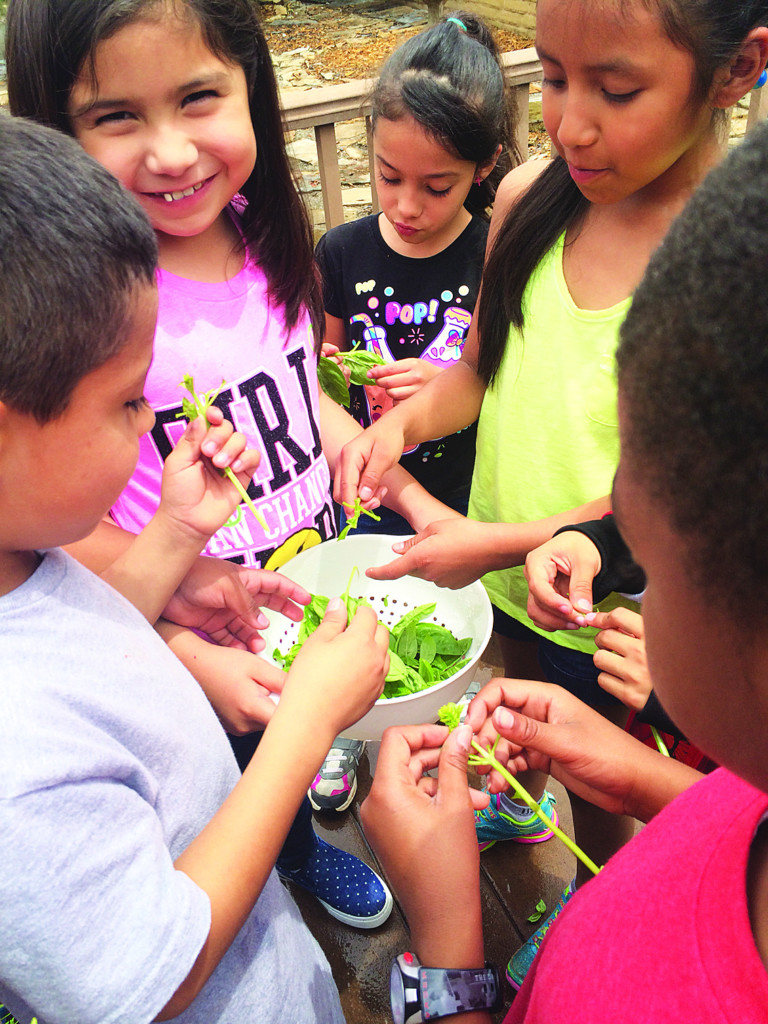 Does your child jump for joy at the sight of fresh radishes, tomatoes or kale on his plate? We often hear many adults say they don't think kids like vegetables. This doesn't come as a big surprise since often students come in to the Global Gardens program excited to have a garden of their own, although they insist they don't like some of the very things they are growing.
We've recently been talking about being scientists, asking questions and making observations. At Global Gardens we teach that this process is helpful in not only learning about our world, but also about ourselves. This year, one of our students named Hunter made a big discovery about himself.
Hunter, a seventh grader, will rarely eat what we are cooking and gets anxious just sitting at the table while the rest of his classmates try the garden creations that get plated up. Despite this, he never has a bad attitude, always participating with the preparations and being a diligent helper when cleaning up.
In one of our mealtime conversations, Hunter realized that he didn't dislike foods so much as he was afraid of trying them. When asked if he could remember the first time he felt scared to try something new, he said it was in second grade when a teacher forced him to eat something he didn't like. Then we asked him if he could remember trying new things before that experience. Hunter said he could, and that, in fact, he used to love trying new things. He then made a list of all the vegetables he had tried at Global Gardens and highlighted the ones he liked. It turns out he had liked four out of the five vegetables. Based on those statistics he said, "There's an 80 percent chance I'll like the next vegetable I try!" He must have liked those odds, because he decided to lead the class in experimenting with vegetable recipes. First on the chopping block were carrots!
One thing we've noticed working with students to grow, cook and enjoy a variety of fresh fruits and vegetables is that the more in control they are of the process, the more they appreciate the outcome.
If you are struggling to get your kids to eat their fruits and vegetables, try giving them a hand in growing a few things. If growing some of your own food is out of the question, pique their interest by letting them choose a vegetable from the grocery store and finding a recipe they would like to try together. Make sure to give your children an opportunity to help prepare the dish.
If you are looking for a quick and easy snack, try out our students' pesto. It's delicious on a cracker, sandwich or pizza. First graders at McAuliffe Elementary made the pesto with basil from their garden and topped it with sliced radishes. An alternate recipe is subbing the basil with Swiss chard for a delicious variation.
Ms. Guinn's First Grade Class Basil Pesto
Ingredients:
12 cups basil leaves (not packed)
2 garlic cloves
1 TSP salt
4 TBS Pine Nuts (optional)
5 TBS Parmesan cheese
1/2 cup olive oil
Directions:
Harvest and wash basil.
Put basil, garlic, salt, pine nuts and Parmesan into food processor. Pulse until the ingredients are puréed.
Turn food processor "on" and very slowly add olive oil.
Enjoy!