Geek Families: Here's a 2022 Tulsa Convention and Festival Guide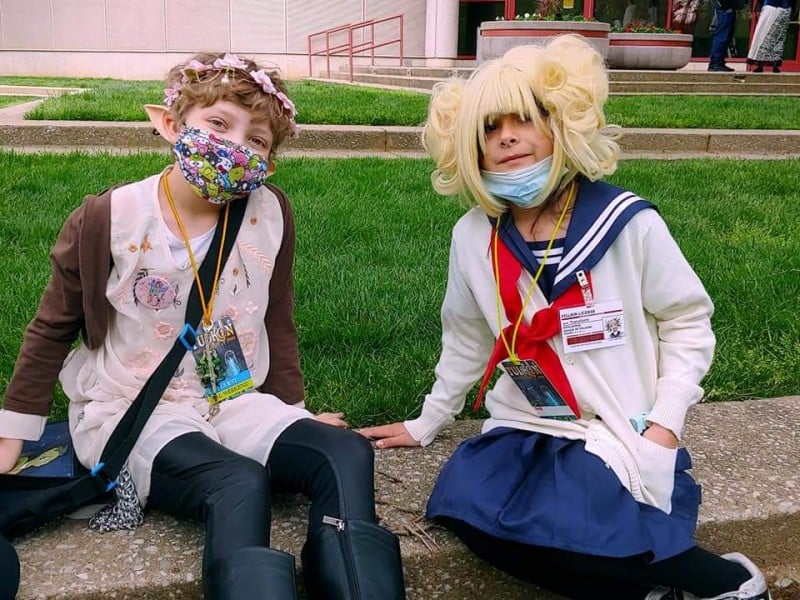 This past weekend as I was hanging out with my newly-11-year-old Lucy at a debate tournament where she absolutely dominated, it felt so good to see all of the kids hanging out together after a couple of pretty rough years. And now that things are truly beginning to normalize once more, we can start to plan ahead for all of our geeky adventures at conventions and festivals without worrying that they'll be canceled at the last minute. The great news is that Oklahoma has some awesome opportunities to break out the old garb or cosplay gear.
If you're one of those people who has always wanted to check out some conventions or festivals but you've never actually taken the step, the post-Covid reboot is the perfect opportunity to get in there and have some fun! From furry cons to ren faires, here's your guide to the Tulsa-area comic cons you shouldn't miss this year.
April 29 – May 1
Doubletree at Warren Place in Tulsa, OK
If you love fantasy and sci-fi, you'll have a blast at Tulkon. Besides boasting plenty of great vendors, an excellent tabletop gaming room, video gaming stations, and a cosplay contest, Tulkon offers loads of exceptional programming with panels on lore, canon, and cosplay creation, just to name a few. Last year, we even got to visit with some folks who make their own real armor and watched knights engage in swordplay. And if you need a break, there's a theater playing fan-favorite films like "The Last Starfighter" and "Clash of the Titans" throughout the festival.
April 30 – June 5
The Castle in Muskogee, OK
This regional Ren faire is so much more than just a few shopping tents and some folks in faire garb. For six full weekends in May and June, the Castle transforms into a sprawling early Renaissance town filled with oodles of incredible artisans and talent. Behold a full-contact jousting tournament, embark on a quest for knighthood, or canoodle with merfolk and faeries. My son even once "contracted the Plague" at this faire, sending us on a wild quest to find the archbishop and receive absolution (and a cool necklace). It's easy to spend a full day at this faire, and festival-goers are more than welcome to dress up for the occasion.
May 7
Free Comic Book Day
Local comic stores, including:
Free Comic Book Day is exactly what it sounds like. It's an opportunity to promote the beloved art form and to check out some great comics you might not otherwise get a chance to. Many local comic stores participate, and some will even have cosplayers present your kids can meet and snap a pic with. Stores will have a selection of free comics available for the event and will usually limit how many each person can take, but you end up with quite a few. We usually make a day of it, hopping from one comic store to the next and snapping pics with our favorite characters.
June 4
Broken Arrow, OK
If you love a good ax-throwing, grab your utility kilt and check out this event put on by Scotfest. Bring an umbrella for the shade.
June 24 – 26
Embassy Suites, Norman
Norman's fandom con is one of the bigger conventions in the region and has all of the great things fans are looking for in a convention: great programming with plenty of interesting panels to check out, a cosplay competition, loads of talented artists and artisans, and more. They even have a miniature painting competition.
June 24 – 27
Downtown Tulsa
Not necessarily geeky, but you do get to geek out over rainbows and love and join your Tulsa friends and family at the pride parade or family picnic! What better way to show you love and support your little LGBTQ tween or your community than participating in Pride?
July 29 – 31
Hyatt Regency Downtown, Tulsa
If you only go to one convention in 2022, make it Tokyo, OK. This fantastic event is Oklahoma's largest anime, Japanese, and pop culture convention, and it's the best place to check out mind-blowing cosplays and drop by panels so good that convention-goers wait for hours to secure their spot (I've been one of them). There's so much to do and check out at Tokyo, OK that you can be there every day of the convention and still not get to check every item off of your list.
September 2 – 4
Marriott Southern Hills
For folks who love the furry fandom, FurCon is a wonderfully happy event where fursonas and friends can come together. This smaller convention is growing every year and features a dance party, dealer's den, and artists' alley. This year's event is renaissance faire themed.
September 9 – 11
Delta Hotel, Midwest City, OK
Another great anime convention, Anime Oklahoma will feature plenty of special guests, gaming, cosplay, and events.
September 16 – 18
Broken Arrow Event Complex
Oklahoma's Scottish and Irish heritage festival, OK Scotfest is brimming with highland culture from food to vendors to music to highland games. There's even a kids' area for the little guys to ride rides and have fun.
---