Five Fun Ways to Spend Quality Time Together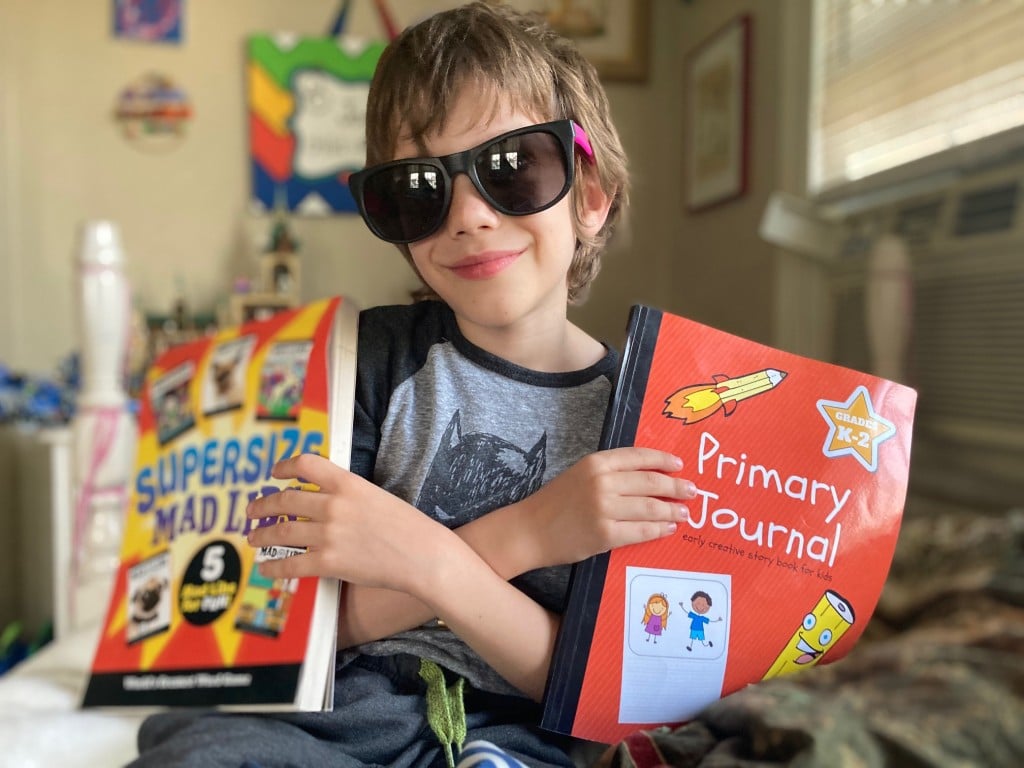 I'm very good at being distracted while talking to Joss…and not so great at listening all the time. Especially after picking him up from school. Because it's the middle of the afternoon, I often feel the need to keep working once we get home. So lately, I've been trying to do better at making sure we at least spend some focused time together before I dive back into work. Here are some fun things Joss and I have enjoyed lately. Even better? They encourage creative thinking and build on skills he's been learning in school, like reading and writing.
1. Mad Libs
Joss got a free book of Mad Libs recently, and enjoyed them so much, I bought a longer version. Mad Libs are great because they're both entertaining and educational. There are a lot of chances to remind your young kids the difference between a noun and an adjective. And to point out that sometimes the same word can be both in different contexts!
Doing Mad Libs together also might give interesting insights into your kid's mind. A lot of Joss's words have to do with kitties, kittycorns and poop. So I try to get him to think outside the box. But also, he does a pretty good job of this already by overcomplicating things. For example, when asked for an adjective, he might say, "purple-polka-dotted-banana-pants-wearing." Or, in the below example, his "animal" was a "magical belosiosaurus." Which he went on to explain had 10 heads like a hydromonster, 3 arms like a T-rex and 16 legs like an octopus.
When asked to name parts of the body, he likes to think big: "digestive system," "lightbulb system" (don't remember what that was supposed to be!) It's very tempting, since I'm often the one writing things down, to plea for simplicity. But it's just interesting to see that…he doesn't always take the easy way out.
2. Would You Rather?
Obviously, you don't need a book to play "Would you rather"…but I like having the book, and it does reinforce reading skills! This is a way to start some different conversations with your kids and, again, learn a little bit more about their personalities!
The book I bought is set up to be a game. I think whoever comes up with the funniest answer gets the points for that answer. But we just ask the questions and discuss back and forth.
3. Journal
I got Joss a couple of half-blank, half-lined journals awhile ago, and he finally got excited about using them! Kids can use them to write and illustrate stories. Or, in Joss's case, record their many inventions.
Of course, Joss could do this activity on his own, and often does. But he does like my input on invention ideas, and I help him write down the often-complicated names for his many "-inators." (We've watched a lot of "Phineas and Ferb" lately 😉
If your kid is not as into inventions as Joss is, of course they could use the book in the traditional way. Maybe you could write stories together, or at least do some brainstorming.
4. Puzzles and Games
Well, naturally! Joss recently "graduated" from TherapyTown. One of the things he worked on during his time there was calming strategies. I need to do a better job at talking with him about these while he is calm. So far, I've tried to introduce them when he's already very upset, and you can guess how that's gone! But one of the things they suggested was doing a puzzle. This can help you focus on something else besides whatever is making you upset. (Breaking out the Would You Rather questions and some other brain games seems to help, too.)
Anyway, his therapist suggested a 48-piece puzzle. Manageable, but not too simple. I found the cutest little cat-ice cream cone puzzle on Amazon for $7.99. And while I was looking for that link just now, saw that Mudpuppy has a bunch of 48-piece puzzles for just $5. So I just added a few of those to my cart for the summer.
Quick games are another good option. My friend told me about No-Stress Chess, which we've enjoyed. And we really ended up liking The Secret Door game we found at a thrift store a few weeks ago.
Other favorites include Jason Reynolds' Brain Yoga, which is such a good fit for my young inventor.
5. Brain Teasers
For his birthday, I got Joss a giant book of jokes and brain teasers. This is another thing that is pretty good at getting him out of a "funk." Some of the jokes are not so funny, in my opinion, but he loves anything like Hidden Pictures, rhyming games, etc. So I may need to look into something more focused on these kinds of mental puzzles – any recommendations?
OK, that's it for now! Just a short list of the many ways to spend focused time with your kids. None of these have to take a significant time investment, so even if you just have a few minutes to connect on a busy day, they work. What similar activities would you add to this list?
---