Fayetteville, Arkansas:
Local charm, history and outdoor adventures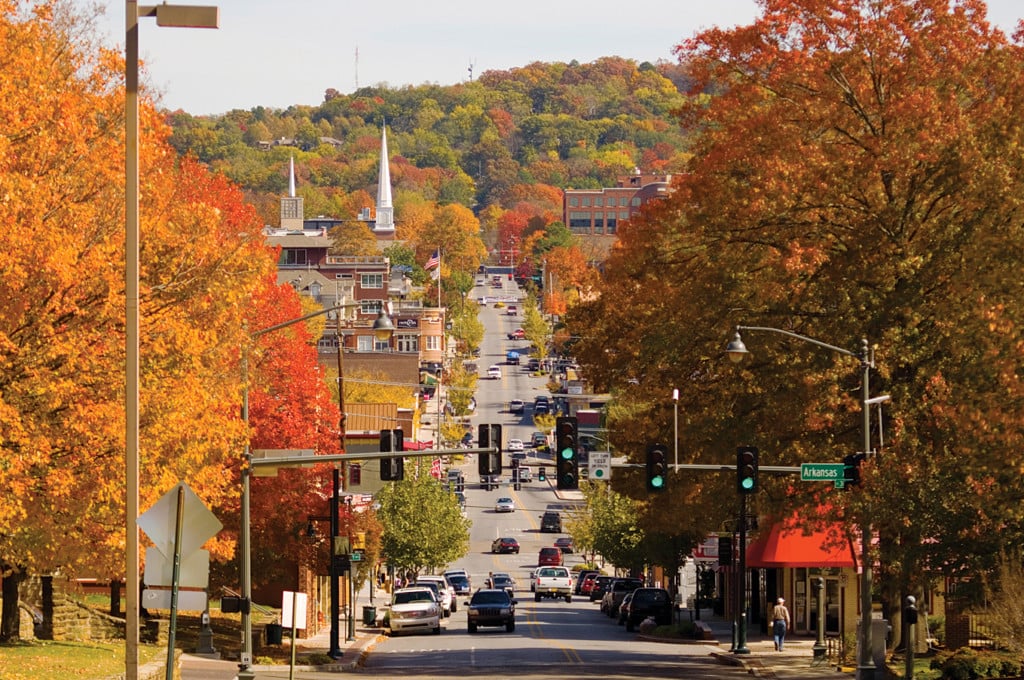 Since the 1920s, Northwest Arkansas' Razorback fans, sporting their supportive red and white gear, have been calling the hogs with the well-known chant, "Wooo Pig Sooie!" Fayetteville, home to the University of Arkansas, bustles with students, alumni and fans —- and thousands more come in droves to support athletics, creating a very exciting atmosphere. But, the school, stadium and its impressive campus are only a piece of what makes Fayetteville a great place to visit.
Among the 10 cities that make up Northwest Arkansas, including Bentonville, Eureka Springs and Siloam Springs, Fayetteville, one of the largest, is a flourishing community full of vitality and dubbed "one of fastest growing travel destinations in the U.S." The town has a strong sense of community, and a true local vibe with its historic sites and eclectic, funky eateries and shops. Fayetteville is also attractive for its geographic location in the Ozarks, offering easy access to walking, backpacking, hiking and biking as well as swimming, fishing and boating on the surrounding lakes and rivers.
Autumn in Fayetteville
In April 2019, Architectural Digest (AD) ran a story featuring Fayetteville and the local filming of HBO's True Detective series. Anne Roderique-Jones of AD described how "the hidden nooks and crannies of the lush environment took on a starring role in the hit anthology series—helping the rest of the world get a taste of blue-green waters, trails traversing lush forests, caverns and towering bluffs."
With such an endorsement, now that summer is winding down and the cooler temperatures are on the near horizon, what better place to go for a day trip or a weekend sojourn than Fayetteville, only two short hours from Tulsa? The crisper autumn air will make playing in the great outdoors all the more comfortable and being among the magic of the changing leaves all the more enjoyable.
An Abundance of Treks and Trails
If, at first, you'd like to get the lay of the land rather than walking, hiking or biking, opt for a leisurely drive along the Pig Trail Scenic Byway, a 19-mile, winding stretch along Highway 23 that moves through the Ozark National Forest, offering sweeping vistas of fall's orange, red and yellow hues as well as scenic waterfalls, rivers and more. This historic trail was once a route used during the Civil War.
Walkers will find 45 miles of paved trails, which are also shared with joggers and cyclists. Within Fayetteville's city limits, there are 40 miles of natural surface trails for mountain biking and hiking, and 45 miles of paved, shared-use trails for cycling, jogging and walking. And guess what? If you want to bike, the city offers VeoRide, a convenient ride-share program, allowing you and your family to pick up and drop off bikes at your leisure. To see beyond Fayetteville, there's the Razorback Greenway, a walkable or bike-able 36-mile stretch, connecting the southern part of town to North Bentonville, with its own unique flair, including Crystal Bridges Museum.
Double the Fun on Dickson and the Downtown Square
Arkansas is not called "The Natural State" arbitrarily, and Fayetteville doesn't fall short on opportunities to embrace the great outdoors. But, there's fun to be had and the grub is good in and around brick-and-mortar Dickson Street and the downtown square, both of which are part of the commercial historic district, adjacent to campus. In addition to restaurants like Hugo's, endorsed by many an Arkansian, and stores like Dickson Street Bookshop, voted the best book store in the state, be sure to look for larger-than-life murals and three-dimensional art pieces created by local and international artists, that, since 2017, have added a tasteful layer of eye candy throughout downtown. The art is an initiative of Green Candy Public Art, headed by Experience Fayetteville, the city's tourism department.
As if these reasons aren't enough to hang around Dickson and the square, make it a priority to be in downtown Fayetteville on Saturdays from 7 a.m. to 2 p.m. to experience one of the country's best-rated farmers markets. The market is set up among lush gardens and offers extraordinary choices—-locally produced baked items, fruits, flowers, vegetables, crafts, fine art and more. While browsing, live performers and musicians entertain the crowds. Before departing downtown, make a point to admire the giant 8,000-pound bronze sphere just off the square. Designed to be turned by hand like a prayer wheel, The World Peace Fountain proclaims the message, "May Peace Prevail on Earth" in over 100 languages.
A Taste of the Past
It is probably no surprise that Fayetteville was originally Native American Territory. It eventually became a settlement and was used by soldiers on both sides of the fight to abolish slavery. Dozens of sites are on the National Register of Historic Places. Be sure to stop in at the Headquarters House, a Greek Revival-style home built in 1853, used by the Union and the Confederate armies. Also visit the Trail of Tears Park on the university's grounds.
Directions, Information and Ideas
Fayetteville's Visitors and Convention's Bureau has a darling storefront along the square, so stop in upon arrival to get some expert advice on how best to uncover Fayetteville's best offerings. For advanced planning, visit www.experiencefayetteville.com and www.northwestarkansas.org for oodles of information including maps, lodging suggestions and more. Also, see www.arkansasstateparks.com.
---