Sharing Stories, Building Bonds: Early Literacy and the Power of Storytimes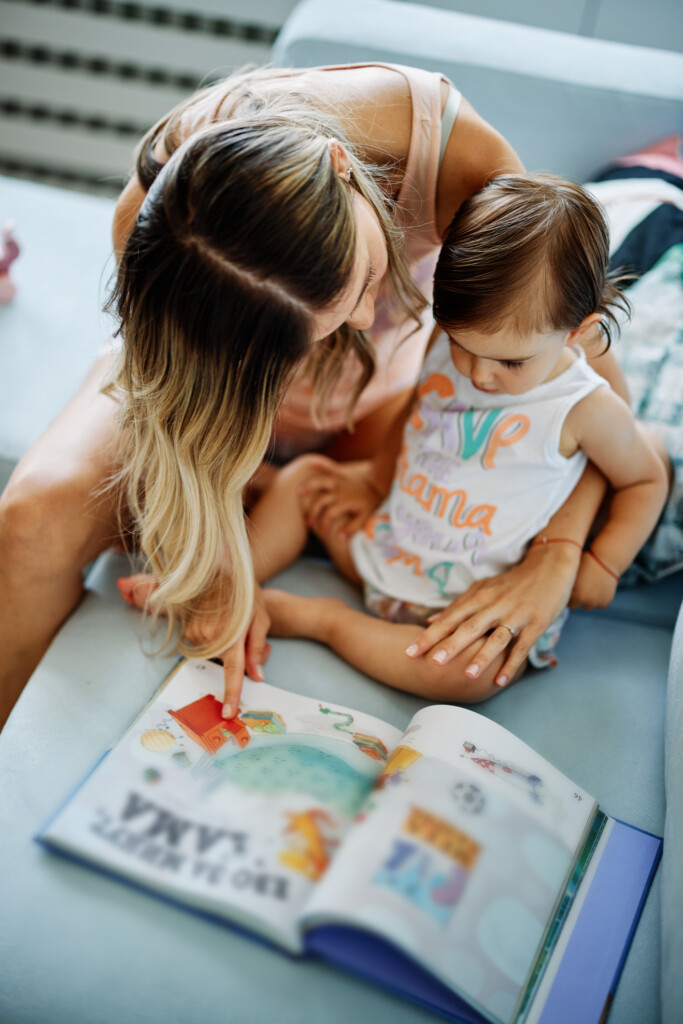 The importance of reading begins before birth. From narrating to your baby while they are still in the womb to enjoying bedtime stories together, building your child's literacy skills comes in many forms. If this is your first foray into the realm of early literacy, or if you need a gentle reminder of its wonders, buckle up! The activities and resources below, available inside and outside of your home, can help introduce your child to language and reading during a critical time in their development and provide bonding experiences you both will cherish.
Lapsit Storytimes
Picture this: You and your baby snuggled up on a comfy chair, flipping through a colorful picture book and giggling together over images, sounds or actions. This is a lapsit storytime, and it's not just a heartwarming bonding experience; it's a powerful tool for early literacy.
When you engage your child physically during storytime, such as by pointing to the pictures that match what you're saying or allowing your baby to grab and touch the book, you create a sensory adventure. Babies learn new letters, sounds and words when you talk, sing, read and even write together, and this new information is put to practice during playtime. You can do all these activities at home … and at the library!
The five actions just mentioned (reading, talking, singing, writing and playing) are the basis of Tulsa City-County Library's Build A Reader storytimes. Designed for children ages 0 to 5, these specialized storytimes focus on babies, toddlers or both. Storytimes tailored to babies are lapsit style and are a fantastic way to nurture your child's literacy skills.
With a focus on the joy of books and interactive experiences, library storytimes bring the importance of sensory reading to the forefront. Visit your local library to find the storytime that's right for you. While you're there, be sure to check out books for storytimes at home, because reading is much more than learning.
Books ignite your child's curiosity, open doors to new adventures and inspire endless possibilities, and a library card is your ticket to thousands of books. But if you're interested in building your child's at-home library, Dolly Parton's Imagination Library is for you.
In partnership with the Birth through Eight Strategy for Tulsa, an initiative of the George Kaiser Family Foundation, and the Oklahoma State Department of Education, the Dolly Parton Imagination Library of Tulsa City-County Library mails a high-quality, age-appropriate book to your child every month from birth to age 5 for free! Imagine your child's excitement as they anticipate a new book each month to enjoy and add to their permanent collection.
Furthermore, the Imagination Library contributes toward kindergarten readiness by building reading familiarity and confidence, and promotes family literacy habits by creating a monthly storytime event you and your child can experience together again and again.
Wherever your child is on their literacy journey, now is the time show them the joy of books, nurture precious bonds and build a strong foundation for a lifelong love of reading. Let the adventure begin!
Register for Dolly Parton's Imagination Library online: tulsalibrary.org/imagination-library.
To find a Build A Reader storytime near you, visit tulsalibrary.org/events.
---