Speaking with Simba: Actor and Dad Darian Sanders on The Lion King National Tour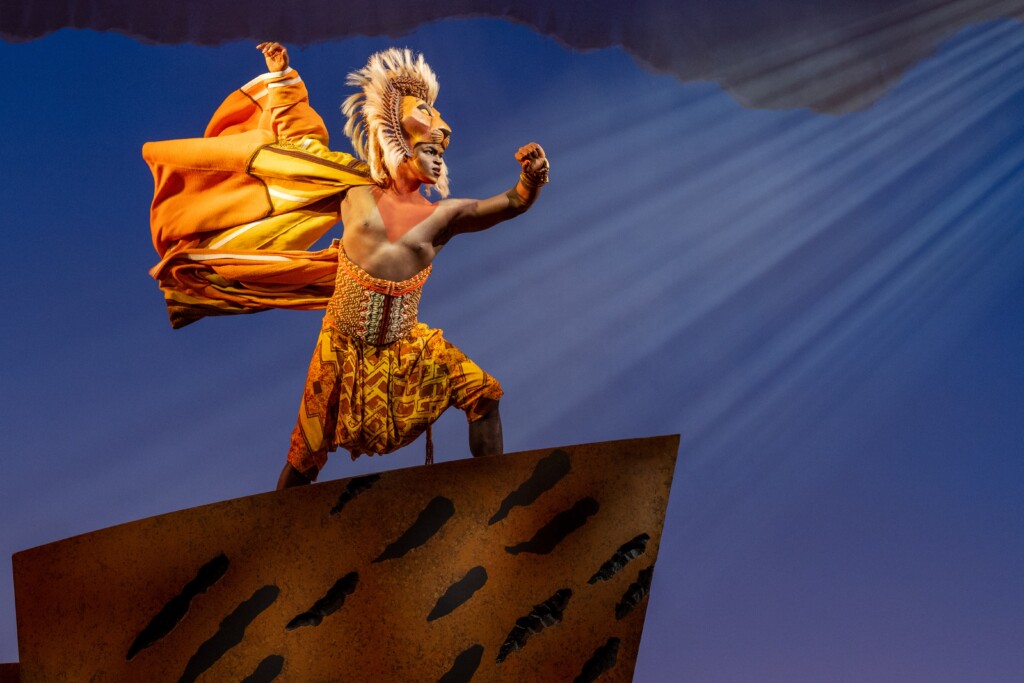 Darian Sanders' son, Titus, first saw him perform in Disney's The Lion King in late 2019.
"He started coming to dress rehearsals and shows at 2 years old," explains the actor, who currently plays Simba in Disney's The Lion King National Tour. "That's just how we raised him. We wanted him to be cultured in that way."
For other parents looking to encourage an early appreciation for theater, Sanders recommends talking to kids before the show about theater. On the other hand, he says, "as actors, we love it when kids are kids." Sanders and his castmates understand that they are often performing to an audience filled with younger viewers. In one show, he recalls, a young girl yelled out toward the end, warning Simba against trusting the villain Scar. Rather than being annoyed, Sanders says, "It was a beautiful thing because it was so genuine, she was so engaged. We did our job as performers."
The actors also understand that some parts of the show may be too intense for certain viewers. In that case, Sanders explains, there are typically screens set up in the lobby for kids who need to step out of the main theater but don't want to miss the action.
Darian Sanders says that parents frequently ask him how young or old their child should be before taking them to a show. While his general recommendation would be around age 5, "It's truly dependent on your child's demeanor and what their capacity is."
The story of The Lion King itself, Sanders says, is "for any age. Whether you have a 3-year-old in there or a 93-year-old grandparent, it's the beautiful aspect of the show." Simba's journey to discover who he is, and his experience with both triumph and tragedy is something that anyone can relate to.
Dad on Tour
Although Sanders' first time performing in The Lion King National Tour was cut short by the COVID pandemic, he has now been on tour as Simba since October 2021. When it's convenient, he drives or flies home to spend days off with his family. And when the tour stops over in a city for several weeks, his wife, Jessica, and Titus will often meet him there.
Communication is a key to making this work. "We have constant conversations to keep our hand on the pulse of our relationship and where we are, both with The Lion King and Broadway and with our family." Jessica, a former teacher, will homeschool Titus for now, allowing their family to maintain this flexibility.
While being on tour may sound exhausting, Sanders loves exploring new cities. He typically connects with each new place by finding a temporary church home for the duration of the visit.
Beyond this, Sanders says that the actors love saying hello and meeting people after the show. "We talk about it all the time, just in the aspect of, 'Yes, this is what we do, but it's not all that we are.' As artists, we like people to see and understand that we are humans as well, that we have lives outside the theater."
Give the World You
If your child sees The Lion King and thinks, "I want to do that someday," Sanders recommends cultivating their talents in whatever they want to do, as soon as possible, whether that be vocal lessons, dance classes, etc. "Start now," he says. "The best time to start was yesterday…But start today." A good place to start is taking any classes available through the child's school.
Sanders himself didn't start theater until later in life, previously working as both a special education teacher and worship pastor. So, for children wondering if they've waited too long to start cultivating these talents, he emphasizes that everyone's journey is different. While it's OK to admire the work of others and where they are in life, he says, "Their pathways are uniquely created for them. Their story that got them to that point is specifically for them. And so for you, understand that your journey is specifically and uniquely yours. You don't think the same way as them, and you're not them. You have to be you and give the world you. Because if you don't, then the world misses out on you."
The Lion King in Tulsa
See Darian Sanders play Simba in Disney's The Lion King at the Tulsa PAC June 1-17.
For tickets, go to tulsapac.com or celebrityattractions.com.
By the Numbers: Disney's The Lion King North American Tour
Courtesy of Celebrity Attractions
Winner of more than 70 global theatrical awards, including the 1998 Tony® for Best Musical, Best Direction of a Musical, Best Scenic Design, Best Costume Design, Best Lighting Design and Best Choreography.
Mufasa's mask weighs 11 ounces, Scar's mask weighs seven ounces and Sarabi's mask is just four ounces. The masks, along with many others used in the show, are extremely lightweight and are comprised of silicone rubber with carbon fiber overlay – the same durable material used to build airplanes.
The tallest animals in the show are the four, 18-foot exotic giraffes from I Just Can't Wait to Be King.
The largest and longest animal in the show is the Elephant, at 13 feet long, 12 feet high and 9 feet wide.
Worn like a backpack, the Pumbaa puppet is the heaviest costume, weighing in at 45 pounds.
There are five indigenous African languages spoken in The Lion King: Zulu, Xhosa, Sesotho, Setswana and Swahili.
The Lion King has been performed in nine languages: English, Japanese, German, Korean, French, Dutch, Spanish, Mandarin and Portuguese.
On tour, there are 134 people directly involved with the daily production of the show, including 49 cast members, 19 wardrobe staff, 5 hair/makeup artists, 3 puppet craftspeople, 2 child guardians, among many others.
The tour uses 17 trucks to transport puppets, set pieces and other materials from city to city.
---