On Display: Current Exhibitions at Tulsa-Area Museums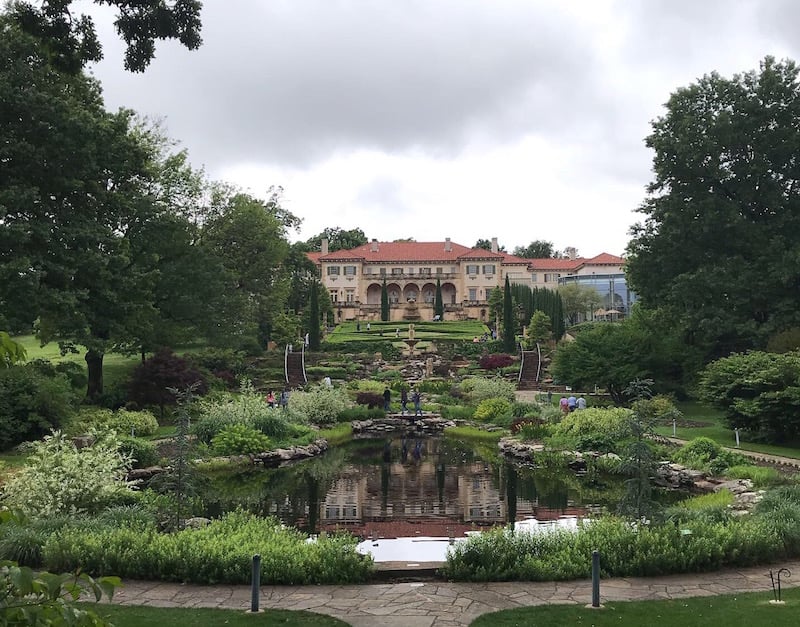 Looking to add a little culture to your day? Here is a list of current exhibitions at museums in Tulsa and surrounding communities.
---
Location: 3123 S. Riverside Dr., Tulsa
Hours: Monday, 10:30 a.m.-5 p.m.; Tuesday-Saturday, 9:30 a.m.-5 p.m.; Sunday, 11:30 a.m.-5 p.m.; Open to members only Mondays from 9:30-10:30 a.m.
Discovery Lab has seven exhibit areas, in addition to three high-facilitation areas, a gift shop and cafe! Learn about their current exhibitions at discoverylab.org/exhibits.
---
Location: 1400 N. Gilcrease Museum Rd.
Hours: CLOSED FOR CONSTRUCTION.
Gilcrease in Your Neighborhood: "Gilcrease Museum is coming to your neighborhood! You voted for your three favorite artworks. We're ready to show them to you! The Gilcrease in Your Neighborhood experience will pop-up one artwork in 31 locations at once. Each artwork reproduction will be up for about three months at a time before transitioning to the new featured artwork for another three months. The locations are as varied as our diverse community. Think parks, libraries, shopping centers and community gathering places. Inside and outside. One artwork. 31 locations."
gilcrease.org/gilcrease-in-your-neighborhood/
---
Location: 307 E. Reconciliation Way, Tulsa
Hours: Tuesday and Wednesday, 12-4 p.m. (by appointment); Thursday and Friday, 12-4 p.m.; First Fridays, 6-9 p.m.; Saturdays, varies by exhibition; Closed Sundays
Beyond the Whitewash: "Beyond the Whitewash is a collection of mixed media works by a racially mixed group of artists who bring their unique perspectives to the complex, interconnected, and nuanced issue of racism. The exhibition allows us to be present with others while looking directly at the systems and structures of power that have created and maintained oppressive systems of inequality. A platform where diverse voices can be heard and represented together is a powerful reminder that we are all connected. Our collective stories can be used to create connection, understanding, and solidarity."
On display through July 21, 2023. livingarts.org/exhibitions
---
Location: 2727 S. Rockford Rd., Tulsa
Hours: Wed.-Sun., 9 a.m.-5 p.m.; Fridays, 9 a.m.-9 p.m.; Closed Mondays and Tuesdays
New Realms: Art Lab: "In New Realms: Art Lab, visitors become worldbuilders. Engage with striking reality-bending works of art then explore three hands-on spaces–each inspired by the artwork on view–where you can experiment, play, and create new realms of your own design."
On display through September 17, 2023. Continue reading
---
Location: 2021 E. 71st St., Tulsa
Hours: Monday, Tuesday, Thursday, Friday, 10 a.m.-5 p.m.; Closed Wednesday; Saturday-Sunday, 12-5 p.m.
Humans of the Holocaust: "As the grandson of a Holocaust survivor, Erez Kaganovitz created Humans of the Holocaust project to tell the human story of Holocaust survivors, their children and Jews around the world who are affected by antisemitism today."
Learn more at jewishmuseumtulsa.org/exhibitions/humans-of-the-holocaust. On display through December 31, 2023.
---
Location: 3624 N. 74th E. Ave., Tulsa
Hours: Tuesday-Saturday, 10 a.m.-4 p.m.; Closed Sunday/Monday
Tuskegee Legacy Exhibit: "Trained to be combat pilots with limited equipment and resources, the Tuskegee Airmen became heroes with their ground-breaking roles and excellent flying ability. This exhibition will emphasize individuals such as Daniel "Cappie" James, Benjiman O. Davis, and Yancy Williams."
Learn more at tulsamuseum.org/tuskegee-legacy-exhibit/
---
Location: 102 E. M.B. Brady St., Tulsa
Hours: Tuesday-Sunday, 10 a.m.-6 p.m.; Closed Mondays
Love Saves the Day: "'Now on view at the Woody Guthrie Center, the new exhibit 'Love Saves the Day: The Subterranean History of American Disco' explores how the oft-maligned disco genre became a groundbreaking and joyous social movement."
Learn more at woodyguthriecenter.org/visit/exhibits/lovesavestheday/. Open through October 1, 2023.
---
Exhibitions at Key Museums Outside of the Tulsa Area
Prix de West Arts Exhibition & Sale: "Prix de West is the nation's premier Western art exhibition and sale showcasing original works ranging from historical depictions of the American West to more contemporary and impressionistic pieces. Artwork from this world-renowned event will be on exhibit through August 6, 2023."
True Nature: Rodin and the Age of Impressionism: "Now open at the Oklahoma City Museum of Art is a major exhibition on sculptor Auguste Rodin, organized by the Los Angeles County Museum of Art. Recognized as one of the greatest sculptors since the Renaissance, Rodin pioneered an approach to his art that aimed not only to capture the physicality of his subjects but also their psychology. Organized thematically, True Nature: Rodin and the Age of Impressionism delves into the Classical influences on Rodin's sculpture, the artist's focus on portraiture, and his exploration of movement and the human body. "
On display through April 9, 2023. okcmoa.com/visit/events/true-nature-rodin/
Diego Rivera's America: "Diego Rivera's America examines this prolific time in the artist's life through more than 130 works, including his drawings, easel paintings, frescoes, and more. The first major exhibition focused solely on the Mexican artist in over 20 years, it reveals the broad range of Rivera's work through a series of thematic sections that bring together more works from this time period than have been seen together since the artist's lifetime."
On display through July 31, 2023. crystalbridges.org/calendar/diego-riveras-america/
---