On Display: Current Exhibitions at Tulsa-Area Museums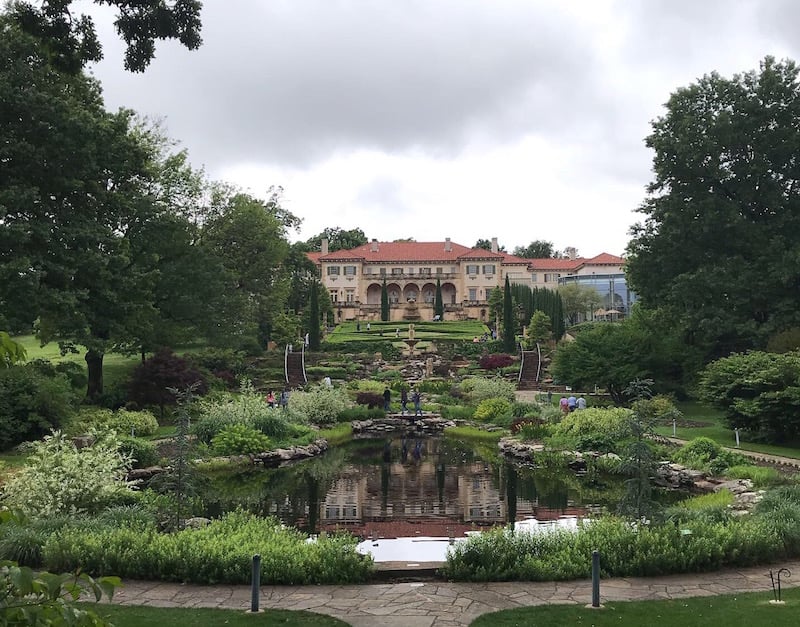 Looking to add a little culture to your day? Here is a list of current exhibitions at museums in Tulsa and surrounding communities.
---
Location: 3123 S. Riverside Dr., Tulsa
Discovery Lab has seven exhibit areas, in addition to three high-facilitation areas, a gift shop and cafe! Learn about their current exhibitions at discoverylab.org/exhibits.
---
Location: 1400 N. Gilcrease Museum Rd.
Hours: CLOSED FOR CONSTRUCTION.
Gilcrease in Your Neighborhood: "Gilcrease Museum is coming to your neighborhood! You voted for your three favorite artworks. We're ready to show them to you! The Gilcrease in Your Neighborhood experience will pop-up one artwork in 31 locations at once. Each artwork reproduction will be up for about three months at a time before transitioning to the new featured artwork for another three months. The locations are as varied as our diverse community. Think parks, libraries, shopping centers and community gathering places. Inside and outside. One artwork. 31 locations." gilcrease.org/gilcrease-in-your-neighborhood/
---
Location: 307 E. Reconciliation Way, Tulsa
Hours: Tuesday-Saturday, 12-5 p.m.
---
Location: 2727 S. Rockford Rd., Tulsa
Hours: Wed.-Sun., 9 a.m.-5 p.m.; Fridays, 9 a.m.-9 p.m.; Closed Mondays and Tuesdays
Admission: Children 17 and under, Active Duty Military, College Students attending NSU, ORU, OSU-Okmulgee, OSU-Tulsa, OU-Tulsa, RSU, TCC, TU: Free; General Admission: $9; Senior Citizens (62+), College Students (with valid i.d.), Groups of 10+: $7
Philbrook will be closed the first half of Jan. 2023.
---
Location: 2021 E. 71st St., Tulsa
Hours: Monday-Friday, 10 a.m.-5 p.m.; Saturday, 12-5 p.m.; Sunday, 1-5 p.m.
Admission: Adults: $6.50; Seniors (55+): $5.50; Students: $3.50; Children 12 and under, Teachers, Military and First Responders (with i.d.): Free
Biblical Micro Calligraphy Art: "Using this tiny lettering, Ellen creates her flowing designs. The final creation is a picture completed entirely with words. This art style is also known as micrography. Ellen chose the term "micro calligraphy" to express her exacting work: tiny letters and words blending together to form the designs and figures on her paper. Micrography started in the 9th century by Masoratim. Ellen creates her works from the stories and verses of the Torah and Scriptures. Ellen's unique style is executed through careful planning and logistics, which are integral elements in her creations. Using a fine point calligraphy pen dipped in water color paints, Ellen creates fabulous pictures in full color, entirely from Biblical texts. The use of 'gematria' often guides the number of repetitions of verses used to create a design." Learn more at jewishmuseumtulsa.org/exhibits/biblical-micro-calligraphy-art. On display through January 9, 2023.
---
Location: 3624 N. 74th E. Ave., Tulsa
Hours: Monday-Saturday, 10 a.m.-4 p.m.
Admission: Various options, including Museum-only admission and Museum + Planetarium admission. Find the best option for you
here
.
Tuskegee Legacy Exhibit: "Trained to be combat pilots with limited equipment and resources, the Tuskegee Airmen became heroes with their ground-breaking roles and excellent flying ability. This exhibition will emphasize individuals such as Daniel "Cappie" James, Benjiman O. Davis, and Yancy Williams." Learn more at tulsamuseum.org/tuskegee-legacy-exhibit/
---
Location: 102 E. M.B. Brady St., Tulsa
Hours: Tuesday-Sunday, 10 a.m.-6 p.m.; Closed Mondays
Admission: Adult: $12; Seniors (55+): $11; Military (up to 4 persons): $10; College Student (with i.d.): $8; Youth (17 and under): Free
Woody Guthrie: People are the Song: "'Woody Guthrie: People Are the Song,' a special exhibition focusing on Woody Guthrie's songs, artwork and prose, all in tribute and reverence for the people in this world." Learn more at woodyguthriecenter.org/visit/exhibits/pats/. Open through February 5, 2023.
---
Exhibitions at Key Museums Outside of the Tulsa Area
Traditional Cowboy Arts Exhibition & Sale: "The Traditional Cowboy Arts Association (TCAA) will showcase the best of saddlemaking, bit and spur making, silversmithing and rawhide braiding. The TCAA exhibition opens to the public on October 1. Daytime activities, including an autograph party, are free with Museum admission. Works by TCAA artists will be on exhibit through January 2, 2023." tcaa.nationalcowboymuseum.org/
Art of the Northwest Coast: "From painted totem poles to bentwood boxes, northwest coast artwork is known across the world. Its unique style and beautiful colors communicate stories, teach family histories, offer protection, describe divine creatures and showcase the wealth of community leaders. This exhibition explores the northwest coast's rich artistic history through prints, glass, wooden and stone sculptures and basketry." Learn more at nationalcowboymuseum.org/exhibitions/art-of-the-northwest-coast/ On display through May 1, 2023.
Kiarostami: Beyond the Frame: "Organized by OKCMOA in partnership with the Kiarostami Foundation, Kiarostami: Beyond the Frame is a multimedia, retrospective survey of artworks by acclaimed Iranian filmmaker, photographer, and visual artist, Abbas Kiarostami." okcmoa.com/visit/events/beyond-the-frame/ On display through April 9, 2023
From the Golden Age to the Moving Image: "In the spring of 2019, we reopened our second-floor galleries with an exciting new presentation of our permanent collection. Headlining this reinstallation is the Museum's latest acquisition, Kehinde Wiley's monumental new portrait Jacob de Graeff (2018) from the artist's Kehinde Wiley: Saint Louis exhibition. Wiley's extraordinary painting anchors a new portrait gallery that also features works by Anthony van Dyck, Pierre-Auguste Renoir, and George Bellows." okcmoa.com/visit/events/golden-age-moving-image/ On display through July 30, 2023.
Listening Forest, by Rafael Lozano-Hemmer: "Listening Forest, created by artist Rafael Lozano-Hemmer, uses light, sound, and projections to create an interactive walk through the woods. This site-specific exhibition brings together eight immersive installations, each one activated by you: your heart rate, your body, your voice, and your movements direct the forest's response." crystalbridges.org/calendar/listening-forest-rafael-lozano-hemmer/ On display through Jan. 1, 2023.
Fashioning America: Grit to Glamour: "Fashioning America: Grit to Glamour is Crystal Bridges' first exhibition dedicated to fashion and the first to present American fashion as a powerful emblem of global visual culture, amplified by movies, television, red carpets, and social media." crystalbridges.org/calendar/fashioning-america-grit-to-glamour/ On display through Jan. 30, 2023.
---