College in the Time of COVID-19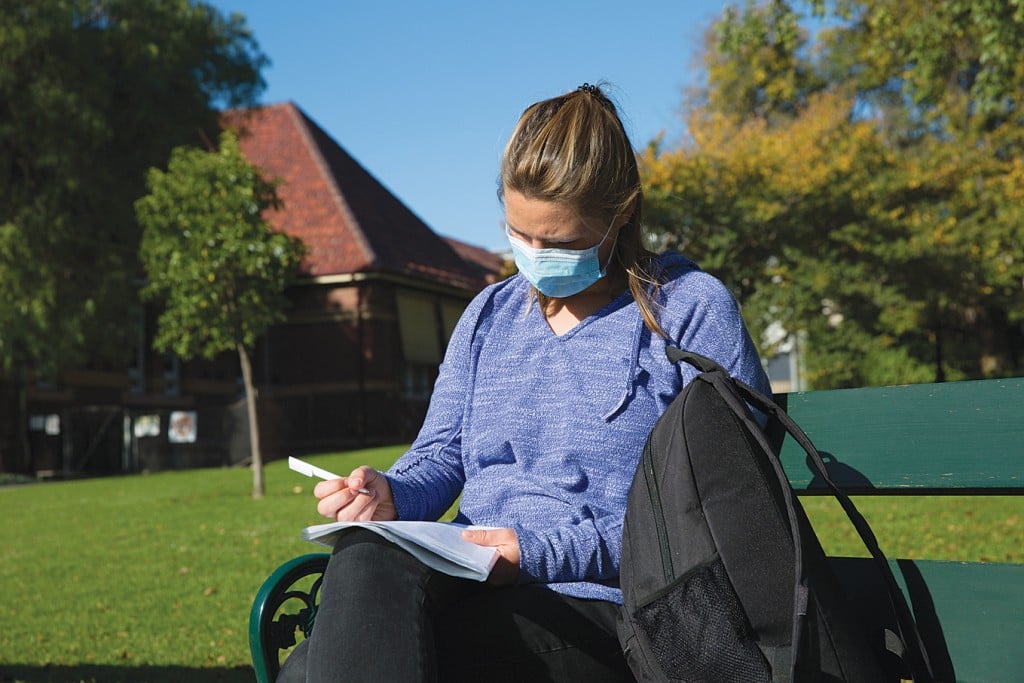 Traditionally August signals a return to campus for most college coeds. It can be a hectic time of buying supplies, packing the car and saying goodbyes. This transition is always an adjustment for students and parents alike, and there's nothing like a pandemic to add a thick layer of anxiety to an already emotionally challenging time. While it's impossible to predict with any certainty exactly what the fall will look like for incoming college students, it's clear it will be very different from any other time in the past. In addition to a familiarity with your university's specific set of policies and guidelines regarding COVID-19, here's some practical advice for college students to stay healthy while getting that higher ed.
"College is such an important time in a young adult's life," says Dr. Jabraan Pasha, an internal medicine physician at the University of Oklahoma School of Community Medicine. "In addition to a place for learning, it should be a place to socialize and have fun while being as safe as possible by avoiding large gatherings, maintaining social distance and wearing masks when indoors or outside when social distancing isn't possible."
According to Pasha, some spaces on campus are riskier than others.
"Communal areas like lounges and cafeterias are particularly high-risk for COVID transmission. Maintaining hand hygiene and limiting time spent in these spaces is very important," he notes.
As parents, we encourage our children to develop healthy habits like brushing their teeth after meals, wearing their seatbelts and looking both ways before they cross the street. In light of the pandemic, Pasha offers some additional suggestions for our college kids.
"Making a habit of having a few masks, hand sanitizer and wipes in your backpacks at all times will be a good practice to keep," he suggests. "Wearing a mask during all classes, sanitizing your hands frequently and wiping down desks and surfaces can minimize risks."
Those of us who spent as much time in college bars as we did in college classes might want to discourage that behavior in our offspring. Not only can it tank your grades, it can pose a health risk in the era of the Coronavirus. In fact, large indoor gatherings of any kind are problematic.
"Obviously, socializing in bars and clubs is not recommended, given the risks," Pasha says. "However, if students choose to go, they should consider places with outdoor patios."
While it's unrealistic, and unhealthy, to expect young people to completely avoid social activities of all kinds, it's important to remind them that everything looks different in a pandemic, including dating. Pasha offers some advice on this front, too.
"I can't think of a better time to utilize online dating apps," he comments. "It could be a good opportunity to meet new people while still being as safe as possible. Also, finding creative or even simple date ideas like picnics or going on walks where social distancing is still possible could be a fun alternative to typical college dating until things are much safer."
Shipping our kids off to college is never simple. Doing so in the midst of a pandemic definitely complicates things further. With planning, awareness, and an open dialogue we can help keep our children be as safe as possible during these challenging times. For more information, visit cdc.gov.
Julie Wenger Watson is a freelance writer who's worked in all aspects of music promotion. She's also Co-Director of "Live From Cain's," a public radio show pilot.
---