College and Career Readiness Report:
Many kids aren't prepared, but parents can help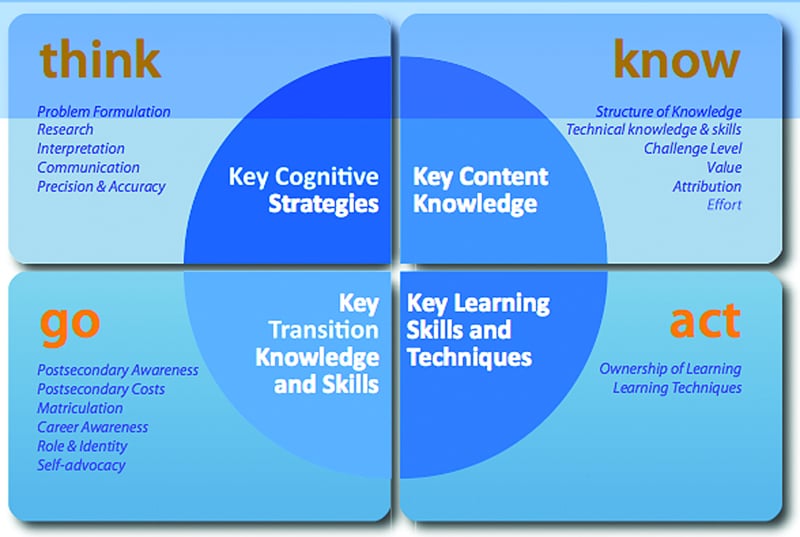 A quick look at recent headlines and it's clear that politicians, employers and the data agree: graduating high school students are often not prepared for college and careers. There is a gap between completing the requirements of high school and succeeding in work or higher education; in other words, there is a gap in college and career readiness.
College and career readiness is defined as the knowledge necessary to exit high school and move into a postsecondary program, such as university, community college, technical school, certification or license classes or apprenticeship program. It's all about the transition into adulthood from high school. For example, will students succeed in their first year courses in college? Will young professionals have basic problem-solving skills required to succeed in a workplace?
In October 2018, ACT released its annual report, the Condition of College and Career Readiness, which analyzes the ACT test results of 1.9 million students. This sample represents just over half of the graduating class of 2018. ACT reported a steady decline year-over-year in the number of students who will find probable success in their freshman college courses. In all, 35 percent of students met none of the four ACT benchmarks to determine college readiness, a 2 percent increase from last year. In math, college readiness fell to a 14-year low. Despite the low scores, over three-fourths of all students (76 percent) indicated aspirations of postsecondary education.
The annual ACT report focuses on four learning benchmarks: reading, English, math and science. Students who take the ACT are tested to determine if they have the knowledge necessary to complete the first-year college coursework specifically in those core areas.
More Than a Test Score
In an article in the Spring 2018 issue of the "New England Board of Higher Education" journal, David Conley of University of Oregon introduced a more inclusive definition of college readiness in order to move beyond content competence. "A key problem is that current measures of college preparation are limited to their ability to communicate to students and educators the true range of what students must do to be fully ready to succeed in college." Conley's broader definition is built on four facets of college readiness: cognitive strategies, content knowledge, academic behaviors and contextual skills and knowledge.
Cognitive strategies include a student's ability to analyze, interpret, find precision and accuracy, problem solve and reason. Conley suggests it's less about repeating what a student knows and more about how a student approaches a problem. Can he hypothesize and strategize to solve a problem? Can he identify and collect data points so that he can analyze the outcome? Can he communicate his ideas and findings while accepting the flaws or inconsistencies in his research?
Content knowledge includes the ACT benchmarks but also emphasizes that student interest plays a large role in her success in a particular content area. "A student's interests and post-high school aspirations influence the precise knowledge and skill profiles necessary to be ready for postsecondary studies," wrote Conley. This does not mean that students can avoid difficult subjects, but he does encourage teachers and administrators to acknowledge interest over one-size-fits-all expectations. In which subjects does she more easily excel? Which subjects does she enjoy more than others? On what topics does she read for pleasure?
Academic behaviors include time management, strategic study skills, and awareness of one's true performance, persistence, and the ability to visualize goals. This facet of college and career readiness boils down to self-awareness, self-control and intentional actions on the part of the student. Does he take responsibility for his homework and prioritize his time well? Does he understand that hard work results in academic success?
Contextual skills and knowledge is defined as the ability to navigate the college application process and adjust to the culture of college life. This skill can be especially difficult for first-generation college students who are the first in their family to apply to college. Most schools do not provide this type of support due to decreasing budgets, which results in growing caseloads per school counselor. A 2018 report from the National Association for College Admission Counseling reported that only 33 percent of public high schools and 68 percent of private high schools have a counselor devoted to assisting with the college admissions process.
Other definitions of college and career readiness align with Conley's definition, and some offer more specific behaviors and personality traits that lead to success in and after high school. Many of these traits are not limited to academic learning environments and can be taught and reinforced by parents outside of school.
Developmental, Emotional & Social Traits for Success
The Search Institute expanded on the ACT rubric for college and career readiness by identifying 40 developmental assets across four broad areas: commitment to learning (e.g. achievement motivation, school engagement, reading for pleasure), positive values (e.g. responsibility, integrity, caring, honesty, equality), social competencies (e.g. planning and decision making, interpersonal competence, resistance skills), and positive identity (e.g. positive view of personal future, personal power, sense of purpose).
The National Association of Colleges and Employers identifies the following skills necessary for success in the workforce: critical thinking/problem solving, communication skills, collaboration, digital technology, leadership, work ethic, career management and global/intercultural knowledge. With similarities to other expanded definitions of college and career readiness, this list of competencies arose from a task force comprised of representatives in higher education, work force development, and public policy.
In their book "Teaching New Basic Skills," Richard Murnane and Frank Levy identified three basic types of skills all young people need to succeed in the workplace: hard skills (e.g. mathematics, problem solving, reading); soft skills (e.g. oral and written communications, teamwork); and information technology. And in 2008 the Gallup Organization introduced three specific assets credited toward postsecondary success: hope, school engagement, and well-being. According to their report, hope predicts GPA and the ability to remain in school; school engagement consistently distinguishes between high-performing and low-performing schools; and well-being drives academic and vocational success.
Solutions for Success
As Karen Pittman of Ready by 21 wrote, "It would be wonderful to report that thought leaders have come together to create a master list, recognizing that young people need to develop both the capacity and the motivation to succeed."
Understanding what skills, traits, and educational milestones students need to close the career and college readiness gap is one thing. Identifying clear solutions is another. In their 2018 annual report, ACT shared a list of five recommendations for districts, states and policymakers to begin reversing the decline of college and career readiness among high school graduates. First among them, increase funding for schools and education across the board to ensure educators have the resources to improve educational outcomes, as well providing equitable resources to underserved populations. ACT also recommends testing students earlier in their academic career, citing that high school might be too late to "catch up," and making sure students receive a holistic learning approach, which would address their soft skills like attitude, well being and community involvement.
Oklahoma State Department of Education (OSDE) predicts that 65 percent of jobs in 2025 will require postsecondary certification or education and is using grant funds to pilot a program that creates a flexible pathway for each seventh grader in the state. Individualized Career and Academic Plans (iCAP) use tools such as career and college interest surveys, academic progress, standardized test scores and experience in service, mentor or internships to get student, parents, counselors and teachers aligned.
Eric Fox, associate principal of Teaching and Learning at Jenks Public Schools, one of the pilot districts, believes that iCAP helps rethink the role of middle and high school education for students and families. "We are educating not just to reach graduation, but for the first step off the commencement stage," Fox says.
In addition to student plans, the program also offers field trips for teachers to OSU IT in Okmulgee or the Port of Catoosa, where they learn more about the future of the American workforce and how they can incorporate skills in the classroom. iCAP will launch statewide in Fall 2019.
How Parents Can Help
Parents need not wait for policymakers or administrators to adopt, fund and implement programs to ensure their child's success in college, career or life. By understanding the definitions and skills associated with college and career readiness, parents can actively support their child's education, growth and development outside of the classroom well before high school.
Parents can teach time management skills to toddlers and teens. New Jersey-based psychologist Eileen Kennedy-Moore, Ph.D., wrote that while children do not have adult-level productivity and time-management skills, parents can regularly ask children of all ages four key questions to develop the concept of time: 1. What comes next? 2. What happened before? 3. How long? 4. Which comes first?
In order to be college and career ready, children need to learn the reality of how much time is in their day, understand delayed gratification and learn the skills of prioritizing which tasks must be done and which can wait until later. Parents can reinforce these skills by planning the week together as a family, while letting the children see how choices need to be made even by grown-ups.
To help children acquire the critical thinking, cognitive strategies and skills needed to succeed in any content area, parents can encourage the scientific method in everyday life. A little refresher, the scientific method has six steps: 1. Ask a question, 2. Gather information and observe (research), 3. Make a hypothesis (guess the answer), 4. Experiment and test the hypothesis, 5. Analyze the test results (talk about them), 6. Present a conclusion. While this is taught in many science classes throughout a child's academic life, career and college readiness experts agree that parents can use this in every day language to reinforce creative problem solving and using sourced information to find an answer. Thinking in line with the scientific method can improve how students calmly cope with difficult test questions or seemingly overwhelming tasks.
The ACT College and Career Readiness Report indicates that much more needs to be done to ensure that all students have the opportunity to advance to their postsecondary experience of choice. Many of the recommendations from ACT include important steps for policymakers and schools across the country. By understanding the expanded definitions associated with the skills and assets needed to be college and career ready, parents too can join the effort in their child's everyday life to support the important work being done in the classroom.
College and career readiness tips for parents at every age
Preschool:
Talk about the daily schedule frequently.
Teach delayed gratification by scheduling fun activities and counting down the days on a physical calendar.
Read and reread the same stories to reinforce reading comprehension.
Use the scientific method with children to develop cognitive strategies by asking them what they see, what they think will happen and how they can measure to find out if their prediction is true.
Grade School:
Introduce a calendar and schedule daily activities, including free time, to help reinforce how much time activities take.
Read (and reread) books with your reader and discuss the plot and how the author reveals the storyline to improve reading comprehension.
Use the scientific method in everyday conversations to reinforce creative problem solving, research and making predictions.
Middle School & High School:
Read "The Seven Habits of Highly Effective Teens" by Sean Covey together.
Host weekly "Family Calendar Nights" complete with physical calendars around the table to discuss the week's events: swim practice, dad's big meeting, and that test next week. Help break down large tasks into manageable pieces so teens aren't overwhelmed.
Find out what your teen is reading and read it too, so you can discuss the plot and characters during car rides or over dinner to improve reading comprehension.
Enroll your tween in a computer coding class to gain exposure to the languages of 21st century technology.
---